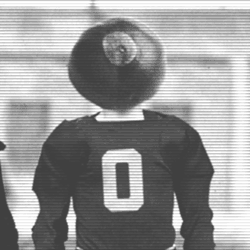 jpbuckeye
---
MEMBER SINCE March 22, 2012
Recent Activity
Love that he used the old SEC tag line: It just means more.
Ir would rub some salt into the wound.
It would also make Rose Bowl more of a neutral site.
Both are okey dokey with me.
The AD quote indicates he wants Jimmy to retire while at UM.
He did not indicate what year. It is like the old Dangerfield one liner: take my wife, please.
Not what I was hoping to read.
If you start a GoFundMe, I promise to send you $5.00 to help take the sting out of the announcement. If you get enough maybe you can cover expenses of gas and food.
Note: Funds not to be used for hookers and blow.
Regarding the poacher link: #karma at its best.
As much as I hate CNN, I failed to read partisan comments. It seems they are too thinly (read nano-veiled) or I am Thick As A Brick (thanks Jethro).
Kudos on the title Teddy and thanks for the timely topic and reminder on our depth at receiver.
Promises to be an interesting season ahead of us.
GO BUCKS!
The wind chill affects exposed skin. Solution don't have exposed skin. Dress for the cold.
We have an emotional support Sasquatch. Have to fly first class for a bigger seat. Flight attendants love him.
4th. It was truly a WTF moment.
Suggest editing title.
Sad. RIP Tyler. Prayers for his family and friends.
Glad he enjoyed his last season of CFB.
PLEASE put an offensive drive together.
Watch for fake punt D.
After 3rd quarter, it looks like I am wrong again. I will look at it as being consistent at least.
I thought NW had a shot. I was wrong on epic scale.
They are absolutely awful. Narduzzi should get a flight to Green Bay ASAP.
Lewerke cannot do anything right.
Wonder if he will ever become self aware?
There is challenge and there is "screw you". I can learn from the former.
Try Hunter S Thompson. I think DJ was influenced by that style. I disagree with HST on politics, but love reading his works; all of them. With DJ it was hit or miss at the end of his tenure.
Hopefully this is the last we will read about dj. GO BUCKS!
Having talent does not preclude one from being a disagreeable turd.
I doubt I would enjoy having a beer with DJ.
And Malzahn goes for it on 4th and 4...and gets it.
Not sure who to hate more Purdue or Malzahn.
I read his Skully daily. I enjoyed his style and content most of the time. After the take in Urban, he is like Fredo to me. Agree to disagree with you. That is a take DJ seems to be incapable of now. This is typical of politicians currently.