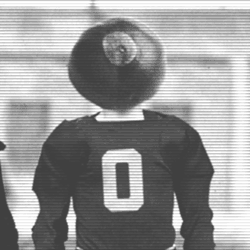 jpbuckeye
---
MEMBER SINCE March 22, 2012
Recent Activity
I would at least throw Goldie a floatation device.
Another excellent poster, both layout and design!
Oh no! Klatt was unhappy with Riep.
Is it the end of the world as you know it?
Sound more like one time.
Hope one day you find something to be happy about.
I always thought God was a Buckeye.
2nd quarter for those that may be wondering.
ETA: thanks for the edit.
Still prefer nomenclature: Red River Shoot Out.
Nobody outshines The Game.
I guess it just does NOT mean more in SEC.
Thank you. This is the news I was waiting for!
Living in US Virgin Islands, we check NOAA and Tropical Tidbits almost daily during hurricane season. Fortunately that is almost over. Cyclo-Cane spaghetti models are nice as well. Glad to see another weather nerd on our board.
Come rain, sleet or snow our Buckeyes will deliver PSU a blow.
Saw it. Loved it. Battle of the Bulge. Ran across open ground under fire from automatic weapons. Volunteered.
Worthy of Legendary Status!
Thanks for sharing this piece of history. The 1982 shot brings back memories. During that year I was sitting there with a few friends. We were intoxicated with our bikes parked in the water. Campus police showed up and asked us what we were doing. One friend told him that we were with the Peugot under water racing team, and we were doing research. The cop laughed, told us to be careful, and walked away. What fun was had on that beautiful campus!
We scaled that fence as well for frisbee throwing and brought our bicycles with us a few times as well. Also had some epic bottle rocket wars. We would conclude our commando raids with ringing the bell and waiting for campus police. We knew the best hiding places.
Told my Dad about it after graduation. He laughed but was thankful I waited until after graduation for breaking that news.
What epic good times!
Nice Thunderbolt and Lightfoot movie reference. Classic movie.
It may mean more in the SEC, but it means the most in the B1G!
Agree, just keep winning and we will be okey damn dokey.
The ineligible downfield that took a TD off the board was nonsense.
How many times during how many games does that go uncalled. The center was barely past the line of no return and it had NO effect on the play.
Agree. When I saw that I had a serious WTF moment.
Smart girl. Great Buckeye comment. Starting her out right. Good job Dad.
Having a flashback on the D
WTF? Kick it out of the endzone. Please.
Of course, the obligatory Purdue highlights.
Is anybody out there?
ETA: There you are. Thought I was in the Twilight Zone? Go BUCKS!
Brock is going to be tough to listen to. Was hoping for Gus.
Awesome! Just happened to stop by and arrived at the right time for once.