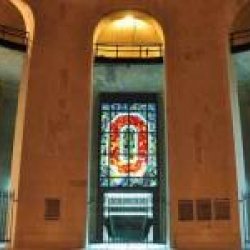 joshhersh
---
Member since 30 August 2010 | Blog
Favorites
COLLEGE FOOTBALL PLAYER: Eddie 27
COLLEGE BASKETBALL PLAYER: Jim Jackson
NFL TEAM: Green Bay
MLB TEAM: Cleveland
Recent Activity
Sold. I'm committing to the Skins
Just got my mitts on some Dino Smores Russian Imperial Stout, so I'll have one of those and then switch to Mr Daniels and end my night with some Blanton's on just a few rocks. Not bad
I've ran it both years and yes, you actually finish on the 50. They have people try to keep you moving across field and exiting through the SW tunnel but there is plenty of time to grab some pics and take in the feeling. Awesome feeling being down on the field and looking up into stands imagining 100k cheering you on.
Also, some advice...if you do want pics on the field you have to run with your phone because gear check is outside shoe and they will not let you re-enter once you walk out SW tunnel. Good Luck!
Blanton's and some ice. Simple
I found them at online team shop but their sizes are limited. I could use an early Christmas gift myself. My quest will continue, good luck.
I Hate Notre Dame but it's never a good thing when a talent like Zaire gets hurt for year. College Football is better when certain teams perform well, ND is one of those teams. With that said, Go Bucks!
To be honest, I look at the rankings and mostly agree with all those SEC teams being ranked. I think those teams down there that sit middle of pack in SEC are better than teams that sit in the middle of other conferences. With the exception of Northwestern, I don't think any other schools from the B1G that aren't ranked should be. It's just too early to tell who's better than who this early in the season, that's why they should wait at least 3 weeks to come out with rankings. These SEC coaches can piss and moan all they want but schedule but what would they like us to do? None of them will come North of the Mason-Dixon line to come get some so why should we come South of it? They'll get their chance in the Playoff.....maybe......and get dumped on by a superb Buckeye team.
Awake and ready to run through a wall! It's Go Time. Go Bucks!
How they are within sniffing distance with all the screw ups they've had this year is beyond me. I quit watching because I couldn't fall asleep raging pi$$ed. That said, I've been creeping on scores here and there lately, afraid if I tune in and watch I'll jinx them. I said all along, with that pitching staff, anything is possible. Good for them for not mailing it in a month ago. Go Tribe!
On top of the game as usual. These other schools have to wake up pretty early to beat Urbz and crew.
Oh my god I have tears of laughter pouring out of my eyes reading the "Ruining a mock draft" WMD. Sad thing is, if the dude ruined one of mine I'd probably be as upset as some of those other guys. Some of those responses are just hysterical.
I gotta go with last years....by a landslide, not to say I won't buy a pair of this years. Any news on release date??
Is this possibly one of those uncommittable offers that is so often talked about? Whole thing seems a little off
I think basically ESPN has gotten away from what made them great in the first place, BROADCASTING Sporting Events and HIGHLIGHTING Sporting Events. They're failing the same way MTV did by no longer doing music videos. ESPN has become so obsessed with analyzing every little rumor and being the first to break stories that they have forgotten what actually helped them become the leader in Sports. Some of their personalities are also hurting them by being so ridiculous that it's obvious they're just playing fans for attention and Internet hits. i really miss the old ESPN that just aired games and Sportscenter was actually highlights, not a bunch of ex players analyzing what athletes had for lunch or what their "sources" have told them about what the athlete thinks of something. Just my 2 cents
So embarrassing...my punishment for slacking off on my 11W reading. Sorry everyone, I was so excited to see ESPN failing I didn't check past posts. Off to Jail
He probably can't putt worth a dam though......haha
How much were jerseys going for?? There's a bunch just posted on EBay for $50+$10 shipping...which...seems reasonable to me??
None the less, if your the knob that had the gull to pick more than 5 jerseys off the rack and not feel like a dick, then you sir are disgusting.
DK Diner in Grandview is a cool little joint with some awesome Breakfast. Omelets, and legendary sour cream donuts. Good God, the thought of those donuts has me looking up their hours
Haha, that's hillarious you still have the postcards, Good stuff Oyster. No place else I'd rather be with a dozen of my closest friends. Opening Day in Cleveland is one of those things that I hold dear, much like the Saturday we play *ichigan. Really excited this year for the Tribe......shall we say "cautiously optimistic". Can't wait.
I'm all in! Happens to be my Bachelor Part Weekend so we had all hands on deck this morning. Ended up getting 8 bleacher seats and 6 lower reserved. Cannot Wait. Where is everyone pre-gaming? Paninis perhaps? Clevelander?
Agreed. I Love Thad but I think it's time for him to evolve a little. I'm not sure if it's on him or his assistants that we haven't developed a big man for years, also FREE THROWS!!
Free Throws and the inability to develop a talented big man. Over and over and over again! Amir got dominated today, by guys who are just not good ball players. This team is so damn frustrating to watch. Still love em though, hoping for a run in the tourney to atleast make it a decent season.