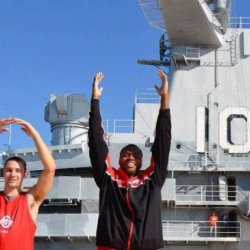 Josh P
---
MEMBER SINCE November 05, 2013
Favorites
SPORTS MOMENT: *insert any Ted Ginn highlight*
Recent Activity
I fully agree. I have always appreciated the recognition that Gus has shown for JK when he calls our games.
JK was also so respectful and appreciative of that gift which is something I really loved to see as well. The complete opposite of that Connor Cook/Archie Griffin situation from a few years ago.
I don't agree at all with this take. Gus is extremely professional and respectful and it's pretty clear he has a massive appreciation for JK as a player and as a person for how hard he works and what he's been through to get to this point.
https://www.elevenwarriors.com/forum/ohio-state-football/2019/10/108230/where-would-we-choose-to-play-the-semifinal-game-if-we-finished-1
I posted this below- a couple of mods, among others, in the comments from this thread stated that the 1 seed does choose. Upon further research, I can't find anything that explicitly states that the 1 seed chooses either. I'm also unwilling to cite Wikipedia as my source even though the CFP Wikipedia page says the 1 seed chooses their location because that tidbit itself is not cited on Wikipedia.
Anyway, thanks for teaching me something today, who knows how long I would have gone around spouting this incorrect info.
Can we get some definitions for these variables in this context?
As a NC resident I am especially excited for this game. All of my UNC friends will get a first hand look at the Buckeyes I've been telling them about. I hate that it tips at 9:30 EST, but I'll be awake as long as it's competitive.
https://www.elevenwarriors.com/forum/ohio-state-football/2019/10/108230/where-would-we-choose-to-play-the-semifinal-game-if-we-finished-1
Yes, I'm aware that linking to my own​ forum post is probably the worst possible source I could cite here outside of maybe Wikipedia, but note that a couple Mods in the comments point out the 1 seed has the choice to play where they'd like. I feel like the committee and the NCAA might not explicitly say the 1 seed gets to choose, but in reality it seems like the 1 seed is making the choice. Just look at the semifinal locations and matchups from the past and I think that makes it pretty clear.
Is there a scenario where the committee ignores the 1 seeds preference? What incentive would they have to listen to the 1 seeds preference and then ignore it?
Looking back on the CFP History:
2014 1 seed Alabama plays in the Sugar Bowl instead of the Rose Bowl
2015 1 seed Clemson plays in the Orange bowl instead of the Cotton Bowl
2016 1 seed Alabama plays in the Peach Bowl instead of the Fiesta Bowl
2017 1 seed Clemson plays in the Sugar Bowl instead of the Rose Bowl
2018 1 seed Alabama plays in the Orange Bowl instead of the Cotton Bowl
It certainly seems like the 1 seed tells the committee what they want, the committee says "okay we'll see what we can do," and then they give the 1 seed what they want without describing it that way.
The committee doesn't choose, the 1 seed chooses. I'm surprised at how many people don't know this.
All of us seem to have our own mentality heading into this game every season. Mine is almost always independent of any and all results to that point in the season.
I don't care that we won a game by 11 in which we turned it over three times. That speaks more to my point that I completely trust our defense with the game on the line. I care that Michigan is desperate. I care that the weather is supposed to be shitty. I care that Fields was banged up Saturday and the physicality in the game on Saturday is on another planet from any football game he has ever been a part of.
We are the better team in every facet and by nearly every metric. That gives me no comfort. I will not be comfortable until the game is over on Saturday.
Thank you. I keep seeing the "law of averages" comment. That isn't how it works. If the law of averages applied to football games that means Rutgers would eventually get a win against us too.
I am absolutely terrified of the game this weekend, as I always am. I have been saying that I trust this defense to win us games all season and that hasn't changed. Give me this defense on the field with the season on the line and I'm comfortable. If our offense is on the field with the season on the line.... I don't know.
This is a great point. I can flip my hips from a backpedal to a sprint seamlessly, but I don't just automatically know any more about how to diagnose an RPO than someone who didn't play.
You were the type of person I absolutely hated being lined up across from in pick-a-hole drills. Not sure if you did those at your HS, but basically you line up at RB with four blocking dummies laid on the ground to create three running lanes. One guy lined up on the other side in a stand up LB position. Coach handed you the ball, you picked a hole, simple as that. It's probably against the law now haha.
Whenever me and my old teammates are back home and out at a bar, we will constantly be screaming "pick a hole!!!" at each other like the idiots we are. I guess I miss football too.
I started at defensive back in high school. I would say that most people on eleven warriors actually do have a great understanding of the game of football. Part of that is due to the great content 11W puts out and part of it is due to the fact that if you're passionate enough about Ohio State football to make an account and be active on a blog, you probably have a good knowledge of the game to begin with.
I will say that if you didn't play football growing up, the physicality is not something you can really imagine. It is such a rough game. I didn't share this particular mentality, but there were players at my school and on opposing teams that legitimately loved the physical aspect and would relish hitting people. I didn't mind contact (as anyone who plays pickup basketball with me these days can confirm) but I didn't seek out those collisions like some people. The big boys in the trenches and linebackers were mostly a different breed of human.
There aren't many plays on a football field where that physicality is avoided. The game has changed a ton recently, for the better, but it's still hard to comprehend what your body feels like after a game if you haven't experienced it firsthand.
Also, the speed of the game is impossible​ to fathom. I remember my first varsity practice and how shocking it was. I can't imagine what high level D1 football would be like.
I hate waiting for night games if I'm watching at home. I'm antsy all day, I can't focus, and I can't enjoy the rest of the days football games. I also can't go out because I can't watch big OSU games anywhere but my couch because I have absolutely no self control.
Noon kicks are fine by me; especially here in the southeast where people LOVE fall weddings, because it means the game is typically over before I even have to start getting ready for a ceremony. Games wrapping up around 3 is also great because I have the rest of my day wide open.
What is it telling of? This is an Ohio State website and an Ohio State fan was being addressed. Our fan base does not have a great reputation and an exaggerated mocking laugh at a 21 year old could certainly be one of the contributing reasons to that reputation.
My jaw seriously dropped when i watched that video. What the hell?!?!?
One time I was at a tailgate for a Wake Forest football game. Don't ask why, or how I found myself there. One of the older gentlemen hosting the tailgate became the first person I ever heard say Archie Griffin was overrated. He also sprinkled in a racist comment, because #south, and I tried to fight him. I named my dog Archie and I will never stand by idly while the good name of quite possibly the greatest football player of all time is slandered.
My OSU hoops Mt Rushmore: Havlicek, Turner, Redd, Craft.
Probably more like Joey Bongwater
Best of luck to Tate. Hopefully he can help Miami build an ACC program that can actually challenge Clemson.
come on man. get over yourself
Come on, man. Get over yourself.