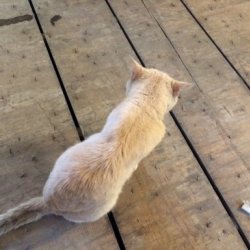 Jonnferrell
---
MEMBER SINCE March 20, 2012
Favorites
SPORTS MOMENT: OSU beating USC for the National Championship--and every time we beat U of M
COLLEGE FOOTBALL PLAYER: Braxton Miller
NFL TEAM: Chicago Bears
NHL TEAM: Columbus Blue Jackets
NBA TEAM: Cincinnati Royals
MLB TEAM: Cincinnati Reds
SOCCER TEAM: Buckeye Middle School
Recent Activity
The urinals are top notch.
Don't do it Luke! It's a trap! Dantonio is not your father! Seriously, he needs to work the recruits he has at U C for 1-2 years. There will be better jobs open in the Big Ten and other places. Keep winning 10-11 games at UC for a year or two and he can have his pick of many jobs--even MSU when it comes up again after Mike Tressel or whoever takes the dumpster fire that is currently the Spartans.
The Mgo bloggers are really taking a pretty rational stance on this overall, but I think they are missing something. They are not addressing the development part of this news, but seem to be stuck on recruiting almost exclusively. I told some of their fans years ago that they needed a Coach Marotti and they didn't want to hear it. That's why they run out of gas against us in the 4th quarter. That doesn't even allude to skill development, where I think it's obvious that we have a huge advantage as well. Rashad Gary, Donovan Peoples-Jones, etc, all should have been farther along in their development than they were when they left. Viva la difference!
Time for a sack and fumble
Time for a sack and fumble
524
And neither is Woody, who was pretty hardheaded in games like this. He didn't like to pass and often relied on brute force in that T formation. Ryan Day has got this. So does Chase Young!
The first OSU game I ever saw was the 1969 Rose Bowl victory over OJ Simpson and USC. I then listened to or watched every game the next year. All I knew was that the Buckeyes didn't lose-- until they did, 24-12, in Ann Arbor. I was crushed. It won't happen this year. Go Bucks!
Rex is always putting his foot in his mouth--or someone's foot in his mouth. . .
Let's go bucks-- new quarter, new start!
RIP Hondo. One of the greatest players of all time.
About twenty years ago I went up there for a BB game and took a ton of OSU stickers with me--OSU helmets and block Os. Stuck them everywhere in Schembechler Hall-- trophy case, everywhere. Even on the gates of that stadium. I laugh every time I see Schembechler hall on tv, or someone mentions it.
Well I'm just glad there is a happy ending to this whole thing.
Yes, but it wasn't just that play. They called the whole game like that--shittily. I think it created a culture in that game that was unhealthy.
Sigh. I had this vision of Boss coming back to crush the opposition. Good luck to him! Thanks to the lousy officials in the TCU game for allowing that to happen.
Purdue will not be a laugher. I wish it would be, but I don't think so.
Now we can all write a skull session! We know the secret ways! Now, just have to think of a catchy name for our new Buckeye blog. . .
The game day threads looks like mgoblog. Imo the PL game threads probably take more level headed fans away from the regular ones and it is not a good look for the site. It was really sad on Saturday. EW may want to post the PL threads for read only.
They need to shit or get off the pot.
https://goo.gl/images/MSMRpU Frank Frazetta was awesome. No one would ever confuse his Eowyn for a dude, however.
I heard that all the way up in C Deck. It was the loudest ever.
Thanks for making sense. A very nice gesture from an appreciative student.
Man, I was ecstatically happy for like 3.9 seconds. . .
Taylor University is the treasure of Upland, Indiana. But the crown jewel is a place called Ivanhoe's. Delicious milk shakes, ice cream and comfort food in an atmosphere of greatness that only comes from years of delicious consistency.
My favorite story about this team comes from a special gathering of them in 2005, honoring a fallen teammate. Woody was right about those lifelong friendships. They are special to each other and to Buckeye history!