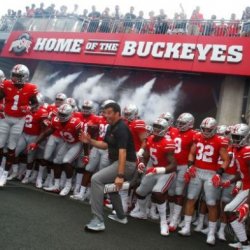 jonesteam04
---
MEMBER SINCE September 29, 2018
Recent Activity
You guys are saying his name wrong it's Vlade Flop.
Would love to watch...went to both sites and I see nothing about it
What happens if Baldwin is the second coming? Do you now bench him when Fields is eligible?
He will throw for 275 before Tate comes in
I'm jus saying...he said no head coaching...let's give him Hue Jackson's position and make him Ohio States Special Assistant to the Head Coach
I love coach and hope he is going out on his own terms. I also hope that he stays retired I don't want him taking another job because to me that says he was forced out. On Day, I think he will be fine as long as he keeps certain staff members and by that I mean Larry Johnson, Hartline, and Wilson. He understands what The Game means and he is now part of the Urban tree so he will do just fine.
I don't think it's the players...our coaching has been disappointing all year except during the MeatChicken game. It's like each week we play not to win except that week we played to embarrass them and we should play that way each week
Serious question...do we beat Washington?
Wade doesn't even try to act like the flag isn't on him anymore
We have asked for the run all year but jus stop! Unless Tate is coming in outside the redzone to open running lanes...jus throw the ball
Y'all remember when we threw the ball down field during the thumping of Wisconsin? Do you think the coaches know we have no chance to make playoffs so they trying to play safe?
Why are we being so predictable on 1st and 2nd?
So what's going to happen now is the committee is going to out OU in because we look like crap...again...and for everyone who said it you're right taking the foot off the gas is going to cost us. We need more of a killer mentality
I really don't understand our play calling this season. I feel like we can't make up on minds on if we are a running or passing team.