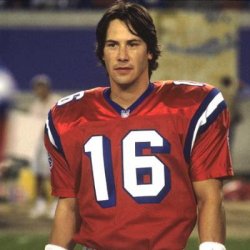 JohnnyUtah
---
MEMBER SINCE September 28, 2014
Recent Activity
"I'm involved in some scandal, and I'm trying to get out in front of it."
What a terrible thing to do to an unpaid college football player. This is an enormous invasion of privacy, so some goon trying to build a garbage career on twitter or a blog somewhere can make some scratch. How old is Tate? 19? 20? How is it acceptable to undermine his privacy? He's basically a fucking intern.
Just as an FYI, being the head of any organization is incredibly difficult. You pointing out the size of Ohio State doesn't impart the President with any more ability, it just imparts the job with even more constant flow of work to be dealt with.
The man is not an HR specialist. You wouldn't want that either. He's a generalist. He's doing the right thing. The school wants to get good recommendations from people that it trusts to make the right decisions. The school wants to make the right decision, not the fast one, and not the one informed by their gut.
He's doing the right thing. He's trying to get the best answer. The best thing we as students/alumni/fans can do is hope that the school is doing just that. Coming to the best answer for a difficult problem. There's no reason to get hostile at him when he's doing the right thing.
How is that not Minnesota's full time uniform? That thing is gorgeous.
Incredible article.
DiSabato is certainly an unusual guy, and some of his character issues are going to make all of this difficult to parse. Also, with Jordan's involvement in it, everything also suddenly falls under the weird ungodly madness that is current US politics. Which is really unfortunate. Because the reality remains that we have, I believe, nine wresters coming forward now to back up the accusations, and Jordan's former boss, the head of the wrestling program at the time, admitting that he was aware of the abuse while it was happening. With all of the other odd allegations about sports apparel companies and whatnot, I can't say what's up and what's down here. But with the abuse, it's beginning to feel like there isn't a debate there.
The world is a different place now, and hopefully that's a good thing. I'd like to think that abuse like this wouldn't be tolerated. I wish that the political aspect of this wasn't a thing, but I guess there's nothing to do about that now. After following all of this somewhat loosely the past several days, I have to say that it doesn't look good for anyone. None of this will ever "end well" for anybody. That's the nature of these sorts of things.
In the end, I guess I just hope that truth wins out. Truth can hurt, but there can't be healing without truth. I'd rather this not be politicized, and as much as I'm loathe to be looking like I'm "picking a side", I think it's time for Jim Jordan to come out with a serious, mature, and sincere acceptance of what occurred. He failed those kids when they needed him. He wasn't alone by any means on that front. But continuing to deny the obvious is insulting our collective intelligence, and dragging these victims through the mud.
The call was coming from INSIDE THE HOUSE!
Ha! I don't actually doubt that this is a little bit of payback for Harbaugh's behavior last season, questioning the officiating directly after the game, and not giving our team any credit. I honestly think it would be hilarious if this is Urban rubbing salt in Harbaugh's eye. "You tried to play dirty, but couldn't beat my backup".
That's his game. It is what it is.
Who was throwing him the ball? I think the answer to the riddle of how a seemingly less talented player can suddenly look like the most polished receiver on the team might have something to do with when he was in the game, and who was throwing to him. It just seems like we are constantly missing the forrest for the trees here. Over the past three years, has the problem really been with two offensive coordinators, a slew of highly recruited wide receivers (one of whom produced next to nothing last season, saw his draft stock plummet, and then made a pretty talented roster in the NFL), or is the problem with one player's inability to make those offenses work, and get those receivers the ball? This seems so obvious.
Agreed. For all the equivocating on whose fault it is, let's at least test the hypothesis here. What is there to lose? More games? That's coming anyway if the offense continues to look like it does. Even if you put Burrows or (preferably) Haskins in on a few drives, and things still look like a mess, at least that creates a little bit of breathing room for JT with the fans, and perhaps with his teammates as well. At this point I need to see with my own eyes that the issue isn't Barrett. Maybe that's unfair, but that's what happens when you can't put a functional offense on the field for several seasons in a row.
I feel like Meyer was in a bit of a trap here. He's really loyal to guys that give everything they've got, and JT does that. He wants to repay guys that create success for the team. He did that with Cardale, who should not have been a starter, and JT took a back seat when he shouldn't have. But then he got locked in to trying to pay JT back for all of the patience, and the leadership. It's tough. He's your leader, and he's holding you back. What a difficult position to be in.
Cardale is a national treasure.
It's time to make the switch here. We are at the point where every defense in the nation has the book on how to defend JT Barrett, and they are using it effectively every time. He's a great guy, but how many more games need to be sacrificed in order to be loyal? There are a lot of other guys on this team with goals. He's a great leader, but that doesn't solve all your problems. He's in the way. It's painfully obvious by now.
I get how hard it is to pull a guy like JT, who has paid his dues, and done great things for his team. JT is going to do great things with his life after football. But I don't see any way past how "after football" shouldn't start tomorrow. He's just too limited. Been in college football for a long time now, and the book has been written on how to stop him. It's all over except how many more games you want to sacrifice in the name of loyalty.
Ohio State should be great in the red zone. So used to playing with a short field on every snap.
Speaking as a 49er fan, I can tell you that this is a good hire. This guy gets it in ways that Tim Beck did not. He's going to be a big asset at a very important position.
Look, there is just no way that at a place like Ohio State, you should ever see your quarterback regress. There are just too many resources here for that to happen. This guy will not let that happen. There is going to be a fight for the starting spot next season, and that's a shame. On the track that JT was on as a Freshman, he should be starting his prep for the NFL. Ryan Day will not allow that to repeat itself.
There is a lot to improve. He's got an awful lot of really great qualities. Leadership, toughness, intelligence, and I've never seen a guy run the zone read better than he can (he just holds and holds and holds and forces a commitment). But his arm talent isn't at all what you'd want to see out of an NFL QB, or even a backup. The game is different at that level, and you can't be lacking as a passer. His delivery is a little slow, and he sometimes makes up for that with quick decisions, but not every play. He sometimes struggles to get the ball out on time on a lot of plays. He's struggled to get an accurate deep passer, and his throws are generally lacking in short-area accuracy, and are woefully bad in inclement weather. I don't know that those things will change for him, but if you're gonna bet on a guy, he seems like a good guy to bet on.
At this point though, it's hard to see how he gets anything better than a look in the 6th round, or maybe not at all. I don't think leaving early is really an option for him. Better to learn here, with all those snaps, than to try to learn in the NFL, where he'd end up on the bench.
This is such a good point. There will be high profile games played while Ohio State sits at home. You can't discount that, and we shouldn't get ahead of ourselves on this.
But that having been said, the committee is supposedly exists to "find the four best teams (with a slight lean to teams with huge fan bases that travel well)" and not to take the four best conference winners. Sitting at two at the end of the regular season should be a good spot to be in considering how much better Ohio State has looked when compared to most of the other teams that would be in consideration.
I'm just over here laughing at his high school tape. Some of these kids, man. I don't know how you are supposed to tell how good he is, because he is literally destroying the kids he's up against.
AP voters working hard to expand the definition of "Quality Loss"
I have a feeling that Northwestern's journalism school alone helps to bring that average back down to Earth.
This was the first home game I was able to attend since I graduated. First time I got to go to the campus too. All around a lot of fun. Great atmosphere as always.
But I got to say, the in-game audio is poor. They need to stop playing the canned music and whatnot. I'm a red blooded American, and I love me a gigantic tv screen as much as the next guy, but they need to show some discretion on how it's used. Ohio Stadium has had almost a hundred years to figure out how to keep people entertained. It's a unique experience. There were far too many times when the various chants, cheers, and (especially) songs were getting drowned out by poorly executed prerecorded garbage from the speaker system.
That band is outstanding. What other stadium in America has the majority of the fans staying in their seats during halftime? The main point of emphasis is the football team, and number two is the band. THERE DOES NOT NEED TO BE A NUMBER THREE. In fifty years, we will still be hearing Hang on Sloopy by the band, same with the fight song, and Night on Bald Mountain. We will still be starting O-H-I-O chants, and all the rest. I'm willing to bet that the White Stripes won't be there. I'm fine with it being there now, but the frequency needs to drop significantly.
It's still kinda a mess. They are slowly creeping back to Rainbow Warriors, but don't have much in the way of money for advertising and PR and such, and already sunk a lot into the current branding. More likely to drop out of D1 than go back to Rainbow Warriors at this point, unfortunately.
As an Ohio State alum that was born and raised in Hawaii, and haven't been back to the 'shoe since 2001, I cannot begin to explain how excited I am to be going there on Saturday. As a uniform nazi, I am really glad that UH did me the personal solid of going back to the throwbacks for this one. Not what they wore when I was a kid, but close enough. Now I want Ohio State to wear the home version of what they wore on Monday, and my personal football wet dream will be complete.
Wow, Josh Perry. Way to completely destroy a tough question. Not only do I not think that there could be a better answer than he gave, I'm shocked that someone his age, on live tv had the wherewithal to give it straight up like that. I bet his parents are pretty proud.