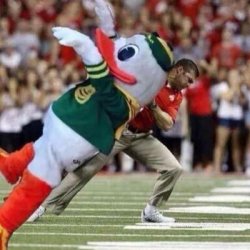 Johnnycake
---
Member since 19 January 2011 | Blog
Recent Activity
I don't think ability to run zone read or option is as important as it was early when Meyer was here. He wants to distribute the ball plain and simple.We have so many other weapons on the perimeter and backfield then we did four years ago and even three years ago.
I think he moves to WR by the start of the season and blossoms there.
I don't mind the OH-IO chant. But I prefer a "Go Bucks."
As each year passes I care less and less about recruiting of the kids we get as we usually have plenty of talent and put kids into the league.
I think many fans in our fan base are terrible spoiled brats. I think Ohio State will drop off into a Earle Bruce-John Cooper like period after Meyer is finished and the people that complained under Tressel and through out the past few years will understand how good we have it.
I always thought Tressel was extremely loyal to coaches and players.
I think that anyone that paints themselves like this for a game should be slapped.
When you quote a dolt like Axelrod, everyone loses.

Calendar
October 28 (First set of rankings released)
http://www.collegefootballplayoff.com/about-the-rankings
Why was Axelrod included in this?That guy is an absolute asshat.
Blaming Vrabel for Texans linebackers already; interesting.
He wants to be a head coach. He could be named Offensive Coordinator at OSU when Herman leaves but can he do that and coach the OL as well?
Great story...leave it to OSU fans to focus on Woody getting fired.
Why would they play such a wussy sport?
He released an apology video for the things he said and then was arrested later. The guy is full of it.
The results won't hurt him that much. He will run again at Pro day and they already know that he is capable of getting 20 carries without putting the ball on the ground and staying relatively injury free.

They have two years of game film on him and he is relatively injury free; almost never fumbles. The NFL knows what they are getting in this kid. 3rd round at the worst.
Agreed and I hope that clown is trolled hard core.
Great story Birm...glad you got to break it and had his permission. Couldn't of happened to a better guy! Also glad that you kept the riff raff posts out of this thread. Looking forward to his intelligence and coachability.
Cut his ass loose....done.
Great job linking his article to give him hits.
If he is as bad as you say then why would Boston College hire him? They have produced a number of NFL OL and love to run the football. BTW I am speaking about him as an OL coach and not Offensive Coordinator. Believing that he doesn't know how to instruct or coach the OL is far fetched in my mind.
Moderation is key. Getting a ton of "realists" that want to dump on players and coaches gets old really quickly. Be quick to ban or suspend people that claim to be Ohio State fans, but with every post show that they have nothing decent to say about Ohio State.
What a gratifying fart......oh...the relief.