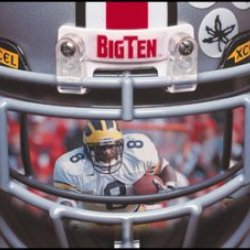 JohnnyBuckeye
---
Edmond, OK (via Pickerington, USA!)
MEMBER SINCE December 30, 2012
Favorites
SPORTS MOMENT: Ohio State winning the national championship.
Stargell's homer in the 1979 NL playoffs.
The 95 Notre Dame game.
Flying back to Columbus for the 2002 championship game, and the CMH airport was playing Ohio State band over the PA.
COLLEGE FOOTBALL PLAYER: JT, Eddie, AJ, Boston, Galloway, Teddy, Troy, Speilman, Braxton, Archie
COLLEGE BASKETBALL PLAYER: JJ,, Craft, Kellogg, Ransey, Stokes
NFL TEAM: Pittsburgh
NHL TEAM: Blue Jackets
NBA TEAM: cleveland
MLB TEAM: Pittsburgh
SOCCER TEAM: yawn...
Recent Activity
I thought the same thing. Lol
Just curious about why you didn't like Tress. Not asking for particulars, but what about him, could you not stand?
When does basketball season start?
Good kid. Always a fan of someone that overcomes adversity.
You had barbecue, and didn't invite me, hurt my feelings!
I can never root for that team.
Hey Keith, let me see your shoe.
Lemme see your shoe.
Cause I have never seen anyone put their foot that far up a guy's ass.

Three classics...
"Leave the gun, take the cannoli"
What an incredible Cinderella story! This unknown, comes out of nowhere, to lead the pack...at Augusta. He's at his final hole...
i don't want any of you homos, touching my stuff.
"Leave the gun, take the cannoli".
I like the fact the he seems like a lunch pail, hard hat kid, not a primal domna.
Yeah, I never signed anything. In fact, I nearly begged him for the bill because he had to come to my house two different times. He couldn't figure it out after 2.5 hours on day 1. When I asked for the bill on day 2, he assured me he'd "make it right". His version of that was inflating his time, then attempting to explain that he had removed the fictitious time.
Thanks for your advice. No one likes getting ripped off, even for $150.
I"ll call you tomorrow bro.
No. I asked him if he had a service fee, or truck fee that he was hitting me up for.
Just my own notes about when he arrived/left.
Unfortunately, there was no written estimate.
Always liked I.M. Hipp from Nebraska