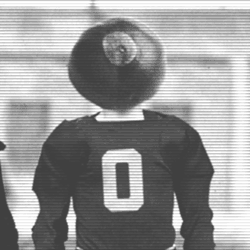 Johnny_Buck71
---
MEMBER SINCE September 30, 2012
Favorites
COLLEGE FOOTBALL PLAYER: Troy Smith
NFL TEAM: I pretty much dont follow NFL anymore, I love the
MLB TEAM: St. Louis Cardinals, family moved to STL a while a
Recent Activity
Almost certainly in September. "when" is as important as "who" with scheduling.
"we" = Big Ten Conference
maybe controversial, but at what point do we start scheduling like the teams south of us? That we have a schedule with back to back road games @MSU and @PSU bookended by Iowa and Nebraska with no byes is just accepting unnecessary risk. We don't really get credit for the schedule anyway. Last years SOS didn't help at all.
Something needs to happen with targeting rule. It's harsh to eject a player when it clearly wasn't intentional but more circumstantial. Sure, he should tackle with his head up but that's far cry from something deserving of an ejection.
As to the fumble, that's just insane. 3 steps with ball in receivers hands and ball only comes out after defender knocks it out. It's obvious to everyone but geeky rule makers.
Mistakes killed us. Penalties (targeting and roughing the kicker) were huge. Missed opportunities in red zone.
I feel exactly the same way. The better team lost. And worse, we mostly beat ourselves. Dropped passes, penalties. And I learned 3 steps is not a football move.
SP+ favors Buckeyes
Roster talent favors Buckeyes
Performance vs better competition favors Buckeyes
Media pundits favor Clemson
Put the BS aside and go with the Buckeyes.
I think head to head, we are better than LSU. UGA isn't very good.
The only time I really get that is really just for me is Ohio State Football games. There are 8760 hours in a year. At most, there are 15 possible Ohio State football games; at 3-4 hours / game < 60 hours. That comes out to around 0.68% of the year. Every single one of those games is scheduled in advance. I promise you my household knows when those games are and that Im in front of a TV somewhere: home, bar, hotel, friends house. They can do whatever they want but that's what Im doing. If they forget, that's their fault.
maybe it's just me but I'm tired of this and related questions that entertain scenarios involving a loss this week. I think the question itself devalues the game and its significance. I'm a 90s / Cooper survivor. There are no scenarios that change the horrible feeling of knowing you're the better team and losing to that team. None.
I think there is some grey in your either / or scenario.
just curious, why is this a stunt?
LSU probably doesn't beat UGA, UGA is the second SEC team in the playoffs two years in a row. So good for Joe!
BIG had a lot of pre-season love. After first couple weeks of season, faded with out of conference losses.
first thing I thought of reading that
people are better than me, you are one of them, lol
I don't get it either. I missed something today while working I guess.
He confused me about his excitement of going to CA but unclear if he will play.
i think we are going to get everything from them and then some. The reference to '14 is clearly on their mind. Focus and disciplined. The rest will take care of itself.
They intend to win and think they can. That much is clear.
we need to bring it. Need to switch gears from TTUN to a team that's better than Purdue. If we lose focus and discipline we could be in for discomfort at the least. We can't afford even mild discomfort.
Yes, we played a vanilla, old-school offense that hid our problems in the back 7. So definitely that side of ball needs some changes. Offensive line remains a question mark as well.
I'm very critical of our current Buckeyes. However, i sometimes wonder if my criticism and the playoff committee criticism stems from OSU vs other Buckeye teams rather than against the current field of other contenders.
I really don't understand this missed tackle statement of our target is 5 and we had 8. Missed tackles happen. A missed tackle shouldn't equal a touchdown.