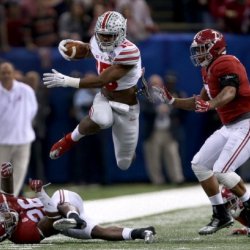 johnny11
---
from Speedway, Indiana home of the 500
MEMBER SINCE April 12, 2012
I'm simple. Probably comes from being a soldier for 6 years. I'm a young father who works hard for my child. I love the buckeyes. I have since the days of eddie which was before my teens. I work hard and play even harder.
Favorites
SPORTS MOMENT: The Game 2006. Really the entire game was fun to watch.
COLLEGE FOOTBALL PLAYER: Troy Smith
COLLEGE BASKETBALL PLAYER: Rose at memphis
NFL TEAM: Indianapolis colts
NHL TEAM: none
NBA TEAM: Bulls
MLB TEAM: White sox
SOCCER TEAM: none
Recent Activity
A true Buckeye great. Thanks Ramzy. As always Go Bucks.
Thanks guys. As always Go Bucks
Gill is a stud. Once he fills out over the next few years he will be a perfect fit at RB for TOSU. I think more so than HBack. He will fill out and probably get around 200-205 before he gets to college. Then if the Bucks can get him and Coach Mick can work his usual magic you're looking at a potentially super 210-220 RB for our beloved Buckeyes. Thanks as always Birm for the awesome write ups.
After watching his game tape I'm fine with him on either side of the ball. He could play receiver and do well as long as he starts catching with his hands more. That's easily fixable though and he has all the other traits quick feet/overall athleticism/knack for getting open you look for. On defense he gets down hill in a hurry and plays the run very well. He does know how to play "centerfield" like a safety should and can make a play on the ball in the air. I can see the intrigue to bulk him up to play walk out backer. His quickness, ball skills, and his nose for the ball could pay big dividends there. I like the local kid pick up with plenty of upside. As always my friends Go Bucks.
Yah I thought their logic was faulty. That"s why I opened it up as a question here whether you guys agree with it or not. Appreciate those of you that have.
I hope rose gets a look. Especially if Hill decommits.
High School was a kid named James Banks here in Indiana. He won Mr. Football in 2001 playing for Ben Davis High school in Indianapolis. He went to Tennessee, but had off the field problems and never quite panned out. He was their QB/Safety/KR/PR/Punter. I remember the year they won state. Against Warren Central in the regional final the punt flies over his head all the way to his goal line almost. He ran back and got it then proceeded to make all eleven Warren Central players look foolish on his way to the end zone. It was crazy I had never seen a high school highlight make ESPN top 10 plays until that one.
College I would have to say the most electrifying guy I ever saw live was Warrick Dunn at FSU. Especially against the U and Florida. In college he was a bad boy.
Pros I would have to say Barry Sanders. He was my favorite player growing up and was the reason I found a love for football.
I hope he falls to Philly so I can begin to be happy about professional basketball again. Sixers fan since I started following ball heavily. Iverson was my favorite player besides Michael Jordan growing up.
I like Peters a lot. I only had to watch his highlight tape for the first minute. He plays a little high which is an easy fix, but man he's quick for his size and strong for his age. If you notice in the first minute of the highlight tape every play he makes is in the backfield. Not a single one of those plays made to the line of scrimmage. That's damn good. As always Go Bucks.
All I know is that Braxton Miller is an outstanding football player and I'm glad he is still a Buckeye.
Side note: You know you're awesome at life when a famous porn star mentions that she looked up NCAA regulations to send out a video trying to entice you to come to her favorite school. That's my friends is #Winning
As always Go Bucks
Yah I was going to mention this one. I remember when Brax went down. My heart sunk and I began to think"no not Purdue again." Then Kenny G went out and showed us how lucky we were to have him.
USC- We owe them a good beating.
Notre Dame- Recruiting purposes and I can't stand their fans.
Texas A&M-Sumlin and Urban in a shoot out would be fun to watch.
Houston- I know, I know. It just would be good to see the teacher and student go at it after he has a couple years to build his program.
Florida State-Dabo and the Seminoles would be a good home and home.
The ways things are going I just keep remembering the words of
Mr. Urban Meyer- "The future is bright at Ohio State."
As always Go Bucks.
I want to take a moment to thank all of you from the bottom of my heart on your creativity with with the use of the word shrug. That is all. Go Bucks.
Miller wasn't a very big name before he was injured.
Yah those two Big Ten player of the year awards and being considered a Heisman candidate two years running before injury really make him a non household name. Listen Braxton may not win the staring nod, but lets face it last year it took three QB's to win a national championship. If we've learned anything its that in this offense the QB takes a beating and we usually need healthy back ups to make it through a full season. Literally every year since Meyer has been here its been like that. As always Go Bucks.
If I remember correctly he got injured a few games in to the season last year.
Hoping Noah Brown can solidify himself outside. Kid truly has talent.
Thanks as always Go Bucks
Damn. So besides being an ass hat fan of a shitty team he was a jinx too. Fucking MMan
Yesssssssssssss... Go Bucks. That is all.