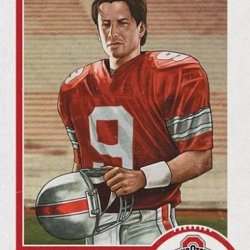 Johnny Utah
---
MEMBER SINCE September 07, 2010
Favorites
COLLEGE FOOTBALL PLAYER: Eddie George
COLLEGE BASKETBALL PLAYER: Aaron Craft
NFL TEAM: Cincinnati Bengals
MLB TEAM: Cincinnati Reds
Recent Activity
Beating Bama and Clemson for the title
Hopefully Wisconsin can keep it within 59 this time. Give us some entertainment.
I think you've just got to figure out what works for you and stick with it.
i have a theory that the reason there's so much conflicting nutrition advice is that everyone is different and there's no one-size-fits-all solution.
Eating has been a stress reliever for me. Bad day at work? Eat a bag of Doritos at night.

I knew I needed to get healthier and I had been meaning to do it for years. Then my back went out (for no reason, just slept on it wrong) and I could hardly move for a week. My weight was up to 265. I knew I needed to get healthy to avoid this problem again.

So on May 22 I set a goal to lose 30 pounds by my birthday (6 months away, November 22). I started doing a 30 minute exercise video in the mornings and started eating healthier.

Once I started to get into good routines, I started paying attention to my Fitbit. It doesn't just track steps, it also estimates how many calories you've burned and has a nutrition tracker. I figured out that previously, I had been eating 3000 - 3500 calories a day and burning around 3000. Now with its tracking tools, I could set a goal for myself to eat 1500-2000 calories and burn 3500-4000.

So after about 4 1/2 months, I am down 58 pounds to 207 and still losing a couple of pounds per week. I'm now hoping to get to 195 by my birthday and keep going until I hit 180. I don't count every calorie, but it's easier for me to be in a routine so I usually have a bagel with cream cheese for breakfast and a salad for lunch every day. Dinner is whatever I want, but with healthy portions. I generally don't snack but if I'm feeling hungry I'll eat fruit like a banana or apple.
Seems super weird that they've only played 48 times.
Their first meeting wasn't until 1951, and they didn't start playing each other in most years until 1965. Michigan State joined the Big Ten in 1949.
There used to be an Arby's on campus :(
stupid CVS
Urban is only interested in top tier jobs.
I'm sure Arkansas State would love to get Urban too, but come on.
Guessing they won't punch it in on this drive unless someone breaks it long
the only thing missing from this game is a defensive TD
Guys, I have a theory:
Michigan sucks.
It is a deep and sinister conspiracy
*sarcasm* if you can't tell
This is the Big Ten game of the week?
It's a good strategy if there's a good game. Not going to be much competition at this time of day.
backups giving the coaches something to yell about this week
Nice sack despite a ridiculous hold
Fields decides to do it himself
A few very nice runs on that drive
My God Chase Young destroyed that drive
Seems like Texas A&M is the most overrated team every year, since they joined the SEZ.
Around the top 10 early in the season, finish 7-5
Army did take Oklahoma to double OT last season...