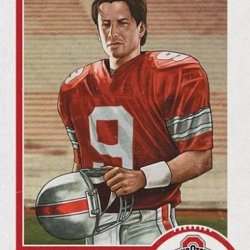 Johnny Utah
---
MEMBER SINCE September 07, 2010
Favorites
COLLEGE FOOTBALL PLAYER: Eddie George
COLLEGE BASKETBALL PLAYER: Aaron Craft
NFL TEAM: Cincinnati Bengals
MLB TEAM: Cincinnati Reds
Recent Activity
Ohio State's endowment is worth billions. What are they saving it for?
Is there a CFP mercy rule?
Yeah, horrible situation. There's no right answer.
The Fiesta Bowl is going to start exactly the same (Clemson scoring like LSU did).
OSU will be fine, don't panic about it.
Is this game ever going to actually start?
No way it's over by 8:00
So does OSU take the ball if they win the toss?
Do you know what Clemson usually does?
Very weird that the CFP games are before the majority of other bowls this year...
Haha, I might have had to if things didn't get better in a hurry.
Seems like they let NFL success influence it too much. Jerry Rice? C'mon.
The most egregious omission is Barry Sanders. At the very least he should've been there as a return guy.
The older I get, the less I think what I do matters for the game (believe it or not).
That said, I have a T-shirt I bought before the season and have worn for every game but one this season.
Of course, the one was the biggest win points-wise of the season against Miami, so...
Yes there are 8 episodes in the first season, and it has been renewed for a second season.
Bijan Robinson is supposed to be doing it publicly at 2:30 EST
Yeah the early signing period is pretty tough on teams bringing in new coaches
I don't remember much about the game specifically. I was a kid there with a friend and we wanted to go down on the field after the game. An usher stopped us, and while he was talking to us another kid went down and got Joey Galloway to sign a ball for him.
First game I specifically remember is the 1995 Iowa game. The Buckeyes got up 56-7 at half, then let off the gas and won 56-35.
Have they still not announced #5 - #25?
If I was outside the top 4 and wanted to know what bowl my team was getting, I'd be going crazy
Which I remember from last year...
Clemson will probably open as a favorite by 1 or 2 points
I would guess Clemson -2.5
Good motivation for the team, now go get them
Guessing between 12:15 and 12:20
After these checkins, they'll take a commercial break and then come back with it.
Herbie with some stealth scarlet and gray colors
Joey goes LSU colors, no surprise