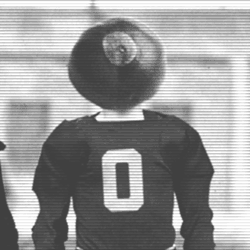 johnniebuckeye1
---
MEMBER SINCE February 01, 2019
Recent Activity
David Carr convoluted the recruitment. Lou Rosselli benefitted from it.
There are probably some tickets still available for Sunday's match. I would call the OSU ticket office.
Ironically, Demas is from Columbus. His older brother wrestled for us. We recruited David Carr from Massillon Perry instead of the younger Demas who were both in the same weight class at the time and Carr was rated higher. Carr was going to commit here until his father became an assistant at his alma mater Iowa State.
Malik may redshirt and Decatur will go down to 125. That's why he wasn't there and Quinner was at 133. Great performances by Luke & Sammy! Chase weighs at best about 222/223 now after U23. He wrestled at 230 last year. That's the problem. He was going down to 197 next year. Not sure what is going on with Hoffman at 184...has not wrestled well so far. We will find out more on Sunday, Disappointing about Kerkvliet. I'm not convinced he even wants to go to college. He just wants to wrestle. Andy, thanks for your write up & coverage!
Not surprising with Kyle leaving to the Nittany lions RTC and the opportunity to take an Olympic red shirt year. He decommitted twice before committing to us. With the Stevenson situation, he could be back at Minny or at State College unfortunately. Nevills can't defeat him. Sanderson doesn't care if Nevills transfers out. Chase will be at 197 next year after Kollin wins the Nationals.
The 2018 defense was highly reminiscent of the 2013 defense. Totally dysfunctional and chemistry problems with Fickell/Withers & Grinch/Schiano that were well documented.
Gavin makes sense but there is talk of Chase coming down to 197 believe it or not.
I think we are good with Voinovich and Paddy God willing in 2021. I spoke to Paddy and his father after the NCAA nationals in Pittsburgh...great family. They love the spirituality of the Ohio State program which is 2nd to none. We are young and limited in scholarships for 2020. Who knows if we land Ferrari. He's on his 3rd high school and now in Texas. He created problems at his previous two schools in Jersey. He has a maturity issue. The big schools are taking a wait and see approach including TOSU although there is no question disputing his ability. Andy, thanks for the updates on the wrestling program. I know the coaches sincerely appreciate your support and so do the supporters of the program.
Please tell us why are you trolling here? The majority of your comments most ostensibly demonstrate clear antipathy towards OSU. Who exactly hailed Herman as the next Urban? Cite empirical evidence?
I wonder if Thomas has grade issues after all these Power 5 offers. No disrespect to what Luke is doing at UC.
He's wrestling well and he trained in Cols right before his Final-X match with Bo Nickal.
Tournament ended with 6 Golds and a Silver for Team USA. Great showing in a tough tournament as a prelude to the Worlds in September. Yanni beat Zain 9-5 in the 1st round and went on to win the Gold. Will be interesting if Yanni wins his appeal after his controversial loss to Zain at the Trials in June.
Ransom is trending now on 24/7 CB picks to the Buckeyes. There has been almost a negligible drop off in recruiting from Urban to Day. Would be good if we could secure the commitment of at least one of those DL from N. Carolina.
Kyle plans to wrestle thru 2028. I see him retiring. He just got married so kids will probably be in the equation by then. He is doing very well with Rudis, Rogue, Clinics, etc.
Andy, J'den Cox at 92kg. I don't see it. J'den came in to train at the ORTC in Cols with Kyle, Myles and Kollin the week before his Final-X at Rutgers against Nickel. Love how Kyle speaks publicly about his spirituality. He has improved his gut wrench!
Thanks Andy. Don't see any letdown tonight from Kyle. He's highly motivated & focused after last year's world's finals loss to Sadulaev. Reminded me how he lost to Gadson the same way his freshman year. Just got caught. Humbling sport. On another note, hope the Yanni-Zain match will be overturned and continued. Have discussed it with several coaches and former OSU wrestlers and we all agree the procedural rules were broken. The block has to be thrown to protest 5 seconds after the call, not 55 seconds after and certainly not after the match has ended. Never have seen that happen before. The officials are human. Just want to see the best man win and not have the match determined by an erroneous officiated call.
Thanks Andy for your reply. You're right about Kerkvliet and his kneee. It is a concern. He may have to wrestle Gabe and I don't see Gabe beating Gwiz at Final-X. Supposedly the docs have cleared him to wrestle. He came back too quickly from that 1st ACL.
Andy, thanks so much for your coverage as always of OSU wrestling. I would have been in Akron yesterday, but was travelling outside Ohio. Educated guess is that Chase redshirts and Luke wrestles at 141,Keshawn at 149 and SASSO at 157. Honestly, Kerkvliet is too good to redshirt. Sammy has grown and had a problem making weight at 154 in Raleigh at Junior World Finals. Keshawn's natural weight is 149. Luke has grown as well. 133 is a struggle. Jordan Decater at 133. Malik will be a force next year as a true 125. That's why he wasn't at 61kg. I was very impressed as well with how Luke wrestled. Cleary & Romero wrestled well for having little freestyle experience.
Hausmann will be a 4th year player and is on course to graduate in December. He won't be here in 2020. And Farrell is a 4th year player as well and on schedule to graduate and he may opt for the Draft next spring.
Burrow graduated in three years with Honors from the business school so he could transfer to any school with immediate eligibility. That's a distinct difference.
You were right on with your comments and here I thought you had insider info. You do know your wrestling. We are all connected to the program in some fashion. The interesting take will be how 165 & 174 play out with Ethan, Kaleb, Carson and Rocky. Rocky is walking around at 200 right now and has a larger frame than Bo. Mattox had some off the field issues but I believe he's back in good graces to take a run at 157. Jordan Decatur had a rough outing recently. I see him red shirting behind Pletcher. Don't discount Quinn Kinner at 141. I imagine D'Emilio will be a red shirt. The good thing is we have depth now at every position.
Andy, thanks for your continued support of the program. You are a good friend of the program. The Team will officially start practicing on Monday in the Jennings Wrestling Facility, the finest wrestling facility in the country. Bdhof, you know your wrestling. Penn State had a very small class with the redshirts and the impending 6th years as you stated. Hayes will be at 141. He can't beat Sasso at 149 and he's too small at 157. Malik will be on the podium next year and so will Hoffman at 184. Sasso will vie for a national championship next year. It is wide open. Kolodzik from Princeton is a good wrestler at 149 but very beatable. Sammy gave Micah all he could handle in practice as a training partner. Kerkvliet won't redshirt. The coaches believe he can beat Stephenson. Chase will be at 197 after Kollin finishes next year. Hope Joey qualifies this weekend out in PA. Had a rough weekend in Vegas. That weight class is loaded. I look forward to Raleigh in two weeks.
On the other websites, there are comments that Sherman would never be a Buckeye. His visit was cut short supposedly by the coaches. The issue with travel and a mechanical issue on a later flight is smoke and mirrors. Something transpired during the visit that was not good.
Malik Hooker's brother Marcus is not listed anywhere on the spring roster. He was convicted of a DUI last summer and served a One game suspension which I'm sure also included grueling 4:30 am workouts by the S&C staff. He did lose his black stripe during the season. Is he no longer on the Team? He is not even listed as being injured or unable to play on the latest released roster.
feel very bad for both. Hard luck. The injuries that Babb has suffered are worse than Dixon. Three serious knee injuries in three years. Two to the same knee of this nature can be devastating. I remember the LB Berger a few years back out of Cleveland that suffered the same fate of two ACLs to the same knee. Dixon was afflicted to severe recurring tendinitis to both knees.