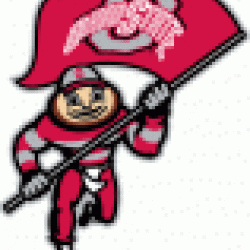 joel121270
---
Member since 15 May 2011 | Blog
Favorites
COLLEGE FOOTBALL PLAYER: Troy Smith, Eddie close 2nd
NFL TEAM: Browns
NHL TEAM: Chicago Black hawks
NBA TEAM: Cavs
MLB TEAM: Indians
Recent Activity
Then POOF....over before we know it. :-)
I loved them since the 70's and I started walking upright :-) but this game I distinctly remember the rain and knocking them off. Good times.
I worked there briefly the year it opened and that thing was coming back down a lot.
Millennium is hands down the best; as stated the speed throughout the entire ride is what I love about it. I do get a little squishy on the lift and can't see the steps lol
Well they have shown the pattern of barn burners in the first year of a new coach, let's see if it changes.
It's a Festivus miracle!!
Agreed, not OSU fault that Iowa didn't handle their business
Dead horse beater here, but NO WAY should Stanford be 3
Guess that's what happens when playing those two games on new years eve
Some salty people over here in south bend, tried to tell them weak perceived weak schedule or not you don't want none. Lol GO BUCKS
I thought I read last year it was five from any of the major outlets....not positive thought
Yeah, Bosa isn't first team.....I mean he didn't see triple teams or anything like that and still made it difficult to be blocked....these media outlets have cemented my opinion of them when it comes to College Football....a complete joke
Again, the writers can eat a big fat d..............
I see this and I want scream at the AP....this kid deserves it and them pencil pushing morons think they are the know all of college football....WTG BOSA!!!
Couldn't have said it better....they think they know all and don't have a clue.
Welp, you are....I mean the guy is barely hired and here you are being "that guy" with negative insinuations. Can't we just enjoy the hire of what appears to be a very good one and then cast judgement next season? I mean he seems to have a decent and proven track record.
There's always that guy....good God
I like it.....I like it a....lot
Or how about "it's a miracle" :-)
Well done young man, well done
I still think its crap a late season loss hurt our beloved Buckeyes. I think all points made about Alabama are legit. Maybe OSU needs to schedule softer later in the season as well.
Priceless
I must say this run osu is having against ttun sure does make up for the 90's in a big big way.
To do it publically is not his job...I agree with the author of this...behind closed doors...bad look in a lot of areas and he was wrong
Love zeke but agree he should have kept the comments in house.