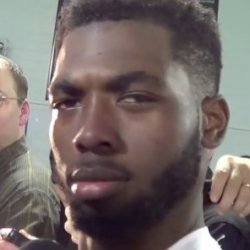 JoeAndSo
Cuyahoga Falls, OH
MEMBER SINCE September 05, 2012
Big OSU fan (obviously). Some people have said to a fault.
Favorites
SPORTS MOMENT: Winning the '14 CFB Playoffs
COLLEGE FOOTBALL PLAYER: Joey Bosa
COLLEGE BASKETBALL PLAYER: Greg Oden
NFL TEAM: Browns
NHL TEAM: None
NBA TEAM: Cavs
MLB TEAM: Indians
SOCCER TEAM: None
Recent Activity
Pranav Rama must be Bret McMurphy's smurf account.
Well deserved. now they just need to drive that brinks truck passed some of the assistants homes.
you can already see Shamansky sort of painting a picture of Wint entering into the room and into an encounter that he didn't know started in rape
Yea. good luck with that.
agreed.
that is unless you count justice (now and anything to come) for the victim as a win.
It will once Urban Meyer leav.. wait.. nevermind.
personally I'd like to call it more pessimism than negativity.
I remember thinking that I'd be fine with a 9-3 regular season as long as UM wasn't one of those losses. I had no idea Day would find as much success as he did.
if by "we" you mean Ohio State there's nothing they can do about that. I do believe all the conference scheduling is done by the Big Ten.
Not like the out of conference games which are left up to the two schools ADs.
10/10 should be fun. Ryan Day is the right amount of petty to make a revenge blowout work.
Yea, as much as I'd love to see a noon game at PSU it will probably end up being the CFB game of the week. ESPN loves those whiteouts.
what if Braxton Miller didn't overthrow Devier Posey in the '11 Michigan game? He was wide open, in stride, and might have scored and Michigan wouldn't have gotten that last win.
that second gif will always be my favorite.
I would like to forget about to 2011 season. So lets just agree to make that record 111-11 and never speak of it again.
probably. but that's not going to stop me from hoping Day can pull whatever magic Dabo is doing down in Clemson to keep Venables around.
Hold my Punt - Drue Chrisman..
Chryst, when asked by a kid in the Junior Journalists program for his plan to beat the No. 1 team in the country and Chase Young: "Those are hard questions."
ohmygoodness. I would love to see a kid reporter ask Harbaugh a question
I don't think focus is a problem with this team. In my opinion if Wisconsin ends up winning this weekend it'll probably be more of what they do than we don't.
How'd we get so lucky to get a Coach like Day?
Yea, I didn't get it either. I thought he was going to then say Ohio State is the national championship - or something bigger than a state championship - but I guess a cross state championship makes more sense to him.
I was thinking the same thing. Who knew Rutgers would be the team to expose issues in Ohio States defense?
doesn't matter to me where they're at. As long as it's less than or equal to 4.
11 warriors needs to bring in #56 as a regular contributor
Personally I'd like to think there was more motivation for the onside kick than meets the eye.
The Ohio State Kick Returner just watched this fall and the Terps recovered it, first offensive snap after this Maryland tries a trick play and turns it over. pic.twitter.com/LrcjJj98Yq

— NCAAF Nation (@NCAAFNation247) November 17, 2018