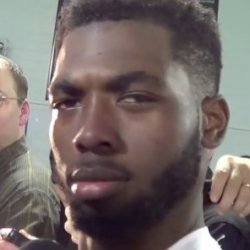 JoeAndSo
Cuyahoga Falls, OH
MEMBER SINCE September 05, 2012
Big OSU fan (obviously). Some people have said to a fault.
Favorites
SPORTS MOMENT: Winning the '14 CFB Playoffs
COLLEGE FOOTBALL PLAYER: Joey Bosa
COLLEGE BASKETBALL PLAYER: Greg Oden
NFL TEAM: Browns
NHL TEAM: None
NBA TEAM: Cavs
MLB TEAM: Indians
SOCCER TEAM: None
Recent Activity
It's weird (in a good way) seeing Pro Style QBs targeted again.
Maybe Mack. He was the one who blocked for KJ Hill on that go ahead TD at Penn State last year.
As long as one of those losses isn't to M*chigan or an Underachieving B1G West team by 30 points I'll gladly take a 10-2 record.
Also Fickell didn't have the coaching staff Day is inheriting
as long as they win games I don't care if they all run as fast as Robert Landers.
Probably because of how Larry Johnson's boys were schooling Michigan's OL.
funny how easy it is to remember some things. I can't remember every players number but JB Shugarts #76 will always be burnt into my memory.
true, but it won't stop them from trying :)
Yea, players sometimes are impacted by the way the coach carry themselves on the sideline. I'm reminded of the way Indiana played last year and how care free Tom Allen was. Same with Minnesota and PJ Fleck.
Don't forget about Nebraska. I'm not willing to give up on the Scott Frost experiment just yet.
I don't think it's just Ohio State overlooking usually underachieving teams that's causing struggles against them. It's how those teams spend exponentially more time preparing for Ohio State than Ohio State prepares for them.
I'm willing to bet some of the coaches on other teams are spending time right now scheming for an upset.
I can easily see Nebraska pushing for a primetime game too.
It might be wrong but I actually think it is when it comes to current NFL players. Maybe one of those minor violations that no one at the NCAA cares about but i feel I've seen the topic brought up before.
I re-watched the Miami game recently. I'm a big Gus Johnson fan but Keith Jackson was something else.
"Dorsey with enough time to move around and write a book"
Oh, this is a real league? I thought it was a space jam ripoff when I first saw the image.
Better than the days of Warriner and Beck where it always seemed like they didn't even know what they wanted to call right up to the snap of the ball.
And to think he was a Penn State lean until he found out they wanted him to play LB.
Some parts of the facility are probably football only but I have to imagine not all of it is.
And thus Michigan lost out on a couple recruits for their 2020 class.
that is as long as those two losses are giant bird droppings like the last Iowa and Purdue games.
I might get some down votes for this but, all things concerned, I'll view a 10 win season as a success.
I'll only turn it on to see Corso's picks.
I don't think Fox is ready for both Urban Meyer and Gus Johnson working for the same network.
can Ohio State compete for a national championship in Day's first year as a coach
Can they? Sure they're Ohio State
Will They? Who knows they're Ohio State.