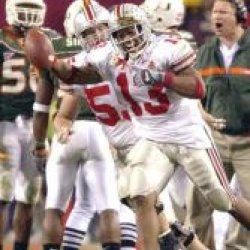 Joe4
---
Member since 04 January 2013 | Blog
Favorites
SPORTS MOMENT: This, although insignificant in the greater scheme, is up there: http://www.youtube.com/watch?v=i_oXlvSmp4o
COLLEGE FOOTBALL PLAYER: Maurice Clarett
COLLEGE BASKETBALL PLAYER: Greg Oden
NBA TEAM: Philadelphia 76ers
Recent Activity
For anyone interested in UFOs, this is a cool book.
This is already so long and great that I feel bad for even asking… but did you say in the forum that you'd have something on Kobi Simmons?
I'd love someday to hear a behind-the-scenes report on Weber. It was wild the way the (non-Birm) recruiting heavyweights were swaying back and forth every couple hours. And the way the whole thing seem intertwined with Alabi's own confusing final 24 hours... Just a crazy process.
I am interested in hearing as much as you are willing to spill about this comment:
There's something going on up north, people in Detroit working hard to undermine Ohio State's recent move into their football scene.
How would you compare this class to the last two?
He will form a devastating combo with Da'Shawn Hand.
This article supports that, although it's hard to know how reputable it is.
I could swear I read somewhere his nickname is Voodoo.
Edit: here.
This is wild: it seems like we could lose two or three and gain just as many!
I'm getting a little tired of hearing that Auburn is in on the same guys we are.
We need Jammie Jammie-Jammie!
That was my guess too, just since he was the only prominent '15 visitor I could think of who wasn't discussed.
Now that our team has vanquished all competitors, the only one left to fight is ... ourselves.
Nah, you were perfectly in the right, this is a me problem.
I keep seeing this thread, feeling excited, then realizing that it was created pre-Auburn visit.
(I suppose that sentence says several bad things about me, but let's ignore the forgetful obsessiveness.)
I'd be interested in seeing a poll of 11W folks just to see who has the most support.
BlockO is a genius! Not bad by jonping67, either. Suffice to say that not everyone was feeling so confident. That includes me; after the VT game I didn't see this happening in a million years. That just makes it all the sweeter!
Thanks for the thoughtful response.
Birm, if you're taking questions this evening, how confident are you that Walker ends up a Buck? Even 2016 seems pretty far away...
The same things that make Meyer an elite coach -- he's trending toward some vaunted company with his third national title -- are the exact reasons he isn't tempted to be an NFL coach. "Never," said Ohio State running backs coach Stan Drayton. "Never. He doesn't want it. We're running a big-time program like it's a high school program."
The quote comes from an article written by Pete Thamel, who seems to know Urban well.
People are talking about it here.