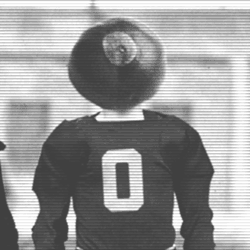 JObucks
---
Dayton (via Columbus)
MEMBER SINCE January 24, 2015
Favorites
SPORTS MOMENT: 1st Buckeye game, 2000 Michigan game, Ohio State runs the 1st kickoff to the end zone. The Shoe goes crazy... It was called back and we lost. I'll never forget seeing the shoe go nuts
Recent Activity
A dog will hunt. A dog will hunt.
Thanks for your best coach.
Leaving the Big Ten out two years in a row is a disgrace. Boycott the CFP.
Can someone remind the committee the Big Ten went 7-1 in bowls last year. Leaving a Big team out two years in a row is turrible.
You sure you want the lion woke?
We found our leader and ambassador for the class. Keep on.
Every statement was an apology no mater the tone or who it was addressed to. But agree. I wish when they asked Urban if he had anything to say to CS... he said I'll let her know when I see her next. We're going to reach out and see if we can help her and the kids. If you have to play the PR game, then play it.
To be fair every statement is an apology.
Not happy about it. But is was text book. You come at cbus and we'll show you how it's done. All headlines on other sites are apologetic and remorseful. And we're going to win every game.
All the headlines on other sites are apologetic and remorseful. It's a good look. Not saying I like it. But this was handled text book and we have our coach.
Any time an Urban team has been put against a wall it gets ugly: 12-0. Losing your star quarterback, twice. Any time we suffer a loss, next game is always a blood bath. Big Ten be all like ahhhhhhh.
Huge. When Ryan Day answers his mobile on the sideline on a 4th and 1 during TCU game... you know.
That's over... this team is a beast. Can't wait to see the product on the field.
Seems like time might be our ally. Especially if he did nothing wrong and he's reinstated. I like how they've handled it. Urban goes dark, next media cycle. Also the board might be giving us a National Championship by creating an angry Urban who's been late to practice.
Its like getting our first loss out of the way. Coaches and Team will be focused and have a chip.
He ordered those for Tom Herman.
The way the university is handling this is uping the percentage that he coaches again. Keep him out of the spotlight. Let the media have its day. Let another group decide if there was wrong doing.
I hope Harbaugh has an even worse scandal