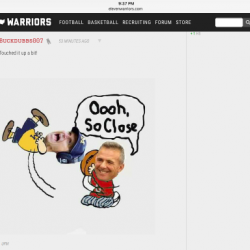 Jnowie
---
MEMBER SINCE June 01, 2013
Recent Activity
Michigan men.....are missing again......Hahahahahaha. Not a shocker 96 points in last 2 games....so far.
Thanks Coach Meyer and his family. Great times, great ride! Best of luck wherever life takes you! Good luck to Coach Day as the new head Coach. A word of warning though, Urban could no longer trust his bosses who failed to have his back. Maybe a more experienced candidate would be hard pressed to take that job after what happened to a coaching legend. When your bosses throw you under the bus for the sake of political correctness, I would leave too.
Very,very good year. Lots of ups and downs. Frustrating team though. You saw the greatness right there beneath the surface and then penalties,long run after long run, inexplicable coaching decisions,personnel decisions..... Great win over TTUN, good win over a game Northwestern, but Purdue and Maryland and Nebraska. IT was within our reach but really never within our grasp if I'm saying that correctly. Great record, great kids, thanks for the ride Buckeyes, one more in the Rose Bowl. OH
Great performance by DH....again. Good luck in NYC. Hoping he wins as he would be deserving of that award. Unforgettable performance.
Truth is he's paid to espouse his opinions whether we like/agree is really not the issue. When we disagree it runs the meter and same but less so if we do. Everyone has their opinions, it's still a free country. I agree more often than not and it's a not on Georgia being in this year. We had a really good year but I just don't think we played consistently well enough to be there. Close isn't quite good enough and like Georgia we weren't quite good enough either. I hope we get another Heisman though because Dwayne met that standard and I think Herbie might agree. Good win...Go Bucks.
Wow, who would've ever thought our skill position players were our most obvious tactical advantage? Just everyone but our own staff.....huh.
This team is so full of holes and inconsistencies I don't really think they've made any real improvements the entire year. That's coaching folks it just is. Penalties, special teams, offensive line, linebackers, defensive backs....we would have been boat raced in the playoffs. Don't really think they ever got it together from the very beginning, they've just hung on all year...barely.
Out coached and outplayed.....time to make big changes to this staff. Badly out coached...again.
Just......completely........embarrassing. Coaching staff has really failed these kids.
It was Purdue 49-20 to an average team. That did us in. Then we gave up 31 to a below average Nebraska and 51 to Maryland. Come on we all know why we're out. I know it's one loss but hey beating Michigan, Nortwestern and Washington would be pretty sweet. Go Bucks, let's have a fantastic finish to our season!!!!!
We really need chaos now. I'm good with a great win today, a great win last week and another one in whatever our next destination is. In a year with so many disruptive issues I'm thinking we had a year with far more success than failure. Go Bucks, it's been a wild ride!!
Tough game in a very tough environment. Cold, windy weather in November. Not perfect, far from it. First half was very rough but they stayed together and fought. Michigan State's defense is a rugged, hard hitting unit and they proved it. I saw some improvements but plenty of room for more. Good win, let's celebrate and appreciate a 20 point win, it felt good again. Go Bucks!!!
Dumb on 1st down dumb on 2nd down and dumb on third down!!! Run the DAMN ball please!
If Nebraska out screwups is today 5 more to say only 3 more screwups for us we definitely, possibly, maybe have a possible chance to maybe not lose!!!!i think that is a definite possible maybe!!!!!! Just trying to lighten the mood!
SOS, penalties, tackling, angles, can't block and we run to sideline for 1 yard instead of hammering straight ahead. Yep, lots of change for sure!
I'm thinking we match up very well.......with...............Kentucky. Their offense stinks so our defense matches up, our offense is good and so is their defense. Plus since they have 37 Ohio kids it would be a Buckeye on Buckeye brawl. Not to mention Meyer vs Stoops.
Just watched a bunch of un recruited Ohio kids playing at Kentucky, we shouldn't forget about those. I think they have 37 of them by the way. Beat Missouri on the road with great defense. Konrad, Bowden and Snell to name 3.
It is impossible to state that this defense is progressing. Not possible. My eyes tell me that this defense is regressing. When Schiano says that, he is being dishonest at best. I see better than I hear and so does everyone else. It's bad and EVERYONE knows it. At least be honest about what it is for heavens sake. Maybe, just maybe Tennessee dodged a bullet. I love our Buckeyes, but remember the "CLOWNSHOW" we had.....its reared it's head......again.
Solutions:
1. Drop linebackers off LOS so they have a second to read and attack, they are always caught in the "wash" at the LOS and get bad angles because the scheme eliminates them.
2. Defensive backs need to redirect the receivers and get their heads around, we let them free release and the routes have timing and receivers are where they are supposed to be on time.
3. Defensive line is vastly disappointing, fewer pressures than expected hurts the weak secondary even more. Just my 2 cents.....hope they get it fixed.
Well there goes Harrison and others with a pulse.....we quit.
I hate that Finebaum is right.
We'll get it fixed. Now that's funny..........
We're just a 3 year program for NFL training, no heart, no toughness, no leadership.no accountability. In the real world people do get fired......Coach....they do.
We do less with more than any team I've watched this year, and that started on day one.
Just appears without the very large talent advantage our coaching staff is outmatched at times. I remember times where if the other staffs had ours it appears they would defeat us easily and if our coaches had theirs they'd get badly beaten. Studrawa is mediocre at best, Davis as well, our new dB coaches are being exposed too. Zero improvement since game one. That's coaching, it just is. Hope somehow it gets better, frustrating team for sure. Needs to find something that lights a fire and soon.