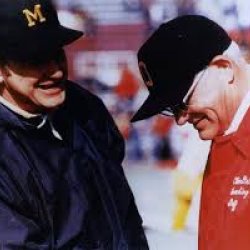 jmaglovsky
---
Dacula, Georgia (via Akron, Ohio)
MEMBER SINCE January 10, 2012
Recent Activity
My son is a shade over 6 foot - so Trevor's around 6'4" or so.
Fellow 11W family members .. not sure of the picture posting policies, but had to share this with all of you (and the thread topic couldn't be more appropriate).
I'll start off with stating that I live in NE Metro Atlanta (Dacula to be exact). Last Saturday night (as in the day before yesterday), my son and his cousin go out to run a few errands and stop by the gas station to fill up. Guess who they run into?
And YES, my boy is reppin' the right team! I asked him what he said to him. He said two things: "Go Bucks" and "You know Chase is coming for you, right?" Trevor chuckled and said something to the effect of, "Yeah, I know". Nothing derogatory or bad to say at all. He was a really nice guy.
He was literally on his way back to Clemson that night. I did not want a reason to like Trevor Lawrence at all .. but that was pretty damn solid of him to take that picture.
..and YES .. CHASE IS COMING FOR HIM .. along with our entire defense, the other starters we keep on the sidelines (because we don't have backups), and half of TBDBITL.
Go Bucks .. beat Clemson!
If we're #1 and Oklahoma is #4, then LSU vs Clemson in a completely neutral field out West would be a great game to watch. (Plus, I live in Metro Atlanta- so I'm hoping to see the Bucks play a few miles away).
Just saw Heather Dinich try to make a case for LSU at #1 because they've played 4 current top 25 teams. Does she realize we've played 5? And 3 of our OOC teams played for their respective conference championship games?

We've got resume, eye test and stats. Put us at 1!!
GO BUCKS!!
RUN, RUN, RUN! Bring in Teague to wear them out.

I think we might cover!
GO BUCKS!!
JK with 115 and a score
JF for 235 in the air, 0 TD, 0 INT
Defense with either a pick six or scoop and score
And a safety, just to piss them off
19-0 Buckeyes.
I live in NE Atlanta, so my son and I are constantly under fire about the Buckeyes (and the B1G in general). Every waking moment, it's GO DAWGS shoved down your throat.
But Saturday .. OH SATURDAY .. was so damn nice! In fact, my son was at the game with his Mom .. texting me the entire time. He even did the O-H-I-O chant (arms raised too) by himself during Q4. I'm so damn proud of that kid! I told him ".. it just goes to show that being a Buckeye is SO powerful, that just one of us can completely influence the outcome of a game on our BYE WEEK"
Certainly not the Schadenfreude felt at the end of November .. but we're kinda feeling it right now down here.
Now .. handle ya bid'ness and take care of NWU!
Lol .. I thought the same!
For any Pooty Tang fans .. Bucks are gonna "sine your pitty on the runny kine"! (which believe it or not is a threat to our enemies)
If our defense continues it's weekly improvement trend, their backup QB might think about warming up right now. They might just mangle Martinez when they get hold of him.
57-10 Good Guys
This is fantastically awkward. Don't get me wrong .. I LOVE the subject matter. But everyone (Woodson included) wanted say what was really on their minds, and they danced around it. Meyer's face .. damn, he's holding back so much Schadenfreude. If there was any possible way to see/hear the conversations during commercial breaks .. that would be solid gold.
Holy crap .. YES!!! I wish I had more hands - so I could give that dude 4 thumbs down!
Unless the fighting Herman's pull a W
So the brain trust at USA Today (and I'm sure others to follow) believe the SEC to be so superior, that 36% of the entire conference belongs in the Top 10? Alabama and Georgia, I get it. LSU .. yes but not at 5. 7 or 8 maybe. Auburn and Florida are laughable at 8 and 9. Wiscy would dismantle Florida, and beat Auburn by a closer margin. Wake Forest is ranked in desperation of justifying the Almost Competitive Conference. Geeeez!
I agree that early polls shouldn't hold much weight, but they do. Early polls lay the foundation for the official rankings in October, and are also used to create spin for teams favored by the media. How many times have we heard the "they we're ranked back when .." and "look where they're ranked now" arguments? Funny how Notre Dame is ranked at 7 now. Wait till Georgia dismantles them tomorrow night. Syracuse? It just happens too frequently and predictably to be coincidence.
May you Rest In Peace. Thank you for playing such a great part in the history of this University. Your legacy will be remembered, appreciated and celebrated for generations.
If our defense continues this positive trend and continues to get better, we need to put coach Hafley in Venables territory.
the passion from Woody
Sorry. After the earlier story of the one-night stand, that's where my went on this comment. How about if her name was Ann .. daughter of Mr. and Mrs. Arbor. Then you could REALLY say that Ann Arbor is a ....
Another great one this morning.
I'd love to see TTUN try and market "OF". I can already see t-shirts of our response .. where we simply reverse the O and F.
Nice catch Hayes .. don't ever f***ing do it again!
You're correct in that "it's not like nobody would watch", but there's a significant difference between how many people would watch OSU versus OU. That is obvious based on the viewership numbers. The OSU-MD game had a slightly better rating than OU-TX - and that's a rivalry game.
All great arguments if these decisions were made purely based on what happens on the field .. but we all know they're not. I strongly believe that financial opportunities pull more weight than we think.
Since the playoffs began, there could be enough spin for most of the teams that finished in the #4-#7 spot as the #4. In 2014, we were on fire at the right time and jumped several teams. We've also got one of the biggest brand names in the sport - and Lord knows we generate revenue. With that said, as long as the there are metrics and arguments which can support either team, it will boil down to which matchups stand to make the most money? The metrics and arguments might be touted as the deciding factors, but they're really not - they're the tools used to spin the best scenarios that people want to see and pay for. This rationale favors OSU - period. Through Week 12, the top 10 viewed college games were:
Top 10 Watched College Football Games (Wks 1-12)

| Rating | Viewers | Game | Conference | Date / Time | Network |
| --- | --- | --- | --- | --- | --- |
| 6.6 | 11.5M | ALA-LSU | SEC | 11/3, 8:00pm | CBS |
| 5.3 | 9.1M | OSU-PSU | B1G | 9/29, 8:00pm | ABC |
| 4.2 | 7.2M | OSU-TCU | B1G, B12 | 9/15. 8:00pm | ABC |
| 4.0 | 7.1M | MICH-ND | B1G, IND | 9/1, 7:30pm | NBC |
| 3.9 | 6.3M | UGA-FLA | SEC | 10/27, 3:30pm | CBS |
| 3.8 | 6.3M | OSU-PUR | B1G | 10/20, 7:30pm | ABC |
| 3.8 | 6.6M | MIA-LSU | ACC, SEC | 9/2, 7:30pm | ABC |
| 3.5 | 5.6M | OSU-MD | B1G | 11/17, 12:00pm | ABC |
| 3.5 | 5.6M | TX-OU | B12 | 10/6, 12:00pm | FOX |
| 3.5 | 5.9M | LSU-AUB | SEC | 9/15, 3:30pm | CBS |
Notice any trends?
OSU played in 4 of the 10
6 of the 10 featured a B1G team
5 of the 10 were on ABC
Now, here's a few more interesting facts:
Our thrashing of TTUN pulled an 8.0 which will put us in the #1 spot kicking LSU-AUB out of the Top 10
ABC (including ESPN) practically owns the Bowl Season, especially the CFP semi-finals (Orange, Cotton) and the Natty
So, if you think that ABC is willing to make that type of investment in the CFP and leave out it's biggest cash cow (OSU) in favor of OU - you're crazy. Last year we were slighted by Bama, but it wasn't the same argument that we have today. The real question is how do you set up this week's ranking for the best final rankings .. AND the best Championship scenario? For the storylines, I wouldn't be at all surprised if they try and set up:
Orange: Clemson vs Ohio State
Cotton: Alabama vs Notre Dame
Storylines
Rematch of Clemson/OSU
Slight to Notre Dame for not being in a conference
Sets up a natty between Alabama/Clemson (best 2 in CFB most of the season)
Sets up a natty between Alabama/OSU (Saban vs Meyer) and prevents yet another Alabama/Clemson title game if the cards fall right
Best scenario to keep OSU on TV for ESPN
So if money plays a part, don't be surprised to see OSU at 5 tonight (maybe even 4).
It's 5:45am on Sunday, November 25. My son and I are sitting in the corner of gate B10 at Cleveland-Hopkins awaiting to board the 6:55am flight back to Atlanta. We're barely conscious .. caffeine is starting to kick in though. Couldn't let another moment pass without first than thanking all of you for your help. Also had to fill you in on how this weekend turned out. (Normally at this point I'd offer a spoiler alert .. but you get the picture)
This all started Thanksgiving morning. My son and I flew to CLE to completely surprise my parents and family (in Uniontown) for Thanksgiving. They were completely shocked, and Thanksgiving was fantastic.
Friday afternoon, drove to CBus, checked into the airport Marriott, then Ubered to campus. Met an old friend at Roosters, who (afterwards) dropped us off at Conrad's around 8:45. Just in time to get some gear.
Walked across the street to St. John's to see if we could luck into some halftime priced tickets .. we did. Enjoyed a great second half and a dominating Buckeyes win. (Seemed to be a theme this weekend) Ubered back to the hotel and got some sleep.
Game Day
THE GAME day
Ubered to St Johns, caught our first Skull Session. Awesome! Great time.
Walked to all the action (Tailgating, Gameday, etc). "Dad, UGA and GT games are NOTHING like this." "This doesn't happen every time we play son." (Another recurring theme)
Get in the Shoe .. gate staff let us take pics at the 50. Eyes WIDE open, he's in awe. We all remember that first glance, right? "Will it get close to full, Dad?" "No son, it we be COMPLETELY full."
Shuffle to our seats in 29A. A few UM fans peppered in. Respectfully cheering for and against our respective teams. He got to see rival fans respect each other in the sport's biggest game.
Most of the action happened in our end zone. We put 62 on THEM!! Doesn't happen every game son. We rushed the field.. doesn't happen every game son.
Before he passed out in the car on the drive back to Uniontown, he said "This was the greatest day ever Dad. I want to go here one day."
And so begins, yet another love affair with our beloved Scarlet and Gray.
Thanks again everyone, and GO BUCKS!!
We should've covered an hour ago. Jesus!!
I'll do it! That would be absolutely incredible .. thanks for the advice!
Will do .. Thanks!
Fully prepared for some watery eyes. Maybe I could blame it on a bad donut.