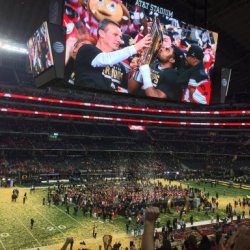 JLBNYC
---
NYC
Member since 31 January 2012 | Blog
Favorites
SPORTS MOMENT: Attending the 2015 National Championship Game

Attending multiple Yankees World Series games from 1996 on.
NFL TEAM: NY Giants
NHL TEAM: NY Rangers
NBA TEAM: NY Knicks
MLB TEAM: NY Yankees
Recent Activity
I spy some recency bias.

From 1968-1977 the team won two national titles and 9 Big Ten titles.

From 1954-1961 the team won three national titles and four Big Ten titles.

From 2011-today the team won one national title and one Big Ten title.
Just think how good that run from '68 to '77 should have been:
1969 - If they had beat UM in last game of season (not eligible to go back-to-back Rose Bowls back then), you have another title
1970 - Win against Stanford in Rose Bowl - would have had another one
1973 - Best team in the country - only glitch was 10-10 tie against UM. Pounded USC in Rose Bowl.
1975 - A win against UCLA in Rose Bowl for second time, another title and Woody retires on top!
Ramzy, sorry for your loss. Nice tribute; it sounds like he was an amazing guy!
i remember the fiberglass ball Brutus returning to the Stadium to a huge ovation after the '75 Brutus debacle!
JLBNYC, wow.
TTUN fight song and unis? and even spelled out Michi...?
No The? and fire Tress?
You've definitely got problems, my son, big, big problems.
I'm not sure your confession is enough.
This will require some serious penitence... starting with painting your garage door scarlet and gray.
Yeah - it sounds pretty bad. But i did take the confession seriously!!
To be clear, no fight song is as good as the buckeye battle cry/across the field
Michigan helmets look nice, but we have better uniforms. And while i enjoy some of their aesthetics, here is another confession:
I generally don't root for the Big Ten unless its OSU. And I never root for Michigan (I may spell out the name and not engage in name calling, but i do hate that team and I don't like Harbaugh).
You need to attend a couple of games in AA then... after listening to that song over and over and over for three hours - you'll truly despise that fight song - it is literally the only tune that band can play!
Fair point! I used to like the USC fight song as well, but grew tired of it after watching a dismal performance by the Bucks against the Trojans.
I like the Michigan and Wisconsin fight songs
I think Michigan's uniforms are cool
I too cringe at the OH- IO chant (particularly with the hand/arm signals)
I also find the whole scUM, Hairball, etc., name calling to be very childish and somewhat embarrassing
I've been watching OSU games for over 45 years or so but lately, if its a noon game, I will play golf and then watch it on DVR (that includes last year's Michigan game)
And when i DVR a game, I will fast forward if its boring
I didn't really mind it when Cooper's teams got a thug reputation near the end of his tenure
I think the whole "The" Ohio State is sort of stupid (but kind of like it when the players announce it on NFL games)
I admire the SEC from a football perspective
I think Tress deserved to be fired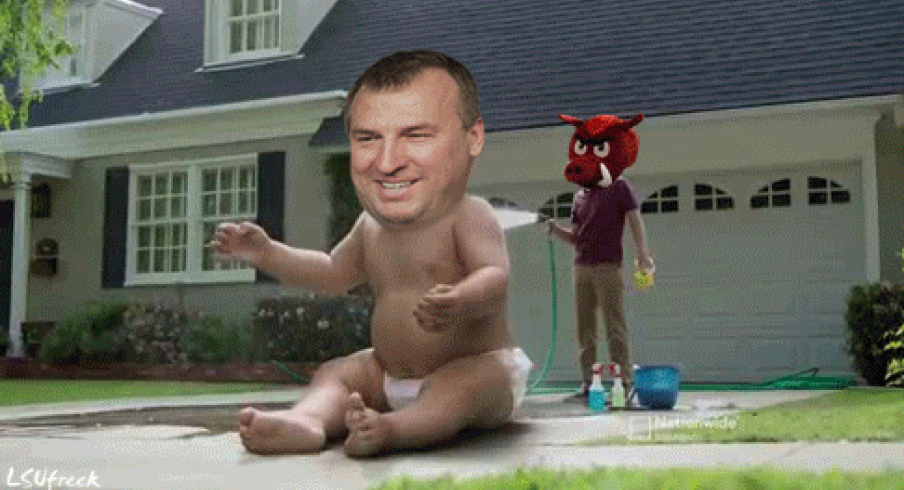 Nice write-up Jfpbucks01. Unfortunately, those restrictive covenants existed in many affluent communities all over the country and the formation of "community associations" to circumvent the law was all-too common.
Great write up Ramzy. I enjoyed it, notwithstanding the fact that I grew up on the North end of Columbus in the '70s and, suffice to say, we had a bit if a different opinion of UA!

You can't make an omelette without breaking a few eggs
Growing up, Street & Smith's was my to-go. Its covers featuring players sans facemasks are classics.
That brings back memories - Champ Hensen! He definitely scored in '74 against MSU! (we got robbed)
And I'll go ahead and say it: look at those gray stripes on the sleeves!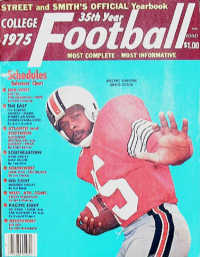 ok Thad, just kidding. Carry on.
3:30 pm games are great. I can easily get a full round of golf in before kick-off. I can actually make it pretty close to game time for a noon game as well, but much more wiggle room with the 3:30 pm game. Plus, it ends at a reasonable hour
Keith Byars The true 1984 Heisman Trophy Winner
Truer words were never spoken!
I was in school at OSU during that season and he is one of the best I've ever seen. In his prime (before the foot injuries), he was unstoppable. Big, agile and a great receiver. And fast enough to return kicks! (see below)
very nice run by the Women's golf team; well done!
Interesting stat - Usually these match play events are pretty close, but Arizona State is absolutely crushing Florida. The Sun Devils lead all 5 matches, with two matches already dormie (one is 5-up with 5 to play, the other is 6-up with 6 to play).
Saw that - definitely, pretty rare to see that domination in match play
Looks like the OSU match is going to be tight until the end (though Porvasnik seems to have her match in hand).
http://www.ncaa.com/di-w-golf-leaderboard-2017
(there is a box at the top of this leaderboard - switch it from stroke play to match play)
Bucks up 3 now (still early)
Matches are underway - OSU up 1 in one match and all square in the other matches (very early)
Corny Greene. Easily one of, if not the most over looked buckeye legend in OSU history. Cool to see him on top of this list.
Couldn't agree more-- one of the greats for sure. Loved those teams: Corny, Pete, Archie, Neal Colzie. I grew up watching those Buckeye teams (my Dad worked at OSU so i went to nearly every home game from '73-'75). Corny was the man!!
Here is a nice piece from a reputable site (mentions the "Flam 7" personalized license plate!)
http://www.elevenwarriors.com/2012/05/11497/flam-7-part-one
http://www.elevenwarriors.com/2012/06/11650/flam-7-part-two
http://www.elevenwarriors.com/2012/06/11747/flam-7-part-three
Here are some highlights from the '75 UCLA game (video is a mess, but forward about 45 seconds in to see a few highlights)
UM only had 2 players go in the 1st round. They had 4 go in the 3rd round. We both have had 6 players picked.
Thats right -- can't count the Western Michigan guy!
PSU commit Isaiah Humphries is salty
Ha - I'm sure the PSU coaches are thrilled with that tweet!