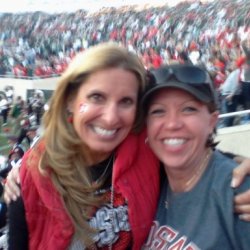 jkleva
---
Member since 14 November 2012 | Blog
Favorites
SPORTS MOMENT: Holy Buckeye!
COLLEGE FOOTBALL PLAYER: Troy Smith/Ted Ginn
Recent Activity
Anyone else anticipate this?
When is the magazine available?
Sparty wants to play with the top tier programs but it can't. We should have never lost to those fuckers, they don't have the athletes to compete at this level. They were ranked to high all season and squeaked out wins in games they should have lost. They are being exposed tonight. I'll give them credit they have a good defensive line but that's about all they had going for them this season. Their receivers can't compete with the db's that Bama brings to the table and their offensive line is being dominated.
Anyone else notice Jeremy Cash's name on there?
Play calling was so vanilla tonight. It's becoming obvious to me just how valuable that Tom Herman really was. I'm not sure if the current offensive coordinator is the right fit. It seems like all season that inconsistent offensive performance has been an issue and the play calling has not been very aggressive.
They are really playing very conservatively, you have to start to stretch that defense out. I'm frankly pretty surprised that so far we haven't attacked down field or tried to expose the one on one matchups on the outside, they are loading the box and daring us to pass.
Offense just never looked like it was in sync, seemed like they struggled to find a groove
What position are you working? Is it a 4, 5 or 7 man crew you are working with? I've been a HS official for 10 years now and I would suggest picking up the Reddings Study Guide to NFHS rules. It's a great book that really breaks down the rules as well as gives the philosophy behind them and the corresponding case plays.
If Rich Rod can somehow manufacture a victory over Oregon it helps to vault us higher in the rankings!! It would be ironic if the coach that *ichigan fired helped us into the playoffs! Go Wildcats!!!
I know everybody is high on Gibson, but this kid is a BEAST! I think we are looking at the future in Burrow. The is kid is bluecollar, badass and just plain gets it!!!!
The sports editors from Mlive.com are talking smack, saying we aren't good enough to handle Sparty's defense and that JT isn't good enough to handle the pressure.
It's moved up to 3 points now
Time to F*#@ing Sparty in his place!!!
Haha, they are getting their butts handed to them! James Franklin losing his first conference game is priceless!!
Doesn't do any good to have top 5 recruiting classes if we can't convert them into wins on the field!
Well of course fat Urkel picked VT, he is an obvious joke as an analyst and is so biased that ESPiN loves for him to shoot his dumb mouth off. That guy loves to say things to fire up tOSU fans and I vote that we forever ban his name from elevenwarriors!
It just came across Bleacher Report, September 2022 in Columbus and September 2023 in South Bend!
That's is the coolest s**t ever!! As a guy who played Tecmo Bowl as a kid, I can't tell you how that brings back memories!!
Hats off to these families and the sacrifices that they make!
Our Tim Tebow! I'm tired of these kids that want to make a spectacle out of everything they do. I will take a hard nose, blue collar, grind it out warrior, Great State of Ohio kid anytime!