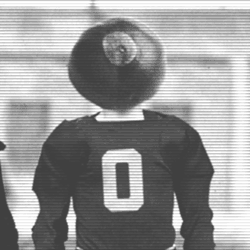 JimCleOSU
---
MEMBER SINCE January 02, 2019
Recent Activity
I would put it at 99.99% after what I saw tonight.
I've met Moeller and Carr a few times. My dad coached high school football and was always invited to coach at their summer clinic. He'd take me up to ball boy for the week. My Grandpa would always pack me Ohio State and Notre Dame shirts to run around in.
Moeller and Carr were two of the nicest guys I ever met. Maybe because I was a kid but class acts. I hate Michigan as much as the next guy but I'd shake both of their hands (well maybe after June).
I was at the PSU game and for the record have NOT been a fan of Werner at all.
That being said he played an amazing game against PSU. He played well above expectations.
I heard that too . . . . :(
I will be there as well!!! Pumped. Playing golf at Bandon dunes a few days before.
No, but he closed the gap significantly. Dobbins has an amazing burst. Elliott has a once in a decade burst. It's closer than I ever thought it would be but I'll still take Elliott all day.
Alabama game hands down. Worst game the following year MSU.
Bama, Bama, Bama, there's nothing else. That was the NC game.
Anyone have A Deck tickets? Looking for 2 - 4. Urbansjacket are your in 28 B? Is that the closed end?
I'll pay market value minus the fees from a Stubhub, Vivid, etc. for anything A Deck. Closer to the field the better.
Can email me at JimCle522@gmail.com
Thanks Everyone. I'm up in Cleveland.
Might have been more recorded than just an interview . . . . .
Agreed but you can't discount location. Unless the kid wants out of Washington, the location piece gives an edge to Washington.
Doesn't seen to matter with the Scott's but it does with many.
Bucks19 you are right on. EVERYONE thought they were losing 4 to 5 games this year.
It will be interesting without Burrow but man they are recruiting well.
Is DE Burch a foregone conclusion to Clemson?
I haven't seen anything on him in a while. I remember someone a while back saying there was some communication. Does anyone have a shot at him other than Clemson?
Nice find.
How about 2016: Malik Harrison ranked number 683 in the country.
Werner and Munford were at the bottom of 2017 too. You can only scout so much . . . then you have to train and the athlete has to respond.
Can he just never use the words "in ink" again after the RB situation earlier in the year?
How about "99%" or "I'm extremely confident" or "unless something drastic changes", etc.
As Ronnie the Limo Driver would say . . . . SIXXXXXXXXTTTTTTTTYYYYY- NIIIIIIIIIINNNNEEE!!!!!!
Did something happen with him and Oklahoma? Apologize in advance if I missed this already.
Why is he looking outside?
I was in Park Hall in 2001 and it was just fine. One of the best years of my life.
To answer your question . . . I am not sure. I asked Rec Tec and they said it is the metal that it is made of. Lot more science than I can handle, lol.
Make steaks tonight. Amazing. Also cooked red potatoes. The grill is amazing.
Urban is a legend but the game/recruiting changes.
Guys like Day and Riley are the future/present. Vets like Saban and Urban would be able to hang purely off accomplishments. I think the timing of the Urban to Day transition is perfect. Day is going to be a stud. Just needs to find a way to keep his assistants like Clemson. If he can do that then we'll be just fine for a long time.
If a high school senior is giving a collegiate football team bulletin board material then they might want to reevaluate their status.
Simply put. It's literally a non-story unless you absolutely suck against your rival.
If at this point you can call them your rival.
I have your solution:
Get the Rec Tec 800 with a searing kit. I just got it about a month ago. We use it on average 4 times a week.
Best burgers I've ever had in my life. Did a reverse sear with Ribeye Steaks. Best grilled steak I've ever had (aside from a high end restaurant). Cooked a Flank Steak this weekend. Usually they come off dry and chewy. This was tender and juicy. Amazing.
I still use my traditional smoker every once in a while but the Rec Tec is the best investment I've made. Have to get the searing kit. It will heat up to 500 degrees. Searing kit adds another 100 degrees.
I thought I had a problem so I called their service line. I had two call backs in consecutive days making sure things were working and they were.
Only complaint . . . it takes longer to heat up than a traditional grill but it is waaaaay worth it. Plus it comes with thermometers, I've never cooked pork as perfect as I did last week. It was amazing. You can get your meat to the exact temperature needed.
Get the Rec Tec and report back to me. You won't be disappointed.
LOVE the Cinderella reference.