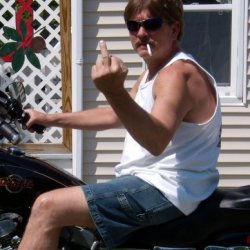 JimB
---
MEMBER SINCE August 23, 2014
Recent Activity
Yea, Gus and Joel love us ;)
He's not a monster, he's "the predator"!
Werner still makes me nervous, I hope he and Mattison prove me wrong!
totally in with Jeff Haley!! smart young mind!

Does anyone know if grad transfers have a black stripe on their helmets when coming in?
Has Urb's ever heard of a fullback???
My math is just not adding up, 1 guy says min. of $129,000 a year, others say $7600 a week, can anyone give me the true salary, $7600 X 52 = $375,200! Confused????
Day said in his conference that he is a buckeye and that they are at 85, somebody must have got hurt or transferred!
So just where did Courtney come from, did Zack pick her up in the swamp in Florida, amongst the gators?
Just don't understand why Urban didn't use the phrase he always used when a player was in question for this or that, "we are handling internally", we wouldn't have this problem at all!!
Just don't understand why Urban, who always used the brush off for players in question for that or this, " we are handling it internal", which we seldom get any answers for at all!!
So dear Courtney, why in hell didn't your own dad do anything when he saw your text pics, as a father I would have been doing something a bit more radical!!! And I hear you have 5-6 years of text, pretty strange unless you could become famous!!!
always worried about the players, DUI or peeing around the corner, but coaches lead by example, plan and simple, there the adults!!!
P.S. Urban, get that tattoo you promised your players at the natty!!!!
I just pray that Urban leaves the play calling to the OC's!! Delegate them to do there jobs please!!!
scarlet cleats, gray socks,da;)
where's the football players, had to have some??
I personally like the trio of Fuller & Pryor as our back 2!!
Thanxs Emily, I feel your pain but don't have a clue how I can help, wish I could!! I think OSU has there hands tied with red tape, not really understand it all, but hang in there gal from Buckeye Nation!!!
agree, but we must let Wilson & Day do the offence play calling, URB's, leave it to them pls!!!
Potter and company need to step it up, you to Cam!!!
Lets see how we fair maybe without KBD tonight against PSU, if we look good then I will toast the team, but, 1 game at a time pls!!
strange, oh yea that's hairball, never mind, lol