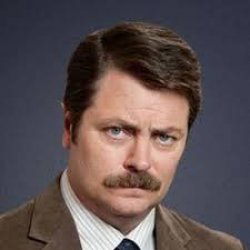 jhart
Naperville, IL (by way of Columbus, OH)
Member since 21 February 2011 | Blog
Favorites
NFL TEAM: Kansas City Chiefs
NHL TEAM: Chicago Blackhawks
NBA TEAM: Haven't watched the NBA since Jordan
MLB TEAM: Chicago Cubs
SOCCER TEAM: Hahaha...no.
Recent Activity
I think we're going to be a pretty good unit.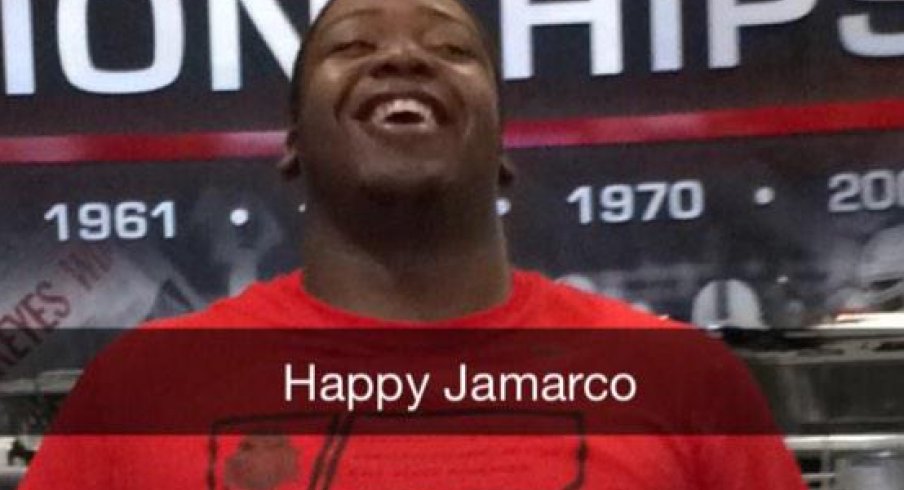 do people still play solitaire in offices?
Nope.
Happy that despite growing up in Columbus, the old man was from Kansas, and as such...raised me a Chiefs fan.
...I don't think I've ever said that before.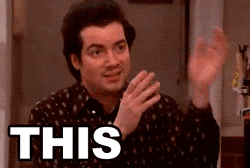 3 kids and 30 lbs later...[/sobbing]
Detente...isn't that what a farmer has with his turkey until Thanksgiving?

-Ronald Reagan
(note: no intent to break the 'no politics' rules by quoting a past president)
My heart aches for the Carr family. I remember the story Gameday did on their family, and Coach Carr's grandson. It was heart warming, touching, and poignant all in one. I really hope they're able to recover the photos of Chad.
I'd be curious what the 'Total Market Value' of college basketball was for those years, and see if the market increased, or decreased...and what each team's market share was.
...maybe I should click the link (hoping it's not behind a paywall)...
I just read that 2005 Rolling Stone article...I want a full story about the stripper girl friend "Buffy"...
"I met Nathan next door, down by the stage," she says. "I remember he saw me and said 'Fabulous.' That's my word! I always say that. I couldn't believe a guy would say it to me. We did some dances after that, and became best friends. He had a great smile."
Note: Nathan is the weed 'kingpin' in the article.
And she has a cat named "Titty Bar Bob" who got addicted to pain killers...Titty. Bar. Bob.
Buffy was convicted of possession and is currently on parole. As part of her sentence, the judge ordered her to wear a key around her neck - "the key to your future" - as a reminder to keep straight. Buffy bought four keys: one gold, one white gold, one Playboy bunny and one white gold with diamonds.
And...
Still, Buffy and Nate remain a couple. They talk once a month. Buffy, these days, mostly strips to "missing you" songs, like Simple Plan's "Miss You" and - her favorite - Pink Floyd's "Wish You Were Here."
Came across a pic of Len Dawson, full Chiefs uniform/game day, smoking a cigarette.
Halftime of Superbowl I...
EDIT: Or after the game...the interwebs doesn't seem to know...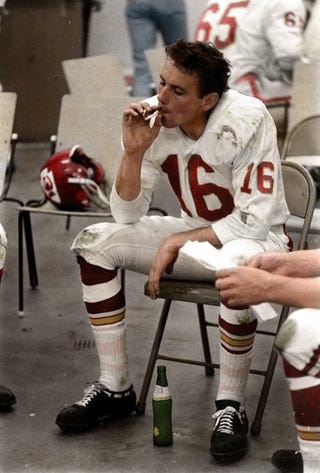 Just wait until you hit the down hill side of your 30s...
The hop article is interesting. I have a college buddy who farms ~750 acres west of Chicagoland, and I've been on him to convert 20 acres, or so, of it to hops. I also have a neighbor who has about 20 acres of family land in SW Michigan (home to Hop Head Farms - supplier of a lot of Chicago breweries), and he's been talking about it for a while.
Big challenges: 2-4 years until fully germinated, and the harvesting process/harvesting equipment are super expensive.
Also, there is apparent talk that it may be peaking (even though brewers today are signing hop contracts 2-3 years out)...
From the Financial Times:
Hop experts are urging caution about further expansion of production. US sales of craft beer rose 8 per cent in the first six months of this year, according to the Brewers' Association. They climbed 18 per cent in 2013 and 2014.

Earlier this year, the Hop Growers of America highlighted the cyclical nature of hop demand, with Ann George, executive director, noting: "We have seen the downside of this market before due to oversupply."
Welcome to the least productive Monday of the year. When I'm president, it will be a national holiday.
Unless you're in Finance...Business Day 4! wOO!
*sobbing*
Also, this is pretty much the consensus at every large organization.
It's that moment when an Urban Meyer football team gels and comes to the confident realization that it is unfuckingbeatable.
-Ramzy
Let's all be unfuckwithable.
-Eddie Vedder, Wrigley Field, 8/20/16
It's already Wednesday. I thought this week was cruising until Whitney told me, after today, she doesn't have to work again until Jan. 3.

I'd be in a coma by Fiesta Bowl kicked off if I had that much paid free time.
After tomorrow my wife is off until Jan 10th!
I found this humorous this morning - thanks!
This is one of my favorite weekly articles/posts...great work.
I watched a lot of those games that summer on TV with my windows open which served as a spoiler due to the broadcast delay; you could hear the cheering from Wrigley while the pitcher was still in his windup so you knew before the ball left his hand that you were about to see a hit. It was entertaining, and the Cubs were also somehow good.
HA. Same here! I was in an apartment a block east of Wrigley on Waveland. That summer was amazing.
As a life long Cubs fan (thanks to my mother, who originally hails from Mt. Prospect - a Chicago 'burb)...GO CUBS GO!
"It's not time to go dive into people, it's time to correct issues."
Brian Kelly: This is the perfect time to dive into your players...*cough* people *cough*...I mean people...
I'm assuming this is a play off of the dinner clubs in Wisconsin, which are still a thing.
Skor is nothing to be ashamed of...
It's always will over skill.
Hawk Harrelson: Did someone mention TWTW???
Buddy of mine has been to Ann Arbor and to Happy Valley for games. Said Penn State is far and away the worst experience he's ever had with opposing fan bases. This is hearsay, but he claims to have witnessed batteries being thrown at OSU fans and the marching band.
I work with a guy, and both he and I agree that the closer one gets to Philadelphia, the worse fan bases get.
Wake me, the No. 1 Los Angeles Dodgers fan, when Los Doyers lead in the 7th inning of a decisive World Series game.
Got to get past my guy, the rest of the boys in blue, and their goat first!