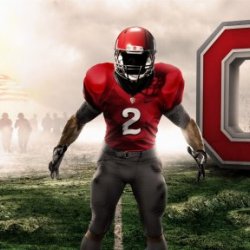 JewellNtherough
---
Member since 26 February 2014 | Blog
Recent Activity
Huge stand there on Defense. Now pound the ball on the ground.
Perfect way to use the TE in the redzone. Andrews has been lit up tonight a few times, but he's been a big playmaker for OU too. We still need to move the ball effectively on offense and not let up.
Guess we need another post about Brown huh? He's been simply amazing tonight.
Still super early, but looking great! Gutsy call to throw it on 3&1, but Noah made a play. Of course, we could've been going for it on 4th, which makes that play call easier. Go Bucks!!
I'll be there! In my humble opinion, Nippert is a really underrated venue for watching college football. That's especially true at night. Really excited to see both the Bearcats and obviously Tom Herman's #6 Cougars.
Samuel was sensational today. His time to shine this year!! Go Bucks!
Love mini helmets! I bought one of the alternate black helmets, but it came with the white Buckeye stickers...need to fix that. On a side note, the gridiron website reminded me how absolutely fantastic these Navy helmets were.
This is fantastic! I don't miss the days of my iPhone/Cincinnati Bell combo one bit. +1
The picture should speak for itself.
I'm probably going to get crushed for this, but I think the jury is still out on Braxton. There's no doubt he is an absolutely electric athlete, but there's no guarantee that athleticism alone translates into sustained success in the NFL. There's a big difference between making a name for yourself on the practice field and contributing in actual games. While I believe Braxton was underutilized his last year at OSU, I was also disappointed to see him have such terrific Senior Bowl practices only to then put up the following stat line: 2 receptions for 8 yards, 1 rush for 5 yards. I'm truly hoping the Texans can find ways to get him involved a lot in the offense and that he becomes a weekly contributor.
Thanks for uploading this Gray Box. What an impressive debut! Stood in the pocket really well and made a number of great throws including some with speed (showcasing that cannon of his) and some with great touch. Keep putting in that work Cardale!
Spectacular grab!! It's equally impressive how Thomas was able to separate from Crawley, who right up until the end, was running step-for-step with him. Excited to watch the Saints this year.
Roger - The quote is definitely odd at first glance, but it's actually Harbaugh making fun of himself. That general line - "attacking something with an enthusiasm unknown to mankind" - is actually a phrase he inherited from his father and has used several times in the past. HERE is an ESPN article if you'd like to read a bit more.
Wow!!! Sunday night BOOM FTW!!! I'd say that answers the question of how his visit went. Welcome to the Buckeye family young man.
Heck of an article Ramzy. Thank you. And thank you to Will Smith for all the wonderful memories.
Thanks so much for the post NavyBuckeye91! Even 71 years later, Rosenthal's photo is still incredibly awe-inspiring.
I hope Bud Foster doesn't fine them for that sign...
Those look really awesome! Especially the MSU one.
Happy Birthday Eleven Warriors!
I think this is a big win-win for Gibson and the Buckeyes. Gibson is likely to see more early playing time at WR plus as he gets the chance to learn about how WRs think and see the field. That knowledge should only help his growth as a QB.
Love it! Congrats on the launch to everyone at Eleven Warriors! The title reminds me of someone I know a lot of Buckeye fans are very fond of...
"Try to take that attitude toward life, that you're going to pay forward. So seldom can we pay back because those who helped most--your parents and other people--will be gone, but you'll find that you do want to pay. Emerson had something to say about that: 'You can pay back only seldom.' But he said, 'You can always pay forward, and you must pay line for line, deed for deed, and cent for cent.'" - Woody Hayes, OSU Commencement Speech, 3/14/1986
Great post Navy! And thanks for the video links.
Fantastic work as always Birm! Love reading your updates.