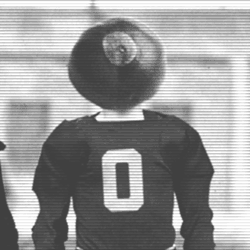 Jeremy91
---
Member since 20 April 2012 | Blog
Favorites
COLLEGE FOOTBALL PLAYER: Eddie George
Recent Activity
Awesome! Any idea when tickets might go on sell?

This team doesn't deserve to be ranked #2...
#2 team in the country? Laughable... What a pathetic excuse for an offense. Also shout out to the defense for letting them back in the game. Seems their heads were already in the locker room...
The offense was horrible no doubt, but it was the so called great defense that let them answer each score. How many times did msu throw the ball in the second half? And they still couldn't stop them. Absolutely pathetic. After being so excited for this season to finally start, I can't wait for it to be over.
Glad this so called great defense cant get a fucking stop to save their lives. Fucking pathetic.
great fucking job apple letting them all the way down there. shut down corner my a**.
Damn backups ruined the shutout. Other than that great game. Go bucks!
Honestly hope the best for Weber. The real issue is this POS HS coach that dares to tell URBAN F**KING MEYER to step up his game. How many titles does he have? How about his best bud Harbaugh? Yeah, that's what I thought. Unless your name is Nick Saban, you keep your mouth shut when talking to the current king of college football. Someone needs to put this HS coach in his place publicly and end his coaching career.
Good win against a good team. Best thing about being 1-0...
Lol at how biased the Smith buckshot is... "I support gays" up votes aplenty "I don't support gays" down voted into the ground. If you can't handle the kind of comments that the buckshot you posted brought then you shouldn't allow commenting on it at all (even though it's clear which side the mods are on). You can't allow one and not the other... I mean if you want to be fair that is...
After I found 11W it became the only place I'd go for all my Buckeye related news. To be honest I feel like the 11W staff is just as, if not more knowledgeable than any other sports site in the country. I rarely go to ESPN anymore since everything I need is right here on 11W! Keep up the great work! Go Bucks!
"Duplicate predictions are ineligible — first come, first serve."
This times a million haha
If we lose Bosa I'm done...