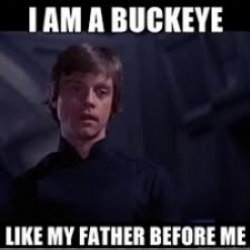 JellyBellyJedi
---
MEMBER SINCE October 17, 2017
Recent Activity
Hairball is evolving into Bubbles from Trailer Park Boys. Those stupid glasses...
Tyreke Smith, Tyler Friday also have really high ceilings
my sons' LHS Golden Gales have to match up against Pick North onFriday 10/25...should be interesting
Agreed. Us old farts remember Tim Biakabutuka.
Never forget...
If there is a "7" in their pts column, it will come late in the 2nd half when our 3's and 4's are in.
I don't see the 1's and 2's on this D allowing that to happen. Unless they don't take this opponent seriously and are mentally off.
I can just see Jimmy stooped over his old Royal Typewriter, his tongue slightly sticking out in concentration as he picks the keys one at a time writing his response to Coach Fick's statements. There is probably a half consumed glass of milk on his desk and he has those stupid ass Woody Hayes copy-cat glasses slid down on the end of his nose.
That somehow makes it possible for me to read that.
so much fascinating content in this article and I am still stuck on the guy's name being 'Dick-Man'. I bet he's had a hard life experience.
"...Dickmann compares Fields' dual-threat game to Kyler Murray..."
Cool, to whom does Ass-Man compare him?
Yep...and My Lancaster Golden Gales have to face Sawyer the Friday before Halloween this year.
It will be weird as I want Pick North to lose, but I will be watching their DLine with great curiosity.
A.) What did the Destroyers do that you would wish such evil upon them?
B.) Kiffin looks like Great-Value Brand Chris Farley in that pic
I think Cooper has the best overall build and style of any H-Back I have seen under Urban Meyer's Offense. It will be interesting to see what he tops out at and what his composition is like after a year or two in Marotti's dojo.
That's bold when you consider Harvin, Wilson, Samuel, Miller, and Campbell have all featured as H-Back, but I think in terms of being born to play this position, this kid has it.
...this just in...Brian Hartline may be good at this.
Does anyone else think Victor's lack of production was related to the piss poor WR Coach we had in place for most of Urban's era? We have had some pretty stellar potential come into the WR Room over the last 8 years and a lot of it never developed the way it should have. You can attribute some of that to Urban's dedication to the QB Run, but even before the whole Domestic Violence stuff broke last year that guy just never developed his players.
I almost wonder if Victor's story would have been a lot different if Hartline were in that room sooner?
As a fan I hate that we have no depth now at the most critical offensive position (arguably the most critical position overall).
As a business man I am a fan of the transfer portal to let these guys have a little more freedom to market their services for the best possible return. NCAAFB is the closest thing to indentured servitude that still exists here. Players get dick compared to the Billions in revenues generated by their industry. So good for you Matt Baldwin. Go make that paper if you can.
(spits beer)...Illuminati!
Why is everyone getting so butt hurt about those making negative comments? What does amateurism have to do with playing up to the standard at OSU or not? You either cut it or no....your vocational caste is not the issue...nor is the china man dude
OK, am I the only one that isn't excited about this? I think he hasn't lived up to the standard for the Silver Bullet secondary and frankly, I feel he is hogging up a scholly and a roster spot where we could have a younger guy in there getting those reps who has a higher ceiling.
Shit...Now what?
-Brett McMurphy
"But if Isaiah Pryor or Dril run out there..."
Someone please tell me who the hairy hell is 'Dril'?? i have seen this in a couple blogs on here yesterday and today and I must have missed something.
Absolutely GLAD for this kid and he is 100% making the smart play here. He would only be back for 1 or 2 games (albeit big games for OSU) and he has to weight the risk of re-aggravating the injury or making it worse vs improving his draft stock which is already going to be top 10 money. It's a no-brainer.
People who are upset by this are living a fairy tale where College Football isn't a Billion dollar form of legalized indentured servitude. Players like Nick Bosa or Chase Young are not coming to OSU for a degree. They have no other practical choice to get their Draft potential in front of NFL teams. OSU is making millions, the NCAA is making millions, the NFL is saving millions by getting a free farm league. The only ones who are not able to benefit are the players. Until this system changes I expect to see this become an ever-increasing trend in P5 CFB.
Good for you Nick Bosa, go get yours man!! Thanks for the standard you set while you were here and God Speed Son!
WTF Jones and Wertheim - Taking the Horny Toads over the local team?
sorry, underscoring did not come through. "competent" being the word that nullifies.
Ahhh but the devil lives in the details. I think this is the loophole we are looking for:
orders of any competent judicial or other governmental authority
I don't believe I have ever heard a more eloquent way of stating the bed-shitting we all watched Michigan perform Saturday night. If I could award HS's to a piece of blog copy this would be a +20. Oh man, this really made me chuckle.
"In the midst of Michigan's bed defecation against Notre Dame..."
3100psi. That thing almost certainly came from Costco because I stare at it every time I run the track at the Easton Costco. If I think that power washer is one of the sexiest things I have seen recently does that mean I am also a middle-aged Suburban dad?
But seriously, $299 @ Costco...hell of a bargain. My only concern is if it only sprays hard for 4-6 seconds A-B??