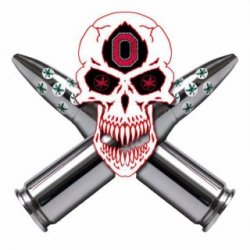 JDupler
Upper Arlington, OH (via Upper Arlington, OH)
MEMBER SINCE October 20, 2011
Favorites
SPORTS MOMENT: Ohio State - Michigan 02/05/06/16/18 - NBA Finals Game 7
COLLEGE FOOTBALL PLAYER: Jack Tatum
COLLEGE BASKETBALL PLAYER: Deshaun Thomas
NFL TEAM: Browns
NHL TEAM: CBJ
NBA TEAM: Cavs
MLB TEAM: Tribe
Recent Activity
83 here. Not a lot in common w someone born in the mid 90s.
I've been taking my daughter since she was 3 (usually the early game against a crappy opponent so we could leave early but also hot as f*k), but as a 4 year old I don't think the seats really matter. We've made the trek up to C-deck and when you get there, you need to get snacks and everything (no rules on gameday, don't tell mom)...but it's all about what your kid can handle. If they can handle 3-4 hours, get there early, do the skull session/band/tailgate whatever, the full experience of a buckeye gameday. If they can only hand a few hours, get there and go to the game. You can walk around and try and find the band/cheerleaders and brutus. Get a picture and bounce at halftime. Dress accordingly and we only get 8 home games a year and sharing that with your child is something truly special. Good luck. Also there should be tickets that are being given away so that's also nice. Good luck and Go Bucks!
RIP VUE. I have had it for 3.5 years. Going with YouTube tv.
They won't go to back to back Michigan games when there is a top 10 (5?) and the game of the year so far...One will set up outside the north rotunda/St John's and one will be by the RPAC...and Ohio State will not limit ESPN in any way...
listened to the one after the SF debacle. Good shit. Reg. listener now.
I love Marty and it's awesome he's joined the lebatard group I'll def give it a listen.
Here are the gambling ones I listen to. Just added the Cover 3.

Action Network college podcast
Behind the Bets - espn
guys and bets - oddshark
bet the process
even money podcast
I lost my mind when Frost dusted off his old playbook...triple option with the old Nebraska I....my wife thought I was going to have a stroke.
if they didn't look like USC or Alabama I might, but yeah...not my style at all
I love the white socks, black shoes look (USC nails it with white laces...if you see me out I rock the same)...but I would rather take the scarlet/white cleats with white socks (leggings) over the black on black look....
I don't mind the PAPN 2.0 and I love the segments with Bud (I am a gambler and like his views on recruiting), but Richard Johnson uses the same phrases over and over again and I'm trying to give him a chance (I doubt I would be any better) but damn do I miss Godfrey and Bill....I hope Bill jumps on the ESPN CFB podcast. I loved Herbie and Fitz the last two years (1460 stand up) but now with a real host and David Pollick giving generic takes and previews of the games...Bill needs his own nerdy non-major cfb podcast....
I actually enjoy both his "national" and "Midwest" shows...the stuff behind the scenes with coaching is the best. I take it for what it's worth...but it's in my must-play podcasts per week.
If you are wondering how he went from Shippensburg for two years to Oklahoma State, it's exactly how you think Gundy would do it.
http://www.espn.com/blog/big12/post/_/id/117548/oklahoma-state-offensive-coordinator-mike-yurcich-thriving-in-dream-job
Unless it will directly help the Buckeyes get into the Big Ten Championship or the Playoffs...would any Michigan Man/Woman root for Ohio State to win anything at any time? Will a Michigan win make Michigan Men and Women happy? I do not want them happy.
Does it matter if I root for Michigan to lose? If they lose, Michigan Men/Woman is upset and I like that.
If Michigan wins, then it makes the last game better. I will never root for Michigan to win unless it directly helps the Buckeyes to their goals.
Whether Michigan is 11-0 or 3-8, it doesn't matter. I want them to lose and I want to beat their ass after Thanksgiving. F*ck Michigan and their stupid ass fans. They are a stupid ass basketball school any way.
I'm a hardcore cfb watcher. I use Playstation Vue. Stream up to four devices. Unlimited DVR. watch on any stream box or mobile/iPad. Also channel app logins like espn and foxsportsgo. Sportime Ohio included (I'm a tribe fan). The only thing is the price has increased every 6mos/year by $5 which is expected. Now it's just over $50/mo. Also get ABC CBS and FOX live and dvr. No live NBC for Notre game and Sunday night nfl but do have NBC DVR. Just bought $10 antennas on amazon for live NBC. I would look to switch to YouTube TV, but then my Amazon Fire Tv and sticks would be useless because amazon bans YouTube (google). Those are the top two I would say.
Ive had PSVue for 2+ years now. Please let me know if you have any questions.
I got two guys coming with me from Columbus Friday night.
That pullover...anyone have any idea if it will be released for sale? sick
Born in UA (golden ghetto), went to OSU, came back and started a family a few blocks from where I grew up. Howard Dwight Smith was (is?) my great grandfather and I currently have a daughter starting 1st grade as a 5th generation in the fall. Great place to live if you can get in, however the other suburbs (mainly dublin and olentangy) have either caught up or passed UA in education and are all cheaper to live generally, but the high school is getting completely torn down and rebuilt in the next few years, and the middle and elementary schools in the next 10 years due to the child population rising yearly.
The only thing that compares to the Buckeye love in Upper Arlington is youth sports and the Fourth of July. Great shoutout to our hometown Ramz.
I am a huge uniform dork and these (along with the home scarlets with the black numbers) are the absolute best. Along with the white socks/tights. Is it just me, or does the front numbers look larger than normal? I really do not understand why these are not brought back permanetly. The sleeve stripes is the way ohio state needs to look every week. And thank god we get to see the buckeyes with freaking buckeye stickers on their helmets. The only thing missing from the win over michigan were the buckeye stickers.
From a road trip point of view---Went with 11 other guys in an RV and stayed at the same hotel the Badger team was at...Really surprised, thought I would be in a keep-my-head-on-a-swivel mode the entire weekend but I ran into zero problems and actually watched the Tribe on Friday night at Kollege Klub (2 for 1 beers, i love college) with a lot of other (younger) people from Ohio. In the stands (not the student section) nothing nasty happened and other than the PA system being so loud (how is that legal) it was just like another big time away game. Nothing terrible, even walking around the stadium pre-game. I don't know if the fans have changed or they were still in shock from 59-0, but even the gameday signs were weak...very surprised. Even the RV lot was very subdued...was a 30 minute walk to the stadium but for a top ten match up night game with the hated Buckeyes, I was shocked. Has to be the 59-0 effect right?