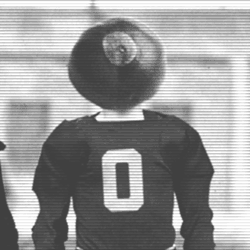 jdjgrant
---
MEMBER SINCE December 03, 2017
Recent Activity
Would have made more sense had there been any merit to Franklin leaving.
J.K. Dobbins, step on up.
Do NOT let Jeff Hafley get away. Agree 100% with DaytonBuck. This guy has got to be the most engaging coach I've ever listened to. It's not a wonder that his players are "buying-in" to what he's telling them.
My bad. Irritation got the best of me. Thanks for the correction.
Joey Galloway and Todd Blackledge still have OSU @ #5 ?
So many players stepping up. Defense has been a pleasant surprise (thus far) and sticking with that theme, gotta say Chase Young. Can't say enough regarding the opposing QB's time to survey the field and find his open receivers. Then when you can shut down the run, it's a complete difference maker.
Loading up on OTs. Any concern that our staff is expecting a flip from a certain OT commit of our own ?
Realize that your highlight video shows your best stuff, but this kid was dropping dimes. Don't be surprised if he puts himself into the back-up role before it's all said and done. I see a scholarship for him after year one.
Whoa,........let's not get carried away Kyson, lol.
Don't you think that's kinda harsh? Can we move Baldwin up to maybe a pair of socks?
If you're going to offer this QB tyke, why not offer his primary receiver(#2) as well . That kid looks pretty polished. Great hands!
Certainly alot of division on this site regarding this young man's bravado. I'm usually the last person to react positively to that style, but I'm thinking if it was me, I would be a little tired of everyone assuming I'm done if Fields does transfer here. Could he tone it down a bit? Sure. But he's been continually asked about the situation and it seems he's a bit frustrated by the whole ordeal. No doubt he's worked hard and probably doesn't feel his efforts and patience are being properly respected. I don't see any insecurity in his comments and will be anxious to see if he can "walk the walk". As others have said, just my two cents. Go Bucks.
Back up the Brinks truck and reward the expertise and loyalty!
Would love to pick up Fields, but he better be ready to spend at least one year learning the system. Probably two.
Absolutely my favorite tweet of 2018. Cryptic (ala Michael Thomas), yet showing confidence, no matter the target. I believe this was the plan. Leave 'em guessing. Classic.
As with Urban, I trust in Coach Day.
Will Coach Day still remain in charge of play-calling or turn over the reins over
to his OC? Will that OC be Kevin Wilson? So many questions.
This was expected, though not this soon, I'm sure. There will be more, but would have been a dick move to announce the retirement AFTER the early signing period. More concerned with a knee-jerk reaction from someone in this year's class. Tough day, but we weren't keeping Urban forever.
Keeping top-flight coaches in the BIG is huge. Beating us,.........not so much.
Last I heard, it will be Sunday.
Their "historic" offense is numbers put up against the "historically" worst defenses in the country. And who's got the #2 offense in the country in a conference that boasts the country's #1 defense? (Yeah, their defense appears over-rated, but I would say the same in regards to the Sooner offense)
Assumed this is where we would land and initially thought that wins next week by both us and the Sooners would simply move both teams up one spot each. (assuming an Alabama win). But after some thought, I tend to agree with Tuba. I think it is possible, maybe not probable, that there is an argument the committee could use to jump us over them. THIS: Is this the Ohio State team that we've finally become (and were expected to be) or just another upturn in our roller coaster season. In any case,...beat Northwestern and don't lose too much sleep over something beyond our control. GO BUCKS!
Correct. 15 Penalties for 150 yards.
Back end of the defense was the weak link yesterday. To their credit though, officiating crew was not going to let them play. This was evident in other areas as well. The facemask call on Cooper was at best, highly questionable.