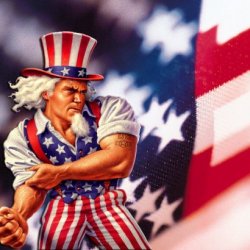 JDiesel757
---
MEMBER SINCE August 18, 2014
Recent Activity
I don't remember UGA beating Bama but I guess that's what Google is for.....
I couldn't believe that no one had mentioned Galloway. Galloway was Antonio Brown before NFL offenses became wide open. I would love to see Galloway play in this era.
I have been enamored with Fields since I first saw his tape. I like Tate but Fields has my heart. (Edit) I love Tate, too.
Just FYI, OJ is my cousin but I get your point lol
If this defense is supposed to be a man to man defense where LBs are matched up with slot WRs TEs and RBs, the best athletes need to start and the coaches need to coach them. There is little to no aggression from the LB corps outside of what I have seen from Hilliard and Browning. Lastly, the LBs and Safeties look like bad outfielders. Their first step is usually in the wrong direction and then they have to beat feet to recover.
3 Top 10 teams lost to underdogs so far today and most struggled against inferior competition. I will take a 16 point victory but boy that bourbon was going down fast during the 3rd quarter. Sheesh!
Both are good and have so much room for growth but I think they might both be too rigid. They have the size and explosiveness but they don't look smooth to me. It's kind of like watching a swimmer fighting the water. However, Shaun Wade is fluid and could be a great one.
I hope the staff is telling him that he will get some looks at TE and WR too with depth on the DL. Maybe that will sway him
Harrison is Bananas B-A-N-A-N-A-S
I am going to be the stubborn one and say that if the offensive game plan was reversed, Ohio State has a chance. Clemson had a great DL but follow what Bama did in the run game, take shots down field where they were most susceptible, then you sustain drives and score points. The Buckeye defense was so tired by the end of that game, they just kind of unraveled. I am not saying Ohio State wins but that game is worth a do over. That 0 hurt.
I think Sheffield improve drastically from Indiana to USC. Hell, he even appeared to be a playmaker last night. CB: Okudah CB: Sheffield S: Fuller S: Pryor N: Arnette/Wade
I-O!
This senior class has the opportunity to add to an already impressive resume with a win on Friday: Bama Notre Dame Oklahoma TTUN x 4 or 5 Nebraska Penn State USC
Cornell or possibly even Dre'mont Jones if he stays. Both are quick twitch guys with size. DT depth should be great next year if Jackson and Vincent can contribute immediately. I can't believe I am saying that there will be depth at DT...... Haha
I definitely don't always side with Herbstreit, but even he said he was for The Buckeyes getting in over Bama until he saw that underwhelming performance. Let's keep it real. Lack of execution on offense with all eyes on them, reminded the CFP committee that the Buckeye offense can sputter at times and they didn't want a repeat of last year. Yeah, Iowa, but there was a glimmer of hope going into that game.
I hope Kevin Wilson has a heavy say in that since he knows how to use a pro style QB but I hear you brother
How about 6 TDs and a field goal? We went for 2 on the first PAT because we lined up in some whacky formation that Wisky didn't cover correctly and Crisman hits Rashod Berry on a screen to convert the 2 pointer!
I agree with Pantoni but I think the committee was telling us that they wanted to see Ohio State show the hell out again and leave no doubt. The Buckeyes were at least 4 TDs better than Wisky but squandered that opportunity with TOs and playing conservative down the stretch. + Iowa! Can't blame anyone but themselves for waiting til November to take accountability for their season. This team should be phenomenal next year if Price and Jamarco can be backfilled with studs.
I saw it mentioned but please don't overlook the omission of Dre'mont Jones on the 3rd team
Virginia Beach, VA. A Senior Chief in The United States Navy! I wear my Buckeye lanyard everyday with pride!
Great words from a legendary coach. I will have to use 'choice' with my guys later lol
I would watch Parris at times during the season and I wondered why he didn't get the ball more often. The guy could find separation from a defender and let us not forget how many NFL scouts attended practices over the past 2 seasons. I am confident in his abilities.
Tavian Thomas would be rated a 5* if played in Florida, Georgia, Texas, or Alabama. Big man can run.
I will be making the short trip from Virginia Beach to DC to watch the Cavs on Friday and the Buckeyes on Saturday. Ready for the weekend!