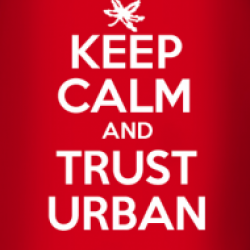 jdagrava.1
---
MEMBER SINCE August 06, 2013
Favorites
SPORTS MOMENT: November 18th, 2006 - Hanging on to my student ticket when everyone around me was making hundreds of dollars by selling theirs. Attending the Game of the Century, #1 OSU versus #2 TSUN. Watching Troy Smith seal up the Heisman Trophy and the Buckeyes stamp their ticket to the National Title Game. Storming the field after a 42-39 victory and celebrating in the Shoe until the last few fans trickled out.
COLLEGE FOOTBALL PLAYER: Troy Smith
COLLEGE BASKETBALL PLAYER: Aaron Craft
NFL TEAM: Pittsburgh Steelers
NHL TEAM: Pittsburgh Penguins
NBA TEAM: Cleveland Cavaliers
MLB TEAM: Cleveland Indians
SOCCER TEAM: USMNT
Recent Activity
432
That was Torrance Gibson at the end wasn't it? Oh my my the future is looking bright for the Scarlet and Gray :)
I'll see what I can do
HAHA!!! Glad I could assist in keeping Purdue right where they belong: always looking up at the champs from the basement.
Glad you like it - feel free to share :)
Thanks for checking it out, folks!
Lou was a friend of my grandfather's back in East Liverpool and was always a class act to our family. My great grandfather was the mayor of East Liverpool and always made a point to bring Lou back for every town event that he could. I still have a framed photo of Lou that he signed when I was just a little kid. It read, "Joston, hope you come to Notre Dame. -Lou Holtz"
Even if you don't care for Notre Dame, the way he would stand up to Mark May should be more than enough reason to like this man. He's a class act and an East Liverpool treasure that's possibly even bigger than the glorious Hot Dog Shoppe.
We have all the talent (and a special-teams-oriented head coach) we need to make this yet another strength of the team. But it seems like, since Teddy left, we just don't pose quite the threat in punt/kick returns like we used to. I think that Marshall and Dixon and Wilson have all the skill in the world. But there is still something missing that Ginn had that I haven't seen yet from these kids and that is the ability to do it all by themselves. Blocking is important, don't get me wrong. But what Teddy always did well was make multiple people miss all by himself. That's what gets it done.
Took me a second... Upvote to you, Sir
Here's some food for thought:
The Cavs are one missed buzzer-beater away from being up 2-0 and heading back home for games 3 and 4... against a Golden State team that some expected to sweep.
Gotta love the fact that the Warriors are FORTUNATE to have a split in this series so far.
Part of me doesn't care which group of bums we demolish to get ourselves another trophy. But then another part of me wants to go up against all the "greats" and leave no doubt that Ohio State is the toast of the college football world. Bring on the traditional powerhouses like USC and Alabama (ooops, already handled that one!) Bring on the up-and-comers like TCU and Oregon (oh man, already handled them too!). I have come to a point where I don't want the other team's fans going home saying "Don't worry, there is always next year." No - I want them kicking and screaming, wailing in the realization that their team which they thought was a championship contender is nothing more than a pawn in Urban Meyer's chess game.
I feel dirty...
Hoosiers - I agree with you there Mr. H. And with Star Wars as well.
I think the one for me though is the entire Saw series. Even in the beginning when it was edgy and popular I could never get into it.
But this is coming from a guy that uses the Oscar nominees for best picture as a "Definitely Do Not Waste Your Money/Time On These Movies" list.
Did anyone notice that the locker dedicated to Philly Brown actually has "P. Brown" on his name placard and not "C. Brown"? Pretty cool how a nickname can stick with someone so much.
Raising Cane's is a staple every single time I'm in Columbus. However, just a mile or so to the West on Lane Avenue there are two plazas. One has Wings Over, Piada, Tai's Asian Bistro, and Jersey Mike's. And if you go a bit farther the second one has Royal Ginger and Rusty Bucket. No bad choices there, friend. There's a French Bistro on the other side of the street called La Chatelaine but I'm not a fan. Right next to it is Graeter's Ice Cream though and... wow, the raspberry chocolate chip ice cream there is crazy. If you can handle it in this cold, that is.
Lou is indeed the man. My grandfather and him were close friends growing up in East Liverpool, OH together. He returned to East Liverpool when I was a kid and I got to meet him. I still have the picture that he signed for me. It says, "Joston - hope you come to Notre Dame. -Lou Holtz"
Glad I didn't go to Notre Dame but also glad I got to meet such a great man.
As someone whose first name happens to be Joston, you let that douchbag ring burn in bonfire hell. I got nervous as shit in high school every time they announced anything about class rings.
PA System: "Attention students.... Josten's....."
Me: "Oh fuck, what did I do?!"
PA System: "...will be here on Friday and Saturday for a fitting..."
Me: "Jesus... thank you God. Fuck you, Josten's. And learn to spell your name correctly!"
Nice write up, sir. As a 28-year old fan I follow a very similar timeline in your fanaticism. And as much as I worshiped The Vest, I must agree with you: UFM has replaced all those bad memories with good ones AND given me a serious hope for the future. The one thing that Meyer does that really sets him apart, to me, might be the only thing you didn't mention about him. He has put together (and will most likely continue to put together) the BEST staff of coaches in college football. He isn't worried about promoting his buddies or saving face or even picking the most popular candidate. He assembles a staff that buys into his philosophy, encourages them to work harder than anyone else, dares them to challenge their players to become leaders on the field, and builds a family-like relationship with all of them. His coaching tree is ridiculous. This to me is what really sets him apart. OH, AND HE'S A BADASS!
I wish I could give you more upvotes for this piece of gold.
This is great. Wouldn't want the recruits finding our NCAA gilded fleshlight. HAHAAAA!
I didn't realize it until the end but I was holding my breath for a better part of that video. Holy potato that was the bees knees!
UFM was quoted not long ago in an interview saying that he had NEVER been in a football game where luck was involved. Results are what you get from effort and outcome. That's his mantra. If we can win on Monday and a Dynasty begins it won't be about luck. It will be about winning on the recruiting trail, winning in the classroom, winning at practice, and winning on the field. It sounds like the coaching staff preaches this constantly and our young Bucks are buying in at a fever pitch. Love every second.
Eternal upvotes for my favorite movie of all time.