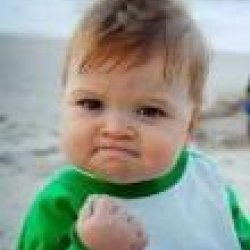 Jdadams01
---
MEMBER SINCE October 13, 2010
Favorites
SPORTS MOMENT: 85 yards through the heart of the south.
COLLEGE FOOTBALL PLAYER: RDS
COLLEGE BASKETBALL PLAYER: Always loved watching Conley.
NFL TEAM: The most loserly of the loveable, the Browns.
MLB TEAM: Cincinnati Reds
Recent Activity
He looks exactly how I picture all Alabama fans.
Werner is the bullet in this defense and the coaches favor him over White. Simple enough.
1. I'm rarely feeling great about any Michigan game no matter who the QB is. The only times I felt decent were Tress vs. RichRod.

I will never feel great going into a Michigan game. I can readily acknowledge that OSU is a far superior team with vastly superior coaching, but until OSU builds an insurmountable lead, I'll be nervous.
No one should overlook Clemson in the playoffs, especially in the first round. That team is stacked and balanced.
What I'm really looking forward to is Bama being left out and then losing to someone like Utah in a bowl game. Tide fans will just claim their players couldn't get up for a non-playoff game.
Bama has very few paths into the CFP this year. The following all get in over Bama:
1 Loss LSU
1 Loss OSU
Undefeated Clemson
Undefeated Baylor
Undefeated Minnesota
1 Loss Pac 12 champ
1 Loss Oklahoma
1 Loss/SEC champ Georgia
Obviously all of those things can't happen in combination. I don't expect Minny and Baylor to go undefeated. But I do expect a 1 Loss Pac 12 champ and Oklahoma to win out. Combine that with any combo of undefeated/1-Loss OSU, undefeated/1-Loss LSU, undefeated Clemson, and 1-Loss+SEC Champ Georgia, and there's no way. OSU isn't losing twice, Clemson isn't losing, and LSU isn't losing twice - there's three of your participants. Alabama isn't getting in over 1-Loss Oklahoma, SEC Champ Georgia, or 1-Loss Pac 12 champ. If that happened, you'd have real rumblings from the Pac 12 about exiting the CFP.
There's also a skill drop off from Wisconsin to Maryland. Wisco's DL is very good.
People's nerves are on edge due to the other news today.
Personally, I just don't think he's as good as other RB's in this class or the next.
Come on now, that's an outlier. It's not like Bama took Jacobs with the intent of solely depending on him for their running game. They took him in addition to the second ranked RB in the country with the understanding that he may or may not develop, but that he had the raw traits to turn into a player for them. When OSU takes 3 stars, it's usually with the same mindset. Yes, there are some 3 stars that OSU ranks much higher than the services do, but mostly OSU is in agreement with who and who is not a 4 or 5 star. That's why they offer and pursue so many top 100 ranked players.
To clarify, me saying Gibbs > Knighton is not saying that OSU will land Gibbs. I just don't think OSU should make Knighton a priority.
Gibbs > Knighton
Knighton is a fine player, but calling it now - he never starts a game at RB at OSU if he goes there (barring injury in front of him).
Isn't Miami considered the likely destination?
Lol Cook pulled the plug on MGoBlog already
Honestly, I think the media will be giving Wisco a lot more motivation than us. Most media guys will be picking OSU by double digits. OSU is going to get a lot of praise this week, just watch.
Go rewatch and count how many Buckeye defenders get basically tackled on each play. It'll piss you off.
How do you see the OSU D attacking the Wisconsin O?
Do you think fans should be worried about the coaches' reluctance to give NPF meaningful snaps?

McCall hasn't had 20% of the career Dontre Wilson had here.
The H-back role that everyone thinks of has less to do with the role itself and more to do with Percy Harvin being one of the most dangerous college football players ever. Samuel came closest to emulating what Harvin did, but frankly Harvin was a once a decade type of player.
They are taking advantage of Borland today. Browning needs to be in.
OP is just talking about recoveries. Forcing fumbles is not as random because you can coach players on technique to rip the ball or target the QB's throwing arm, but recovering them truly has a lot of luck involved.