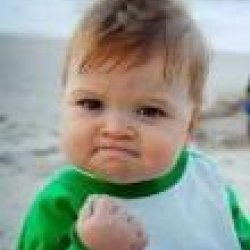 Jdadams01
---
MEMBER SINCE October 13, 2010
Favorites
SPORTS MOMENT: 85 yards through the heart of the south.
COLLEGE FOOTBALL PLAYER: RDS
COLLEGE BASKETBALL PLAYER: Always loved watching Conley.
NFL TEAM: The most loserly of the loveable, the Browns.
MLB TEAM: Cincinnati Reds
Recent Activity
Lol Cook pulled the plug on MGoBlog already
Honestly, I think the media will be giving Wisco a lot more motivation than us. Most media guys will be picking OSU by double digits. OSU is going to get a lot of praise this week, just watch.
Go rewatch and count how many Buckeye defenders get basically tackled on each play. It'll piss you off.
How do you see the OSU D attacking the Wisconsin O?
Do you think fans should be worried about the coaches' reluctance to give NPF meaningful snaps?

McCall hasn't had 20% of the career Dontre Wilson had here.
The H-back role that everyone thinks of has less to do with the role itself and more to do with Percy Harvin being one of the most dangerous college football players ever. Samuel came closest to emulating what Harvin did, but frankly Harvin was a once a decade type of player.
They are taking advantage of Borland today. Browning needs to be in.
OP is just talking about recoveries. Forcing fumbles is not as random because you can coach players on technique to rip the ball or target the QB's throwing arm, but recovering them truly has a lot of luck involved.
I just can't... "Banks even took it a step further during his ride to prison when he spoke to a female police officer. "Ma'am, you don't wanna be an intern because where I'm from we shoot at cops. I'm from Memphis, Tennessee," he said. "… I should have ran, test y'all's speed. Y'all would've never caught me. … Next time, I am, I promise you. Never again y'all boys will take me to jail. Not UT police.""
More like it puts an asterisk on it. I think it's more likely that this policy goes nationwide than the NCAA axing Cali.

Agreed. That's a byproduct of who they have running the programs. But a competent coach could easily sell this as a benefit that (currently) no one else has. While other schools can boast of great locations (Miami), no one else can get you paid above-board like this yet.
That's why I said "at face value".
How would you attack this defense?
At face value, this gives Cali schools a huge recruiting advantage.
Borland is a good LB, but he's not going to chase someone down from behind or beat them to the sideline. This will be obvious a couple times a game as RBs will beat him to the edge or an offensive coordinator will successfully isolate him against an athletic RB or TE and he will give up a completion. The fear for Borland's detractors is that it will eventually happen at a critical point of a game and Tuf's leadership or instincts won't matter one bit when it does. Some guys just aren't physically capable of making some plays and OSU typically doesn't have to settle for that.
The unfortunate part of having someone cover recruiting is that if they're good at it, one of the national services will come calling, like they did with Birm and Alex. In the meantime, Birm is giving daily updates over on Lettermen Row, which is a free site.

The yearly trek back to this article. Thank you, Ramzy.
This comment is spot on. If Syracuse turns around and gives Clemson a game, people will say the Maryland game was a fluke. If Clemson blasts Syracuse, it'll mean 'Cuse was overrated in the preseason and Clemson is just that good.
In the SEC, if Bama or Georgia get a game from from an Ole Miss or Arkansas, they'll rave about how tough it is week to week in the SEC. If Bama and Georgia roll everyone, they'll say it shows just how good Bama and Georgia are.
How do you think Big Ten teams will look to attack the linebackers in the coming weeks?

It's not an insult to tell a slow person that they are in fact slow. If that's the worst thing Tuf hears from a fan, he'll be in good shape.
Wait wait wait, did Michigan fans actually call Army "war criminals"?
And the backups turned out to be a lot better passers than the starter.
Hence why I said "and the like". I have no issue with YSU or even FAU, but if people don't want the Shoe to be like a morgue in early season games, OSU needs to play stiffer competition.