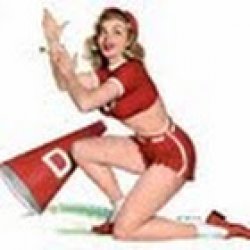 Jcole737
---
Charlotte NC (via Cleveland OH)
Member since 11 September 2013 | Blog
Graduated from THE Ohio State University in 2006. Got married and moved to Charlotte 2014. Proud member of the Charlotte Buckeye Club. Die hard Cleveland fan. Die hard Buckeye fan since age 9. Eddie George got me hooked for life.
Favorites
SPORTS MOMENT: 2002 OSU v. Miami
COLLEGE FOOTBALL PLAYER: Mike Doss
COLLEGE BASKETBALL PLAYER: Greg Oden
NFL TEAM: Clowns
NBA TEAM: Cavs
MLB TEAM: Tribe
Recent Activity
Im mainly pissed they didn't use this criteria after we lost to msu
I posted a couple days ago that neither OSU or Bama deserve to get in this year but one of them has to unless Clemson loses. I'll take my chances to win 2 games an a Ship whether we deserve it or not.
this doesn't matter, they're losing saturday to boise
You have to pick the Pac 12 game too. With chalk we have 39, bama 33. If chalk except GA over Auburn we have 42, bama 30.
unlike bama, fresno is playing on the road next week against boise. They are going to lose big.
It all comes down to whether or not OSU with 3 better wins than any bama win and 2 losses is comparable to bama with 1 loss. If it is, OSU is in on written tiebreaker criteria (conf champ, sos).
The flip side is just saying the okl and aub losses cancel, the iowa loss makes us not comparable, bama in
I think wins over 4, 9, 16 and 2 losses is at a minimum comparable to wins over 17, 23 and 1 loss.
Fresno still has to lose to Boise, so Bama will end with two top 25 wins. One of which (Miss St) is a joke.
OSU will have PSU, MSU, Wisky, and Army after Fresno loses.
only two options if OSU wins:
1) committee just says Bama is better and puts them in
2) Committee views the two teams as comparable and goes to the 4 criteria: no head to head, no common opponents, OSU has championship, OSU has strength of schedule. OSU in.
and I will add, they chose OSU over PSU, not over another conf's champ.
Neither team deserves to get in, but one has to if OSU wins. That being said, I don't think this Bama team is the one they are going to break precedent of 1 per conference with. OSU got in last year because of the Oklahoma win and the perception that PSU was a fluke loss. Bama doesn't have an Oklahoma win and that game last night was not a fluke.
bama's quality loss could end up with 3 losses
What I think is going to happen:
Bama, Clemson, Oklahoma win out.
Committee has to pick between OSU (2 loss champ), USC (2 loss champ), Miami (1 loss runner up)
We may get screwed by 31-0 last year and not get the backdoor invite two years in a row. I think our resume stacks up fine against those other two teams, but they may give one of them a chance over us due to last year.
Which is why another USC and Clemson loss (even if to Miami) would make us the obvious choice. 2 loss champ > 2 loss runner up or 3 loss team.
I hope she's one of the post Thanksgiving layoffs.
I like this prediction. basically a head to head with two loss usc, one loss miami, and two loss ga. guves us a 50-50 chance. if you change to tcu winning out instead of okl, we go up to 77%.
bama winning out is key.
This is the most accurate post. To all the "we don't deserve it" fans: I agree, but who cares. If we sneak in, we have an extra month to prepare. We have as much talent as any team in the nation. I'd love to see them take a shot.
This is true but GA ain't beating Bama.
Teams that control their own destiny:
Bama-Auburn-Georgia - I think only 1 gets in
Clemson-Miami - maybe two gets in if they value a 1 loss Miami over a 2 loss big 10 champ
Wisconsin
Oklahoma
Nobody else controls their own.
Mullen definitely played not to lose. You have to go for it on 4th and 3 from the 4 yard line instead of punting it into the endzone. Bama was back to the 40 in 2 plays.
The play calling on 1st and goal from the 7 was embarrassing. Not one handoff to JK Dobbins who walked into the end zone basically untouched the last time we were inside the 10.
it already has. The committee has stated 100 times that it's a tiebreaker and simply another opportunity to add another big win.
As far as the Big goes, I vote for make the tiebreaker highest ranked in the CFP. If Oklahoma had finished with one loss the Big might have been shut out this year ( 1 loss non champ OSU and 2 loss champ PSU) bama-clemson-oklahoma-washington in that scenario.
I'm nervous, but glad PSU and Oklahoma have 2 losses. Otherwise, we'd be out without a doubt.
The committee has to do something they've never done before, put in a two loss conf champ or put in a non champ. They are going to send a message that losses matter and good ooc scheduling matters. They'd be stupid not to.
Heather Dinnich is going to slit her wrists tonight. Why go on when the only "what if" scenario she ever talked about, psu winning, didn't come close to happening.