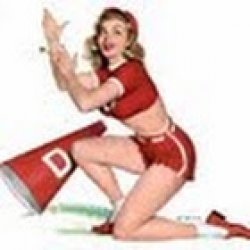 Jcole737
---
Charlotte NC (via Cleveland OH)
MEMBER SINCE September 11, 2013
Graduated from THE Ohio State University in 2006. Got married and moved to Charlotte 2014. Proud member of the Charlotte Buckeye Club. Die hard Cleveland fan. Die hard Buckeye fan since age 9. Eddie George got me hooked for life.
Favorites
SPORTS MOMENT: 2002 OSU v. Miami
COLLEGE FOOTBALL PLAYER: Mike Doss
COLLEGE BASKETBALL PLAYER: Greg Oden
NFL TEAM: Clowns
NBA TEAM: Cavs
MLB TEAM: Tribe
Recent Activity
As long as we avoid the covid, this team is destined to win it all.
Things the BIG Ten leadership should be focused on:
Starting the season 10-10-20
Things the BIG Ten leadership are focused on:
A mythical circle jerk with the Pac 12 Spring 2021
There is no way a spring season makes any sense or happens unless all 5 power fives cancel the 2020 fall season and push back the 2021 falls season by at least a month.
Why would any team put themselves at a massive disadvantage (injuries, lack of recovery for normal fatigue, lack of weight training and conditioning time, inability to get ahead of school credits in spring semester) for the 2021 fall season by playing a meaningless spring season ending with no CFP opportunity?
"Hang a 100 on em" is the new "because I couldn't go for 3". Move the game up to 8-8-20. We're ready.
Let's just grab those top 6 on the list and call it a class.
...also going to 8 is going to give you 4 SEC teams every year, because SEC-SEC-SEC
Just watch them put 3 loss SEC teams in over 2 loss teams from every other conference.
I agree with Matt that 6 will be next. My only tweak to how he described it is the 6th team must be a non power 5 if they are undefeated and have at least 2 wins over power 5 teams.
I'm not a huge fan of going to 8. The best part of college football is that 1 loss eliminates your ability to control your own destiny and 2 losses end your chance at the playoff. Going to 8 will also move us to 2 eliminating your ability to control and 3 to end your playoff chances. That's too much devaluing of the regular season for me in exchange for putting three 2-3 loss teams in the playoffs.
I popped into this thread to say the same thing. Don't sleep on this guy, looks like he's willing to put in the work.
No way we flip games. Why would we agree to some sort of reduced socially distanced attendance when we could be full capacity next year. If the game is cancelled, pull a Clemson/Bama and play another home game against a mac team. Committee has decided that strength of schedule doesn't matter if you're undefeated.
Not sure about head coach, but I see "co-offensive coordinator" promotion in his near future. That allows us to pay him more and get him more involved with recruiting other positions. Also starts getting him more involved with gameplanning/playcalling/designing new plays for his personal development. Also sets us up for when Kevin Wilson moves on to become a Head Coach somewhere.
my bad, brain is not operating correctly these days. Thanks for going easy on me :)
100,000 / 3,000,000 is .333%
I think you're mixing up the D problems with the wrong coaches. Coombs was gone the 1 of the 2 years the D was absolutely horrible. Look at the INT and pick 6 numbers under Coombs:
Not coincidentally, Coombs also helped shape some of the Ohio State's best defensive units. From 2012 through 2017, Ohio State was second nationally with 101 interceptions and first with 17 that were returned for touchdowns.
Can't catch it if you aren't looking for it.
I'm going to ask you again: If you've already decided to be a part of it, thank you. Thank you. If you haven't decided, what in the world are you waiting for?
Get this guy out recruiting RB's asap.
tough decision for him. He can compare the money at pick 1-10 (follow the Ward-Okudah-Lattimore roadmap) vs the money at the bottom of the 1st or top of the 2nd round. Even then, he has to weigh the risk of injury and falling into the 3rd or 4th round.
Secondary is going to be our biggest concern heading into 2020, so I'd love to have him back.
Promoting from within worked ok with Hartline. Love it, continuity for Fields.
We need to change the conversation, I've felt physically sick the past two days. Possible less painful topics:
1) 2020, the year we utilize the TE in the passing game?
2) Do star ratings matter? (with obligatory list of all the 3 stars in the past 20 years that panned out)
3) 2020 RB recruiting? Is it the end of the world or is the sky just falling?
I wasn't even really focused on the result of the first drive. More so just focused on how our Oline looks. Thought process being, if we get 3-5 yards of push on multiple running plays, we should be able to control the game via the ground all day and get even bigger running plays as our Oline grinds them down throughout the game.
Dear baby Jesus, Please make Venables and Dabo believe this kid can block Chase Young 1 on 1.
I think we'll know if the Bucks are going to win after seeing our first offensive series. If our O-line gets the push I think they can get, I feel we win this game going away. I think our run game will allow us to keep Lawrence off the field and pile up enough points so that he has to throw a lot when he's on the field. That predictability will allow our D-Line to get home or force throws just early enough to allow our db's (I agree with Andrew, their WR talent is their best advantage) to win slightly more than they lose.
175 yds for Dobbins, 75 for Fields, 50 for Teague
D gets 3 sacks, holds Etienne under 100, and 1 INT
Bucks 45 - 28
I want to see Harrison and Browning attacking that gap between the center and the Guard/Tackle doubling Young. Even if it doesn't result in sacks, it'll force Lawrence to throw fast. Both have been pretty sure tacklers so I don't see Lawrence slipping away and buying time to throw the majority of the time.
We should go back after Corey Raymond at LSU to backfill Hafely. Worst case we get him another raise. Best case we get him and Ricks.
I'd like to see us get more out chase young getting doubled or tripled. LB shooting the gap left by the guard, DE lined up inside to shoot that gap, corner blitz. I don't have the answer, but we need to punish that strategy.
If Clemson is really the best team, I'd rather play them in the semi at full health and with 3 weeks to game plan. If we beat Clemson, I really feel the championship game will play out like our last one, against lsu or okl.