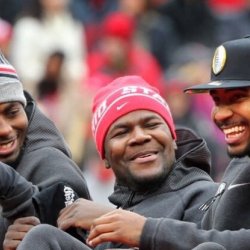 Jcam3588
Canal Winchester, Ohio (via Columbus, Ohio)
MEMBER SINCE October 23, 2014
Ohio born, Ohio raised, Ohio strong...
Favorites
SPORTS MOMENT: January 12, 2015 - The CFB National Championshop
COLLEGE FOOTBALL PLAYER: Paul Campbell, Troy Smith, & AJ Hawk (All-Time)/Braxton Miller, Joey Bosa, & Raekwon Mcmillan (Now)
COLLEGE BASKETBALL PLAYER: Aaron Craft (All-Time)/ D'Angelo Russell (Now)
NFL TEAM: Cleveland Browns
NHL TEAM: Columbus Bluejackets
NBA TEAM: Cleveland Cavaliers
MLB TEAM: Cleveland Indians
SOCCER TEAM: Columbus Crew
Recent Activity
Addressing a problem isn't the same as adding to it.
I gave you an example already with Richard Sherman. But go to any blog relating to a black male athlete insome form of controversy & you'll see it. The ESPN article on the subject is already toxic & evolved into a sporadic debates about BLM & all types of nonsense. Like I said before if you don't see it, you're blind or don't want to.
No basis? Are you serious? Clearly you are familiar with the Internet. That stereotype is flung around just about any time a black male athlete is involved in any controversy whatsoever. It's a stereotype that any student-athlete has to deal with, but if you don't see the oversaturation of it in when it comes to black athletes then you are blind.
it is a stereotype. All stereotypes are rooted in some truth. There are black gangbangers, there are dumb blondes, there are student-athletes who wouldn't be admitted if they weren't athletes. All of this is true, but when you assume it applies to all of that class it becomes a stereotype & unfortunately it's a stereotype that is placed on black male student-athletes above any other denomination. However, with time it will change. Racism, prejudice, & bigotry can only be undone by exposure.
Some are absolutely, but for many that isn't the case & more importantly that is true of athletes of all colors & genders, but I guarantee you the stereotype is placed more on black male athletes than it is any other demographic. Look at damn near any comment section regarding Richard Sherman & you will see this stereotype along with "thug" in some for or fashion despite it being the furthest thing from the truth.
Come on now, the image of any black man being hanged given the history of it in this country will always be on average more offensive to black people than any other demographic.
I think he stays. I honestly think if he was going to decommit it would've happene by now. Bama is hot right now, but that comes & goes. Not to mention no team is developing DB'a like OSU is right now.
Tell that to Urban. Urban has praised Haskins a lot already despite the fact he has yet to see the field (though he has not placed those accolades on him). That alone & the fact that he kept the battle so close while being a true freshman gave me a similar feeling. I think Joe looks phenomenal I also fear for him because he may behind a rare talent & another isn't too far off.
I honestly think the staff sucked it up & changed their approach. I know this team is young & that has a lot to do with it, I imagine 2012 would have looked much the same if Braxton was not Braxton. However there was just a lack of innovation that was present last year two. It's really hard to simply out-execute your opponent when you are that predictable. OSU was not predictable last night.
Doubtful. OSU had backups in on both sides of the ball at the start of the 4th & there was absolutely nothing malicious about the hit that took out Tommy. More than likely that Urban just did not have anything else to say.
Like you pointed out. It depends on how well they look at against Cal, but I agree. With PSU looking healthy & feeding of the confidence of their upset (Dear God I can't wait until we avenge that one), I think OSU's appeal is on the rise. Besides, Urban's teams usually struggle for a bit then break out.
Great game, ironic (or is it) that Urban's swagger heading into the game suggested a breakout & they breakout. For anybody that questions how well Kwon has played this year, look at the Pick 6, tips the pass then immediately clears the path, that is a microcosm of his season. He doesn't get the stats but he is essential. On another Joe looks mighty good & I may be speaking too soon, but I think its clear this offenses issues were on the staff's approach. They clearly changed up how they called this game & it was refreshing & revitalizing to see.
Ugh. I have been one of the few optimistic on the prospect that is Wilson but come on man.
At this point though, it's clear that the structure of the offensive staff is ineffective.
My only issue with your statement is that ignores the fact these issues were present last year too & that team was anything but young.
There is absolutely fans with unrealistic expectations & the fact that these few are often the most vocal has led to some blurred lines. It is unrealistic to expect OSU to blowout every team they face. It is not unrealistic to recognize seemingly the same issues that kept maybe the most talented team in OSU & perhaps evens CFB history from repeating as National Champions plaguing this year's team & being frustrated by it.
Did you just say the offense struggled in 2013? A year where they had a 2000 yard passer, two 1000 yard rushers, two 600 yard receivers, & a 400 yard TE? Seriously? In comparison in 15, there was no 2000 yard passer, only one 1000 yard rusher, & only one 600 yard receiver, & no 400 yard TE. No they did not struggle in 14. Furthermore, your assumption that these athletes would be in the NFL had they went to other schools is not necessarily true. OSU is putting players in the NFL at an unmatched rate & not all of them were phenomenal athletes or locks coming out of HS. Guys like Thomas were a project, guys like Lee, Roby, & Hooker were not highly touted or overtly polished. They were converted & put into a position to succeed. Like I said before, the O was humming with the same type of recruits before Herman left. The only difference now is that we lost the brain behind the O.
Your logic is flawed. For example, you compared OSU's current situation to an NBA team with nothing but "combo guards". That is hardly the case. Football is fundamentally different when it comes to positions than most other sports. Recruiting linemen who can play both Tackle & Guard, or H-Backs is not the same as fielding a team lacking the proper positions. You got your wires crossed. OSU has recruited guys who are versatile WITHIN their position group not guys solely of one position. Furthermore the development & utilization of these types of players was not a problem until we lost our OC. Brown, Miller, & Marshall all are converted WR's currently contributing to NFL teams who also flourished at OSU in their roles as H-Backs/WR's when competently used by the staff. The issues with our offense are structural, not developmental or personnel. Our offense has no identity & thus no continuity. It's clear there are too many minds with conflicting philosophies at play & to make matters worse, only one of those minds is proven. The last 2 years, OSU has been a team that consistently over emphasizes & then abandons the core principles they say makes up their offense & will often completely forget to utilize the player they say they need to utilize the most. This is & has always been on the staff's structure of the O. Not the players or development of said players. Nearly every WR, HB, RB, & TE of the Urban era has been or is currently in the NFL.
I honestly think Ed & Beck aren't that good as OC's & PC (Beck). So far in the Urban Era, Urban only becomes heavily in an area when it lacks talent & or coaching. Before now that was WR's & Defense. Yes, Urban would make the occasional call in crunch time, but it was clear when the O was Herman's, it was clear when the D was Withers & then Ash, & now Schiano. Unfortunately the lack of identity/schizophrenic offense over the past 2 years is a clear stamp of this Ed/Beck marriage as well as the regression of the QB's. I personally think the OC should always be the QB coach. It adds a level a continuity & OSU desperately needs that right now.
It's just speculation & it helps people deal with the frustrations of yet another season with a roster as talented as any in the country being squandered by poor coaching that leads to embarrassingly poor performances. No, I don't expect OSU to win every game by 30 points, but watching them squeak out wins that just 2 years prior would have been 2-3 possession leads is beyond frustrating. In the last 2 years we have watched what was once an embarrassment of riches regress in a manner I have never witnessed before at the college level. I like many other have come to the only logical conclusion, just like in 12-13 with the defense. If it's not the players it's the coaches & if our current rookies haven't shown you yet, it's not the players.
What's the kid's dad did should have absolutely no bearing on him whatsoever. Clearly he knows offense & I would have no objections.
Throws come on time when a QB is in rhythm. OSU does nothing to get JT in rhythm then calls a shot deep into the wind. Of course it wasn't accurate.