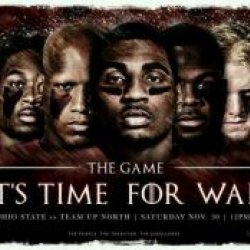 Jbucks
---
MEMBER SINCE December 17, 2013
God, Family, Sports. im 22 so no "story" as of yet
Favorites
COLLEGE FOOTBALL PLAYER: JK Dobbins
COLLEGE BASKETBALL PLAYER: Aaron Craft
NFL TEAM: Cleveland Browns
NHL TEAM: Anaheim Mighty Ducks
NBA TEAM: Cleveland Cavaliers
MLB TEAM: Cleveland Indians
Recent Activity
Jonnie Dixon called Austin "No YAC Mack" ouch.
I added some names to a calculator and got 329.47 with 25 recruits. I added J.T Tuimoloau DT 5* Tunmise Adeleye DE 5* (I think he'll reach it) Emeka Egbuka WR 5* Terrence Lewis OLB 5* JC Latham OT 4* Jager Burton OG 4* Tywone Malone DT 4* Hudson Wolfe TE 4* Kamar Wilcoxson CB 4* Derrick Davis S 4* Because we have momentum to do anythong right now and if this were to happen id shit a brick and throw it at a scUM
He looks like a RB version of Braxton Miller yuh cant stay infront of him!
The bigggest job in the NFL a TE has is blocking, not alot of teams use the Travis Kelce model because not alot of TEs can do it.
Kamar Wilcoxson just decommited from Florida.. Hes in imo Also Barret Carter #4OLB had been talking Bucks on Twitter. So ill update my predictions. And the class will add 1. TreyVeon Henderson RB 5* 2. Kamar Wilcoxson CB 4* 3. Tunmise Adeleye DE 5* (i think he'll get it) 4. Emeka Egbuka WR 5* 5. J.T Tuimoloau DT 5* 6. Derrick Davis FS 4* 7. JC Latham OT 4* Giving us 21 commits as far as any other commits im not sure my crystal ball is only gut feeling mixed with wishful thinking. But also id like to add Carter to the list as well hahha fucking quarantine
Sawyer, Tunmise SDE J.T, Hall DT Demeion Robinson WDE Probaby the most dominant DLine hall in History if they perform. Though Robinsin seems like a Maryland lock and im not sure if we're in on anymore speed rushers
Henderson, Tunemyse, Tuimoloau and Grimes... That be great af
Bill Kruelic put in a crystal ball prediction for J.T Tuilolou to Buckeyes! Ill take the rest of the the above listed prospects as well lmfao
The Next nothin we are THEE Ohio State. Plain and simple theres no one better.
I would love to keep Wilson here as a lifer. I would love to see the 21 cycle be defensive riddled. We landed 2 top QBs in 20, 4 TOP (3 Should be 5* guys) if we can focus this year on the Dside of ball that would be great
My biggest concern is the DBs, thin depth low on experience and a new coach incoming its not looking like a great situation back there. And looking at 247 it doesnt seem like its gonna be fixed this recruiting cycle either.
Hope he wrestles better than Frank
If Washington leaves for BC Charlie Strong would be a good replacement. Maybe he would consider regrouping for a few years and join the Defensive that South recruiting would get a big bump.
Hang 60 on em
This does nothing but diminish the whole point of the playoffs 4 best teams. ACC, B12,PAC 12 over last few years are trash. I wouldnt mind 6 team playoff and top 2 getting a bye week and let 3 play 6 and 4 play 5. But the conf. Champ stuff doesnt make much sense when you can have a 3 loss Pac or 12 Champ but a 1 loss team that loses to a top 4 team is left out. The national Championship game would be too predictable i think in that setting. Jmo
I work with a PSU fan and he tries to pull the ol you guys suck so much you had 3 Qbs leave in 1 year. He hates it when i remind him 1 was a 1st round QB 1 was a failed runt and 2 of our Current QBs are in the Heisman Race. He doesnt think Burrow is still a Buckeye, cant wait to show him this LMFAO #DevelopedHere
Glad to hear Fick is having some success though, damn i wish that man would come back to coach the defense
As long as the plan is to score quick and often still its fine by me i just want Day to get after these Defensive guys that he seems to be missing on. Its kinda getting a little scary.
Rakim Jarret and Milton look like the lean Buckeye on Twitter
Word im hearing Bo Pelini is making a comeback and will be assistant to Dantonio and Lane Kiffin will also be joining as OC.
New HC hes allowed to play immediately of he transfers
I would shit if we picked up raymond after both Co-DC jobs are taken... I know it was alreasy announced but to land him id quickly relabel mattison as QC
Thats a fantasy at this point imo.... He wont make that move without being upgraded but both Co-DC titles are taken
How was Bill Davis?
2 hires 0 RECRUTABILITY 1 will hinder because of his age. And his last ran DC job was horrible. That plus Michigan as his only resume the past decade.... Not really a selling point. And now an NFL guy who recruited one year i think back in 2011 lol... God i hope this works