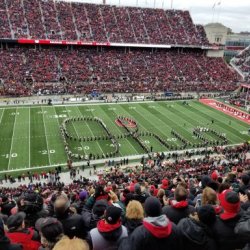 Jbucki
---
MEMBER SINCE August 14, 2018
Recent Activity
Deuchy is how I describe that network so I do not buy what they are selling.
This. Ginther and Coleman are as crooked as the day is long.
I like Day but let's see more than three games as HC and knowing Meyer is not coming back and see how he handles the pressure because there will be plenty of that. He won the press conference so all good there but a lot of confidence he will already beat Michigan next year in AA. I would chalk it at 50/50 right now. Hairball knows this and if he has the support of the AD he is not going anywhere but if AD is nudging him to interview to make it easier for everyone then different story. IMO he is there next year and they are unbeaten heading into November. The sting of this years loss was too much and I think he will prepare everyday for the game next year.
I think when a division champ who is maybe undefeated takes a pass on the conference championship game to avoid it hurting its cfp chances then you will get change. The conference championship games are so important for conference and when a fan base like OSU says no thanks then that will get their attention.
Agreed but it sure feels better to bi#$&.
I like it and if Delaney would just threaten a proposal like thIs we would see change so of complaining we should lobby Delaney with a plan
Can't lose to tier 3 teams in the league but also surprised uga stayed over us. They talk about the best teams right now and then still hold a loss over a team from six weeks ago.
ND, go Catholics. I think they can play with Clemson, Alabama no so much
Here s the other thing the committee just did. If I am undefeated going into my conference champ game, maybe I opt out. Delaney should be concerned about this as it is a bad look for the committee. Why would I play a conference champ game? If I am OSU definitely schedule three MAC schools, go through the conference and skip the championship game.
Agreed, my loss of interest has nothing to do with Bucks but with the manipulation and rankings fixing that goes on all season. If I root for a school outside of the five or six usual suspects I am not sure why I watch. I see this trend continuing. ESPN is like a lot of big corporations they ruin everything they touch.
It is a sham and a shame but I find myself watching less and less college football every year because of their influence which only hurts the NCAA and the student athlete.
Definition of fake news, opinion over fact.
The is the problem with network interests involved n the selection conversation. Committee doesn't do tv interviews with anyone but espn and to think there is no influence there is naive. Take the committee out of it and go to six teams. Five conference champs and then let the committee select one team and that is they get to do.
Herbstreit equals fake buckeye per Terrell Pryor
Agreed on Purdue and Iowa, stop blaming other teams for making it and we did not follow the formula but I do think they need to go to six, five conference champs and one at large. If I am Delaney I demand this going forward or threaten to align with bowls again.
This and expand playoff. If I am am a power 5 commissioner I say you take conference champs and 1 more deserving team and have a six team playoff
We should not have lost by 30 at Purdue and this is a mute point
I just tweeted she is fake news, that will shut her up
Yeah, he contradicts himself. He is reliving a nightmare it seems.
Well said. I do not gloat though when it comes to this game as I remember the shoe on the other foot.
If we played like Saturday against them we win. If the Purdue game team shows up not so much. That is what I struggle with, not sure team this is yet.
And they would be right to do so as they have done what they needed to do and played a very tough schedule on paper and traveled a lot so no way I see them getting left out.
I know these guys make a lot of money but I hate that any organization fires people this time of year. Bah humbugging if you ask me but to answer the question I think Day stays as Meyer will likely need to retire or get a medical miracle.