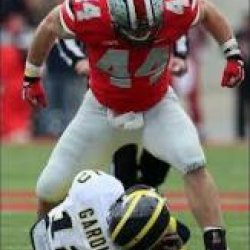 jbuckeye007
---
MEMBER SINCE March 31, 2014
Recent Activity
State Championship ????? WTH ?
It's THE GAME!!!
The Road losses to Purdue and Iowa both came after huge games against PU. What scares me is having to travel to ttun after them this year.
"Ohio State registered 232 passing yards and 237 passing yards" I take it one of these is rushing yards?
Thanks for that PAINFUL reminder... sends a cold chill down my spine!
Meyer's approach worked with Ohio State on the road, and it worked when the Buckeyes played host to Michigan. It worked with his team as the heavy favorite, and it worked when it held the rare standing of underdog. It worked in tight games, and it worked in blowouts. It worked against Hoke, and it worked against Harbaug

So We beat them here and there
We beat them in a box
We beat them with a fox
We beat them in a house
We beat them with a mouse
We beat them here and there!
Say! We beat them everywhere!

Our record in the Big Outhouse is 21-22-3. It would be really cool to tie them in their own house!
TTUN colors are very appropriate: Yellow on Saturday, Blue on Sunday!
Love Coach Fickell!!! Hope he wins all but this game next year!
Simply Brilliant!!!
Any pics showing the TTUN Beatdown/score???
It seems being from Ohio is a requirement for being a "Michigan Man"!!!
Bo
Mo
Hoke
Harbaugh
Howard
Woodson
Deardorf
etc.
Will Mattison & Washington receive a pair of Gold pants too?
I agree it should be a 3:30 start! (or even night game)
I also think both teams should wear home Jersey's!!!
Love the Vest!!!!
6 B1G Championships in a row is an amazing accomplishment!
I bet your ritght - it is just to get LJ a well deserved raise! And the other 2 will be running the rest of the D.
very strange - so who is the Chief on the Defense? The Co head coach (Larry Johnson) or one of the Co D coordinators (Mattison and Haley) ???
TTUN holds the record for most Rose Bowl losses :)
It's been an incredible run!!! Thanks Coach!!!
7-0 vs TTUN - enough said
I believe he is the first coach to not get fired.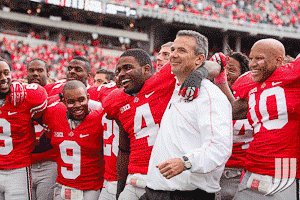 This is all an elaborate ploy to make TTUM over confident!!! The real Defense will show up Saturday! ;)
Love Jim Tressel! Total class act and beat the daylights out TTUN!!!