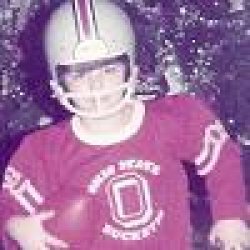 JBuckeye
---
Ohio
Member since 03 September 2010 | Blog
Favorites
COLLEGE FOOTBALL PLAYER: Orlando Pace
NHL TEAM: Hockey is not a sport
NBA TEAM: Basketball is not a sport
MLB TEAM: Cincinnati Reds
Recent Activity
Hawk plans to pursue a career in media, including The HawkCast. ElevenWarriors.com
There...FTFY
If you think that is gross you should follow the BTN on Instagram. I swear whom ever runs that has such an amazing hard on for Peppers it's not even funny.
I know I'm late to this party, but I've been here longer than many people and less than others. I first joined honestly to get this sticker from Jason. It still sits on my pen caddy at work and has through all these years.
I really appreciate what you guys do. As specifically for DJ, I'm particularly glad that you took that break. Before that I really couldn't stand you and stayed away from the site because of it. When you came back you were a different persona which I now love and one of the main reasons I still check in weekly even though life is busy and I don't have the time to devote to this glorious time suck is for the Skull Session. Your interesting links are worth the price of admission alone. I will say that I too miss the Presidential Parlay....it was a fine piece of fictitious writing that I was amused by.
Keep up the great work gents!
Look for a company that does laser engraving using ceramark. They can do your yetis no problemo.
No you shouldn't have, send them the tree in the forest.
Mushroom in the short grass would be more appropo no? ;)
My confession:
All the talk about atmosphere is annoying to me. All I see of your "Atmosphere" anymore as I age is drunk stupid kids screaming and yelling and not even being able to recognize and respect a special moment or the tradition that goes into some of the things in the stadium. Getting beer spilled on my back when you jump and cheer is not atmosphere. Stepping in spilled beer, or worse puke is not atmosphere. Unless you've got a booty like J-Lo, sit on it during the game. Not everyone is able bodied to stand for the whole game. Be respectful of your fellow Buckeyes. That is what has ruined the atmosphere, not the old biddies. I feel the same way about the Kentucky Derby and other things that should rest on tradition and pomp.
Last year I was glad that I couldn't go to the game that my Alumni tickets awarded me. I'd just rather watch on my TV. People thought I was awesome because I donated them to a veteran here on the site, but to be honest then I was really and still am a little peeved that I lost out on the money. Not one of these millions of new friggin' fair weather fan could pony up for Indiana? That makes me feel phony and dickish, definitely not proud.
Speaking of fair weather fans, I tend to hide my fandom anymore. It seems anytime tOSU is at the top of the heap we get millions of new fair weather fans that bitch about the "atmosphere" and other stuff that doesn't make a damn bit of difference to me about the game. Learn the tradition, the excellence, and all the other beliefs that go into making tOSU revered among college football's hallowed grounds. To me being in the 'Shoe on a beautiful fall afternoon as the band comes marching down the field is akin to a spiritual moment to me. Time slows down, the colors become brighter, the sounds become more focused, and I thank God for the opportunity to be there and witness history and tradition. The fact that you are already drunk and screaming like the assclown you are ruins the experience. Screw you if I want to actually hear the band over your screaming. Hiding my fandom also helps with the OH-IO chants and other assclownish behavior. There are times and places for that where it's acceptable. While I'm eating or in the bathroom are two places where it's never acceptable. And doing it more than once is just amateurish anyway. Smile and nod at a fellow Buckeye and be smug in the satisfaction that you share a fraternity and bond that goes back 100 years built on tradition and excellence.
My last confession is probably the one I'm most surprised by....I miss the Cooper era. Maybe it was because I was young and impressionable, but it seemed like it was always a giant struggle back and forth between Ohio State and Michigan. The two titans of the grid iron, every game important, but none more so than that last game in November. No looking ahead to a B1G championship game or beyond. That game either made or broke your season, so there was no reason to think ahead. When those warriors on both sides of the ball left the field, you know that you had just witnessed an epic battle. They were exhausted, bloodied, and had left it all on the field. You never felt shame loosing to Michigan because you knew that if you lost, truly the better team that day won fair and square, not on gimmick or luck. I hope and pray that Michigan returns to what it once was so that I can hopefully feel that sensation again.
I'm really ok with it, especially since it's not Ferenz. I don't care what anyone says, but Urban Meyer should never lose a game with the talent around him. If you look at it realistically, we are on our 3rd string quarterback and still in the national championship picture. Could you say that about Minny? Or any other program B1G or otherwise? Name one position where our back up wasn't a higher recruit than Minnesotas? That is called an embarrassment of riches. Where we are right now is the bare minimum to be expected out of this storied program based on quality of players recruited. 8-4 for MInny is an astonishment.

No one grows up anywhere south of Minneapolis and dreams of playing for the golden gophers. I'm actually amazed that Jerry Kill was able to string back to back 8-4 seasons together in the hellhole that is Minnesota. Their 2013 recruiting class was the worst in the B1G, and until this year they haven't even had a 4 star prospect in recruiting since 2010!

Saying Urban should have won it is like saying one of Sam Walton's children are the most deserving of Billionaires over someone like Bill Gates. The Walton's inherited their fortune. Bill Gates built his from nothing.

I'm not saying Urban is a bad coach, just saying that Jerry Kill did more with less, and that is why he was rewarded.
Isn't a white elephant supposed to be a horribly funny gift? A corded phone always works well.
Sparty was the better coached team that night.
Fixed it for you
A little surprised that the Tressel playbook didn't have 4 sections devoted to Dave
I was thinking the same thing! 2002 must have been pre-Dave.
I guess the only thing left for the team to do is go out and win the whole damn thing for my man KK!
Enjoy the game Wes! I hope it's a great first time for your brother! Don't forget to share your experience with us here at 11dubs
Shoot! Here I was hoping for another 30 years of inconvenience!
No I'm not...the people who serve and allow me to be free to watch Buckeye Football are the good men and women. I'm just a guy who's fortunate enough to be able to take the $160 hit and not cry too much about it knowing it was for an excellent cause. It will make a good lesson for my son when he's old enough to understand. I'm just glad they can go to someone worthy of being in the hallowed ground of Ohio Stadium.
I served in the Marines from 06-10, twice to Afghanistan, i'd love to get these for my brother who is a veteran as well and never had a chance to go to a buckeyes game
OORAH Marine! Tickets Secured!
Email me at jleiwig at woh dot rr dot com and we'll get you the tickets somehow. I'm at work now and the tickets are home in Monroe.
Poor planning. He must have conceived the child sometime in January-February....after football season
March actually, and the dang ankle biter came early. He was to be born in the dead period between the _ichigan game and the bowl game! Trust me..I planned my wedding around Buckeye Football, you think I didn't plan the kid the same way?
I'm still waiting to hear from Military people in the Dayton/Cinci area...My discount is really good for you!
Anyway, despite being a soldier in the Army myself, I feel that my sister is an excellent candidate for this generous offer you are proposing. Thank you for this amazing gesture.
Are you in the area? If you want to go with them I've got two tickets to tomorrows game I'll donate to you.
If you think turkey is too dry you need to try brining. Trust me
And spatchcocking it. Alton Browns Brine, plus Serious Eats Food Lab Spatchcock Herb Roasted turkey recipe and you are the Marionaire of Thanksgiving.
Congrats! I know exactly how you feel. It took us 6 years of suffering through the most degrading appointments and treatments and lots of money, watching all our friends get pregnant and have kids. It was easily the hardest thing we've had to endure in our marriage, but we have a beautiful son who turns 1 next week. He and I watched our first tOSU game together when he was less than 48 hours old....Well we sort of watched, and sort of napped. We are having a Buckeye tailgate birthday party for him next weekend.
t's really Rinaldi, photo-bombed by the Heisman, being photo-bombed by Kiffin, being video-bombed by Saban Satan.
There...fixed that for you
Anyone else imagine he's on the phone to his bros saying "Don't leave my fiver hangin' brah! LOLZ!" in whatever Cali surfer frat boy douche bag voice you want to come up with?
Bet they don't loose their schollie, housing, or get bodyslammed by Schlegel!
Jim Tressel is proud of Jerry Kill and the quantity of "and so forth" s in that interview...
I knew he was a good guy, but this just pushed Jerry Kill over the top in my eyes. I got kinda reminiscent and misty eyed when I read a so forth from a CFB coach on 11W.
I don't get how anyone can say that we would be undefeated if Braxton was QB this year? Talk about scarlet colored glasses. Maybe they didn't watch the same VT game I did, but that game didn't fall due to JT's play. Massive drops by receivers and crappy O-line play doomed that game which wouldn't have helped Braxton either and he probably would have went down hurt in the second quarter anyway after having to scramble for his life a thousand times.
We can whatif all we want until we're blue in the face, but the fact is that JT is performing at a level which I haven't seen out of an OSU QB since Joe Germaine.
besides GIVE IT TO HYDE, DAMMIT!!!!!!
That is exactly what I'm referring to. Cooper would have rode Hyde until he couldn't get up off the field if his mojo was working it that day. But Herman and Meyer seemed at times to be confused when their plan wasn't "going to plan"