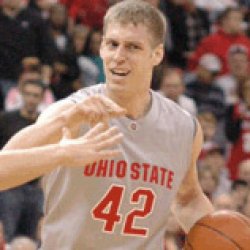 jbenz
---
Member since 30 August 2010 | Blog
Favorites
SPORTS MOMENT: Rushing the field after the 2002 Michigan game, then watching the championship game with my father.
COLLEGE FOOTBALL PLAYER: Rex Kern
COLLEGE BASKETBALL PLAYER: You mean other than Matt Terwilliger? He's the only real choice here.
Recent Activity
Purdue Harbor was truly a nightmare. It gets a vote from me.
Can't wait to root for that team.
ACTUALLY... The Last Boy Scout rules. Tony Scott and Shane Black. It's a parody of 80s action movies while being an 80s action movie. Well, 1991 action movie. Same thing. "Shit. We're getting beat up by the inventor of Scrabble."
Does anyone have a good video or gif of Samuel's 18-yard run to start overtime? Reading Ramzy's chart made me want to see it again.
Wow, very eloquent. Good luck to you, Danny Clark. I'm impressed with your writing.
First, I love the graphics added to the clips, as it really simplifies the schemes and terminology you discuss in these breakdowns.
Just wanted to agree. Love this too. Really nice stuff.
Suggestions for Block O body paint:
J A C K T A T U M 4 E V E R
B U C K S F A N [Changing] [Icon]
[Little] [Lebowski] U R B A N A C H I E V E R S
A N T O I N E W I N F I E L D
I saw it fron C-deck. It wasn't immediately after the sack. He was excited. Came off the field and finally did the shrug on the sidelines. I think there were a bunch of teammates around. It wasn't obvious if you weren't looking for it. Did they show it on tv?
Wait, I have to upgrade button myself.