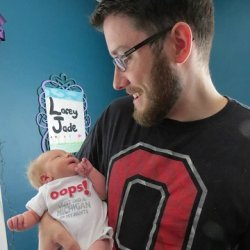 JBDizzle
Florida (via Columbus)
MEMBER SINCE August 12, 2014
Lived in Columbus until family moved to Florida when I was 13. Ohio has always been my home and so has the buckeye culture.
Favorites
COLLEGE FOOTBALL PLAYER: Haskins
COLLEGE BASKETBALL PLAYER: Aaaron Craft
NFL TEAM: Bengals
NHL TEAM: Blue Jackets
NBA TEAM: Orlando Magic
Recent Activity
Ryan Day is our new head coach.
Good for him though. I hope he makes it.
I just checked, and I am really liking next years schedule. I am already looking forward to next year haha.
Buckeyebfd,
Have you had a chance to play any of the recommended games? Thoughts?
Give the game at least 3 hours to get use to everything. Just know that the game gets really good.
Yea. You obviously can't go wrong with fallout. I just feel witcher gets overlooked and people unfortunately miss out on an amazing game.
I have played all the elder scrolls(including a maxed out elder scrolls online character for both PC and Xbox One), all fallouts, etc. My only advice to you is to get the Witcher 3. It was my first witcher game and took me a few hours to get acclimated to the world but this game blew me away. The story is rich and engaging, and being older its the only game that really keeps my attention these days.
p.s. You're welcome
It's confirmed. Penn State is going to win.
If there is not enough bandwidth to stream video then maybe try streaming a radio broadcast of the game.
Tell me about it. This is starting to get way out of hand, so much so that I am tempted to join mgoblog!
This is gold!
When I first heard the news, my mind humorously went to this.
"Think happy thoughts"
I like to be an asshole every once in a while.
I am just going to paint my whole body scarlet.
Geez... I didn't know everyone was so anti scarlet and grey.. Fine, I will wear black!
For the record, I am not anti black uni's. I actually really like them. Its just that I live in Florida and I rarely get the opportunity to wear my jersey(Except for when I am sitting on my couch). You guys convinced me.. I will cave in and buy a black sweater... Go Bucks!!
Same here. It is not that I refuse to wear black, its just that I would rather not spend $200+ on a black jersey.
A long haired jack russell that will not listen... but she def means a lot to me.
Really? I will be flying in from Florida and that does not seem like t-shirt weather haha.
Dual quarterbacks. Urban told me so.
Agreed. I love this song and have used it on some of my youtube montages.