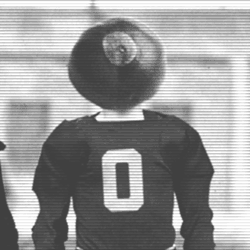 jbcuky
---
Member since 12 November 2012 | Blog
Recent Activity
Might as well just give it to 2006. It's going to win this in a landslide.
I'm almost positive he did, but he's our coach and this other guy is a meanie.
i'm almost positive he said something very similar.
Agreed. I forget how many NFL linemen were on that Buccaneer's team. Probably not 5.
But Big Ben didn't go to Ohio State, therefore, he wasn't exempt.
Because there are never long stoppages in play during the game for commercial breaks, halftime, pre-game, etc, right?
Or the video board. "If you wanted to watch it on a screen, why don't you stay home and watch it."
Hiring Donovan, Self, Cal, Stevens, et al is not a "home run" hire because home runs are actually achievable in baseball.
Nonsense. Why would Brad Stevens want to continue coaching in the NBA at some team with no history like the Celtics that barely even made the playoffs this year, have no high draft picks, and can't attrack any free agents? I imagine he immediately called Gene Smith rather than even waiting for an offer.
I actually thought it'd be about OSU fans thinking the basketball coaching job is a top 5-10 position.
I just watched the Bosa one too. Kinda ridiculous this guy didn't analyze Bosa against the run at all and discounted sacks he got from a high motor or defensive schemes. Wasn't Bosa also near the leaders in hurries despite only playing 12 games?
Unfortunately I think this confirms what we've seen. He just never was quite the same after that injury. Tough break but I hope he makes the most of his opportunities.
Trading into the first round to draft Manziel is the most Browns pick ever. This is bad but doesn't come close to topping that one.
We already knew they're not complete idiots.
I'd argue Oregon overachieved. Lack of history and lack of in-state talent are huge hurdles to overcome. They've only been remotely close because of a ton of money from Nike and Chip Kelly. And now they are coming back down to reality.
Condolences to Russell and his family, but aren't the Lakers trying to lose every game?
Duke and Kansas. Also blue.
If you can't teach speed, why do we have track coaches? And why do people train specifically for the 40-yard dash for the combine? It's because you actually can teach speed.
What you can't teach though, is long arms as mentioned in the post above you.
I don't know a lick of Arabic, but those two words do not very similar to me.
Seems Dontre's broken foot definitely has some lingering effects.
I'd be curious what the numbers are on Elflein in the two photos. As someone pointed out last time, they don't look that different other than a little tanner and sucking in his gut a bit in the second photo. Chin/neck look about the same; area near armpit/pec looks about the same; love handles look about the same; etc. But I also wouldn't expect a ton of change in 6 weeks as that is not a large amount of time especially dealing with a highly trained athlete.
In defense of AD's dad, the Vikings offensive line was one of the worst in the league.
As for tempo, the only reason I could ever think of while watching the games is they trusted JT enough to make pre-snap adjustments. Which I think he very often made proper reads, but then the execution was lacking. So in that, just go tempo as it's been deadly for us.
Except we didn't run much zone read against those last three teams in 2014, hence the comment.
Well said Andy. That was truly one of the most ignorant comments I've seen on 11W. And given this website, that's saying something.
Is that basketball for Spain, France, and Italy? If so, I'm calling "bullshit".
Several. But mostly basketball.