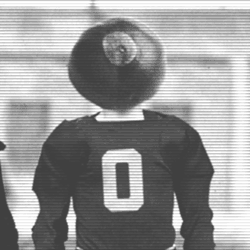 jbcuky
---
MEMBER SINCE November 12, 2012
Recent Activity
I'm curious. Which issue was it?
Was Wade credited with the forced fumble? I thought Wade made a great play but Okudah got his helmet on the ball which caused the fumble.
OP misused the term "one and done". The article refers to NFL one-hit wonders (either 1 great game or 1 great season in the NFL and then not much the rest of the player's career).
Totally agree. Burrow was an idiot for leaving and getting playing time at LSU and giving NFL scouts a chance to see him and draft him, possibly very high. He totally should have stayed and been a back-up. That would have been a much better situation for him. /s
Just like the last discussion, you seem to be conflating "driving the ball" with mid-range jumpers.
Driving the ball is still good. Contested 18 footers are not good.
I wouldn't say he lived there. Comparing: (1) restricted area, (2) in the paint, (3), mid-range, and (4) 3s, less than 1/4 of his shots were mid-range and 3s were the highest percent (29%). Also his effective FG% for restricted area and 3s were much higher than mid-range, which is why the mid-range is on the decline.
https://stats.nba.com/player/202695/shooting/?Season=2018-19&SeasonType=Playoffs&sort=FGA&dir=1
Also, not everyone has 1 of the 3 best players in the world. Those are a little hard to come by.
At the least, it's anything but a layup, inside the 3 point line.
Well that's not accurate. "Mid-range" is very much a term of art that means your other definition, outside the key and inside the 3 point line.
NBA analytics that leads to trends like this:
https://flowingdata.com/2019/01/15/goodbye-mid-range-shot/
Yeah, the only thing this highlights is that their modeling is wrong. There is zero chance an undefeated ND gets left out this year.
Michigan State, Iowa, and Purdue are in conference though.
nvm. i assume it's this as well: https://www.elevenwarriors.com/ohio-state-football/2018/10/98261/presser-bullets-urban-meyer-recaps-bye-week-previews-ohio-states-game-against-nebraska
Any heroes with the non-facebook link?
Wouldn't you expect YPC to be lower in the red zone? For one, any run inside the 5 yard line can't have a YPC greater than 5? Plus the number runs from inside the 2 yard line and just in general working with a shorter and thus more crowded area of the field.
Now, even with that, the success of our running plays inside the red zone seems abysmal. I just don't think YPC is the proper stat to look at.
Yeah, well, that's just, like, your opinion, man.
He's saying Bosa has a higher ceiling if healthy, but because of injury concerns, he'd take Oliver. The injury concerns don't give Bosa a higher ceiling; it makes him riskier and because of that he would give up some upside to go with a possibly safer pick in Oliver.
I don't know. I'm never invited.
Both of those are from Ramzy's timeline, not mine. "11:30pm: Finish workday..." Throw in another hour if you want, but it's still 4 hours away from 22. A long ass day, no doubt. But there's a big difference between being up for 17-18 hours and being up for 22 hours.
11:30pm eastern is only 17 hours after ~3:30am pacific. Still a long day including a long flight. But not quite the 22 hour day you think it is.
Thank you for tracking the air yards. The first point on Five Things was touting that Haskins was "a masterful 7-of-10 tosses for 138 and both of those touchdowns in the final quarter of action." When in reality, two of those were screens for ~1 total air yard and about 70 passing yards and another a 9 yard overthrown ball to Victor and Victor did work. Those plays were the result of play calling, great downfield blocking, and great vision by the ball carrier. Haskin did the least of anybody and to act like he torched Penn State on those drives like JT did the year before is inaccurate.
0% chance Rick Pitino misspelled his own name as there is a 0% chance he created the banner. But whatever.
I would imagine (hope) they have some parameters such as it only matters agianst teams in the top 100 (or some number) and only up to a margin of 20 (or some number). But we'll see.
Is there a discernable rhyme or reason to how the corners line-up? It used to be pretty reliably field/boundary but that hasn't seem to be the case for a number of years. Is it match-up based? Left/right? Formation/personnel specific? Some other method?
Unless, you know, the rule was changed.
Exactly. I'm actually surprised the schools are showing even this much profit.