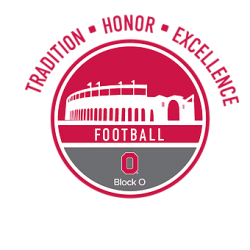 Jay Lawerence's Laugh
---
Louisville, ky (via Middlefield, oh)
MEMBER SINCE November 12, 2017
Born and raised In Geauga County, now living accross the Mason Dixon line. Proud husband and Father, of 3...l love me some buckeye football.
Favorites
SPORTS MOMENT: A) Cavs world title, def brought a tear to my eye knowing that my grandparents waited so long and didn't get a chance to see it. B)Watching tOSU win two chips. C) Every game I get to see my children play!
COLLEGE FOOTBALL PLAYER: Anyone who plays hard, with class, and dignity
NFL TEAM: Ouch (Cle)
NHL TEAM: None really
NBA TEAM: Cavs
MLB TEAM: Indians
SOCCER TEAM: USWNT?
Recent Activity
I knew you wouldn't be to far behind this wagon.
Pieces of history that are just not really able to be duplicated. Truly a pricelsss loss.
There are very few absolutes in life, but what goes up....
Expectations at UCLA would be a lot less however lol.
I remember watching an old episode of thirty rock, and oddly everyone from the city loved to vacation in Cleveland on the weekends.
Im sure it was a sarcastic play on my favorite city, but in my world, it has a lot to offer.
CLE til i D I E!
But are they making a run for the tidal?
If uCF can keep up the current run, I say yeah...we played them not to to long ago if my memory serves me. I wouldn't mind seeing a total odd ball and play Boise State on the blue turf. I don't see that happening it's not a win win by any means.
West Virginia could be a fun one.
Florida and FSU are a go for me as well as LSU, Georgia, and Auburn.
A. I don't see Urban on the field at all during OSU games in the future. Day is the head coach now. Could Urban make a visit or two, sure...but I don't see it being often.
B. Herman burned some bridges and I doubt that Urban would make a public gesture toward Tom regardless, after the strip club info came out.
Urban isn't gonna go out of his way to stoke those flames.
This would be one of those posts that I point to and say, you enjoy saying things that you know the answer to, just to get a rise.
Please rephrain from posting videos.
What does that have to do with anything?
If you are active on social media, don't be active on social media.

Signed - a guy who really doesn't get social media and is better off for it.
Wait, isn't this considered social media?
LCT, have you been sippin on some of that Buckeye Jack?
See, even in 1909 using the "cheated" narrative.
Often is probably the more accurate word. Michigan fans seem to find many things to point to when U of M loses. Like referees assisting the other team, field conditions, weather, locker room accommodations, it's not just a one time thing. It's generational.
You know what they say....
if the shirt fits, wear it.
That Instagram makes me cringe.
Now if they only made auto tune for jump shots.
After watching the Colorado kid tackle, all I see is a kid who wants to go low. I'll pass. Plays the game using cheap shots to make up for lack of ability.
We don't need much on the Dline, our linebackers will clean up any mess.