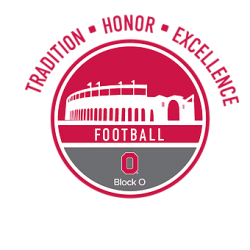 Jay Lawerence's Laugh
---
Louisville, ky (via Middlefield, oh)
MEMBER SINCE November 12, 2017
Born and raised In Geauga County, now living accross the Mason Dixon line. Proud husband and Father, of 3...l love me some buckeye football.
Favorites
SPORTS MOMENT: A) Cavs world title, def brought a tear to my eye knowing that my grandparents waited so long and didn't get a chance to see it. B)Watching tOSU win two chips. C) Every game I get to see my children play!
COLLEGE FOOTBALL PLAYER: Anyone who plays hard, with class, and dignity
NFL TEAM: Ouch (Cle)
NHL TEAM: None really
NBA TEAM: Cavs
MLB TEAM: Indians
SOCCER TEAM: USWNT?
Recent Activity
I cannot agree on the bama receivers speed. Who's got it better than us?
I saw a lot of low hits on our guys, distinctly going for knees. I don't usually talk bad about Wisconsin, but it was obvious to me they were going low. Cheap shit.
I can only imagine the elation that would occur when, or if, they could win against us. At this point, it would be similar to "losing your virginity" happy.
Were you drunk when you wrote this? Lol
So was he playing offense or defense?
I never wear blue during this week.
go Scarlet.
Let's fucking gooooooo!!!!
Yeah, who ever is lined up at his spot is defiantly not sleeping well tonight.
*smell fml
i hate you guys. But I'm laughing.
Let's get it on! Good write. I can spell the game.
Did you say swelling? lol
I've never met anyone from Cleveland who didn't like football. Hmmm.
When his son was here he pegged us final 4...
He needs to stick to the sport he doesn't know, wait, this could get confusing.
Is it blunt or brunt? I'm high so just wondering.
I pee what you did there.
Yeah the coach is pissed off.
Krenz is a fun guy. Drank with him a few times with work.
Give me 1 or give me 100, but fucking WIN!
James Franklin believes we get all the calls
And so it has begun!

One focus! One goal! Fuck'em