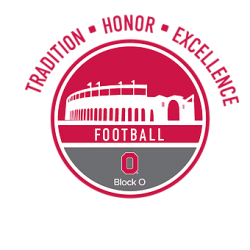 Jay Lawerence's Laugh
---
Louisville, ky (via Middlefield, oh)
MEMBER SINCE November 12, 2017
Born and raised In Geauga County, now living accross the Mason Dixon line. Proud husband and Father, of 3...l love me some buckeye football.
Favorites
SPORTS MOMENT: A) Cavs world title, def brought a tear to my eye knowing that my grandparents waited so long and didn't get a chance to see it. B)Watching tOSU win two chips. C) Every game I get to see my children play!
COLLEGE FOOTBALL PLAYER: Anyone who plays hard, with class, and dignity
NFL TEAM: Ouch (Cle)
NHL TEAM: None really
NBA TEAM: Cavs
MLB TEAM: Indians
SOCCER TEAM: USWNT?
Recent Activity
As things sit right now, there are a bunch of teams with a potential spot. In the big ten alone, you have OsU, PSU, Minn, Wisconsin, and Michigan still with a chance. It's to early to get so squirrely.
I'm not sure I see them (LSU) making the playoffs. Let's give them one loss to Bama, that means no other slip ups for them. I don't know if a one loss team that doesn't win it's conference will slip in this year. Clemson is a virtual lock. The big Ten champ should be in. Oklahoma most likely is in, and then Bama. So unless they beat Bama I would be hard pressed to see them getting in.
The SEC is showing that it's not as strong as perceived. Or maybe I should say deep.
I would say that Joe has developed a lot since his time here. Maybe it motivated him. Either way, good for him.
go Bucks. Let's do our part and then work on the goal one game at a time.

Makes you think that there is no way for anyone else to compete. This is a huge vote of confidence and will only perpetuate the PSU program, despite the comment about one program or the other.
These oily nuts produce Shea butter lol
I recall my excitement back in the fall over how ZH would play this year. It was shot down and shit on by many here saying he wasn't ready to play for at least two years. I don't get where that came from. He will be amazing. The next in line.
I fell asleep. That's sad. I'm 38 lol, and Harbaugh is still a weirdo.
This was one of the most boring and hard to watch games I've seen. Both incompetent offenses.
Then I'll say he is a better O coordinator than Urban.
It usually stops blocking one of the options if you choose one of the others on the menu and then reopen the menu immediately lol. I've been dealing with it for the last week or so.
He is still winless VS U of M, once he has shown otherwise, I would be willing to begin to evaluate.
LoL.
My thought exactly lol. I didn't realize one had not been thrown yet. Let's not save them for a bad time.
I like the vote for Teague. Last week he reminded me a bit of Beanie. He looks big and moves well. I hope he continues to develop into our future work horse.
Below freezing cold? Cuz I was kinda pointing to that kind of cold. It gets into the 40s in Georgia too, but 0-20 isn't too common. I would venture to say Texas is pretty similar in that fact. Thank you for not shitting on my post.
I was speaking to Independence. My bad on that. I agree with you.
im pretty sure those archives are at the start of the game. Not necessarily for the duration. It was def raining enough to see it sideways on TV and the wind was also a factor.
I went to one game in Michigan and it was 18 degrees. The year they went for two and failed. It can def get cold. I was u prepared lol. He will adjust. JT wasn't from a cold weather town and he did ok
It would only take a little homework assignment of watching that game for the boys to understand that you can't take anyone for granted.

The good news is shouldn't be a monsoon.
Putting the hat on the ball is actually putting your helmet to the ball. Not so much the body. I wouldn't confuse the two. I saw a number of head hunting jobs in the game. Not the same as a hat on the ball, which is text book tackling.
I feel like that was orchestrated by Frost. If you followed him throughout the week, he spoke about how this game was a big opportunity for Nebraska, regardless of outcome. I would not have been surprised if there wasn't many forms of media out there telling fans not to be like any other school and to stay for the "show". I could be wrong, but if I'm a recruit, I def took note that those fans didn't leave. Which is what Frost wanted. This was a win win for him. Game day and prime time, with zero pressure to win.