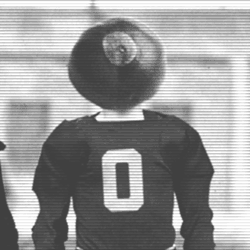 JasonR
Columbus, OH (via Leipsic, OH)
MEMBER SINCE January 13, 2012
Favorites
SPORTS MOMENT: The entire 2014 Buckeye football season.
COLLEGE FOOTBALL PLAYER: Braxton Miller
NFL TEAM: Bengals
NHL TEAM: Blue Jackets
MLB TEAM: Cubs
Recent Activity
Not to look ahead, but if Ohio State takes care of business, it looks like Minnesota will be the B1G championship opponent. Obviously Ohio State is the more talented team, but I'm curious if you see any specific challenges the Golden Gophers would present to this team, and how you see that game playing out.
I think I'd remind your OU fan buddy that THE Ohio State University has actually won a playoff game, actually two of them...and one trophy. And leave it at that. Bonus points if you add that they haven't seen their coach lead a team without a Heisman QB yet and maybe he should be worried about his own squad going forward.
Calling this year's Oklahoma defense mediocre seems awfully generous. Mediocre D is good enough to win games at Oklahoma with their offense though. If he can even make them slightly more respectable, he'll probably be seen as a hero.
Entered. Go Bucks! And go everyone else I picked!
Fuck Michigan!
I agree with this.
I'm also from Putnam Co. (Leipsic), and also have some great memories of growing up there. Kind of makes me sad to go back these days but for a different reason. Just not what it used to be.
I also was hoping for a Whisperer teaser at the end. Instead we got a teaser of vengeful Maggie. Whisperers are certainly set up to appear though. I'm guessing either they're just setting it up but they won't appear until the Maggie/Rick conflict is resolved, or maybe the Whisper War will derail the conflict and reunite everyone.
Also curious if they'll do the time jump at all.
Either way, I hope it gets better. These dragging storylines have been pretty bad the last couple seasons.
I think they're only lethal if ingested or they get in an open wound. Remember, the survivors also wore zombie guts to avoid being detected among walkers before.
That whole "put zombie blood on our weapons" thing was pretty silly though.
They also had the fence posts in that scene where everyone stopped to look. Those mark the Whisperers territory. It's certainly set up for them to show up next season.
Honestly, I get most of my Bengals news from Twitter, and nfl.com on occasion. I can not stand Hobson...I'd like to see Bengal coverage that's not beholden to the ownership. But it also seems like a lot of the Cincinnati media bounce back and forth between homers and angry fans. If you can find a middle ground, that would be great. For example, when Hobson posts his annual "The Bengals won't sign any free agents because they're out of money" BS article, I'd love to see some counter points to that.
I would prefer hard news and analysis as opposed to opinion-type stuff, but would appreciate both. One of my favorite sports sites (aside from 11w of course) is Bleacher Nation. The writers there report news and break down exactly how it affects the Cubs. They also report rumors and other fun stuff, like videos of great plays, etc.
I had the same thought about Berry moving to DE. They're more than likely to going to need at least 1 guy to switch to DE, not sure who else makes sense. With Alexander, Farrell, Hausman and Ruckert incoming, Berry seems like a logical choice. I'd much rather see his athletic freakishness used to get after a QB instead of being ignored in the passing game.
I don't think anyone knows for sure if JT will play or not, but this all seems like a ploy to keep Wisconsin guessing.
It's kind of fun to ruin someone's season.
How would anyone from this Xichigan team know what that's like? Unless he means ruining their own season.
Completely agree - it's not Kevin Wilson's offense, it's Kevin Wilson running Urban's offense. Wilson needs more input and more control.
Definitely not inappropriate. I'd call over email, as others have said.
Seems to be a trend these days of hiring managers and recruiters completely avoiding job seekers rather than providing feedback. I've been there, it's very frustrating to say the least.