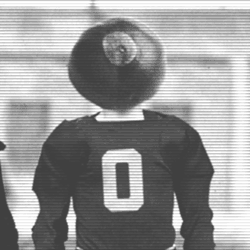 JasonR
Columbus, OH (via Leipsic, OH)
Member since 13 January 2012 | Blog
Favorites
SPORTS MOMENT: The entire 2014 Buckeye football season.
COLLEGE FOOTBALL PLAYER: Braxton Miller
NFL TEAM: Bengals
NHL TEAM: Blue Jackets
MLB TEAM: Cubs
Recent Activity
I can only get Time Warner where I live. Competition does not exist between ISPs.
I mean, he's pretty much just a glorified used car salesman anyway so it makes sense.
Whataburger is barely better than Burger King. In-N-Out is by far the best, not even close. Can't believe there are actually people that think Whataburger is better!
I don't know the law in Ohio, but I know in some states the construction zone speed limits are only in effect when workers are present. Might be worth looking in to.
And yeah, those "construction zones" piss me off too.
Used to live there and had two Buckeye flags stolen while flying them at my house, on game day. Middle of the day both times. Bunch of savages in that town.
The thing that bothers me most about the image of the ref and Weber is that, if I recall correctly, that happened after Weber had been hit late out of bounds and no flag was thrown. The ref patted Weber on his way by as if to say sorry, you're not going to get that call.
So the incident that supposedly proves the ref's bias toward Ohio State, occurred after a non-call on a blatant foul committed by _ichigan.
Honestly I think that, fair or not, lots of people see PSU's win over OSU as a fluke. But bottom line, no other team in the country can claim three wins over top ten teams. If anybody has a problem with OSU being in, that's my argument. Ironically, the only ones who even come close are two other B1G teams!
Now if you want to argue PSU over Washington, I'm all for that.
I laughed my ass off. The Kangaroo is Clemson.
Here's the full HD video with some awesome commentary:
Obviously Ohio State is more deserving and better than Oklahoma.
HOWEVER - I think he does have a valid point with a team like Washington. The committee today delivered a message that you can schedule the second weakest OOC schedule in the nation and still get in. Oklahoma ran through their conference, and had they played the Huskies' OOC, they would be in the playoff. What incentive is there now for power 5 teams to schedule tough OOC games?
In my opinion, the final four should have been Bama, Clemson, OSU and PSU.
Seems like a mix. Sometimes I get an ad on every video, then refresh the page and get none.
Great breakdown, thanks! Our LBs have been a lot of fun to watch this year. (Most of the time, ha!)
Question though..is there a way to prevent having to watch the same 30 second ad before each video?
So now instead of seeing Metallica for maybe $50-60, I have to pay like $200 to watch maybe 2 or 3 bands I like and 15 I don't.
Don't mind me, I complain about ROTR swallowing up good tours every year. :) I love hard rock/metal but this just isn't my thing I guess.
I would think Connor would be competing to start next year. Any info on why he might be considering a transfer?
If he plays, he's going to be a hurtin' buckeroo after the Rushmen get through with him.
Kirkman has said on multiple occasions that the most beloved characters get the most brutal deaths. Glenn was about as beloved as they come, so this was pretty expected.
That said, I can certainly see how it would be too graphic for a lot of people. Agree that they could have toned it down, but I personally didn't have a problem with it either way.
5 minutes from my house. So much for my diet...
Same prediction as OP, except Cubs over Indians. So long, stupid curse!
Big Game Bob was probably planning on lining up in a 3-4 D, giving them a "schematic advantage"...but then Urban dropped that story about the last time they did that in his presser today to let him know they'd be ready for it. Now it's back to the drawing board.
I go to Philly every few months and have tried quite a few cheesesteaks. My favorite is Jim's, and Dalessandro's is a close second. Went to both Geno's and Pat's and both were bad. I mean bad. Geno's was gristly and gross. Pat's was slightly better.
Also one of my favorite spots in the city is the Japanese House. The house is really neat and the garden is beautiful. And of course there is a pond full of koi that you can feed.
I'm sure Clark cares much more about the competition on the field.
Had a similar situation recently - somebody who lived near our neighborhood had a couple of aggressive german shepherds that kept escaping their fence and roaming our neighborhood. They actually attacked a few dogs in our neighborhood as well. Owner refused to fix the fence and refused to pretty much do anything to stop them from coming in to our neighborhood. Police and dog warden were called repeatedly but I'll tell you - they won't do a damn thing other than talk to the owner unless you have proof. When you see them in your yard, get pics and video. A dog owner in our neighborhood got a video of them attacking another dog, and they haven't been in our neighborhood since. But nothing was done about it until that happened.
No no no...he's attempting to take JT down with a spinning heel kick. Regular ol' tackling is too boring for an athlete as electric as Peppers.