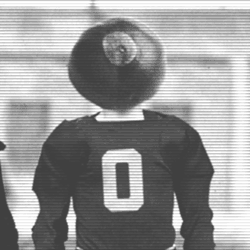 Jarhead1944
---
MEMBER SINCE October 30, 2016
Recent Activity
Actually watch the LSU-Georgia game. The Georgia WRs couldn't catch their crotch with both hands.
You really are an SEC troll. Christ, the Chinese and Russian trolls try to at least somewhat cover their tracks. You can't seem to do it at all.
Based on that amazing win over Wofford? Or was it the Charlotte (spiders) game?
Half the Big Ten could beat all three of those teams.
Wrong forum, SEC troll. Coach Orgeron coaches LSU. Day coaches Ohio State.
Show the metrics. Don't toss bullshit and drop it. Prove it.
The issue with playing Clemson is injuries, particularly to Fields. That's why no one wanted to play them. Oklahoma's defense is crap, is not very aggressive and is nowhere near as hard-hitting as Clemson's. We don't have a viable replacement for Fields and Clemson knows it. They will him as hard as they can to take him out of the game. I'd expect at least 2-3 starters injured and less capable or unavailable for the championship. We have good backups in many positions, but we are weak in certain areas. One more week where Fields is not forced to make broken field runs would be a Godsend.
What they really said is that the body of work isn't important, if you are in the SEC.
Put up 45-0 and then stomp the shit out of them in the 2nd half.
CincyOSU is the other SEC troll.
At least we finally know who one of the SEC trolls is.
Hey, downvoting SEC troll - fuck you.
And then tell the committee to go fuck themselves.
Bullshit. A clown comment.
The PAC-12 is overrated as Hell, as is Georgia. No Pac man teams should be in the top 15, or the top 20 for that matter. Auburn was overrated to keep the Pac mans in the running and the Pac mans were rated to give the SEC a 'good' non-conference win.
Sorry, but the only way Virginia beats Clemson is if Clemson goes to the wrong stadium. Live in northern Virginia and they show the Virginia games multiple times. Virginia would have trouble beating Maryland or Purdue.
In the first half or just the first quarter? I'd pick Wisconsin, Penn State, Iowa, Michigan and Minnesota over Utah, or Oregon.
Playing a Pac-12 team in the first round is essentially a bye week with a scrimmage.
Why? At least seven Big Ten teams could beat Oregon. But only four could beat Georgia.
No PAC-12 team should be in the top 15, much less 6 and 7.
Allowing the ESPN clowns the chance to put their other favorite clown conference in the playoffs.
Not sure they are really that skilled. Barbers and clowns work hard.
Because sportswriters love the Left coast and despise 'flyover' country.
Actually, Sheffield was champ in the 300 hurdles. Sure he'd be awesome if they extended the field and littered it with bodies.