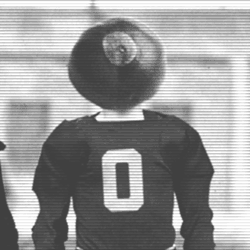 Jamie Lannister
---
MEMBER SINCE June 21, 2017
Recent Activity
Lmao! You're joking right? Kid is going to be a top 15 pick, he's gone homie
If that's the case the OSU has no shot at Fields. Hasslewood has already said he's not coming North, FSU and OU are probably the most likely landing spots.
LMAO! You're smoking serious drugs if you think Haskins is staying
It's Haskins 5th start of his career in a very hostile environment and he played how I expected. But he progressed and calmed down as the game went on, that's all you can ask from a young QB is to get better every snap. Pressure is the ultimate equalizer, doesn't matter if you're Haskins, Brady or Rodgers. Now it's up to the coaching staff to find the answers and continue developing our offense. This experience will be very valuable later in the season
His technique is fine, he's young and of course he has some fine tuning to do. I was pleased with his performance considering he had to get off his spot most of the night. I would have liked to see our playcalling help him out early in downs and not be so predictable. But it's game 4 of a very early season, this experience will serve him well through the season.
Agreed.. This will be my last two cents about it. JTB was a great Buckeyes and a hell of a leader, and was efficient enough as a passer and only lost 6 games in his career and his accomplishments should be taken for granted. But with that being said, DH7 is just simply better and he elevated the WR corps and stretches the field in ways that JT couldn't. Yes he was young last yr but the potential was obviously there and any coaching staff worth a damn could have coached him up.
But there was no way Urban was just going to bench the face of the program, sure Saban did it with Jalen but that was different he didn't resignate with tide fans like JT did with Buckeye nation. But that Wisconsin game Urban should have started Haskins and he should let the cards fall where they may after that.. But seems like loyalty always wins out with UFM.... The End
*Exhales*
Man can you imagine if we had an alpha WR like Mike Thomas this year? I think that's really what our offense is missing, a dog who's just going to go out there and make plays.
I hate to say this but CFB should be on notice. Bama with a vertical passing game is scary
It hit me Saturday afternoon.. But can you guys imagine what we would have done to CFB with a combo of Zeke, Mike Thomas, Day and Haskins? That's a dream I wouldn't want to wake up from
Our play action game should be damn near unstoppable
Blocking is def important and as a former D Lineman i'm sure that's the toughest part of the job to pick up, but he's a game changing athlete and we have to find a way to have him on the field. There's quite a few TE getting hefty checks who can't block a soul, hell Jimmy Graham has had an all pro caliber career and he can't block you and I lol. Utilize what he does best until his blocking improves
Good! Lets keep it that way. With a young QB like Haskins, why take snaps away from his development. I get getting a different look and the schematic advantage of having a mobile QB but if this staff can't figure out how to have a functional offense without the QB run threat then I think we have the wrong guys at the helm in Columbus.
Rare talent? Burrow? I get it man, but labeling him rare is quite a stretch
Full go in a non contact environment, I know the staff is optimistic but I just don't him recovering that fast. lets see where he is a month from now
City is by far the most talented team in the league and should win it again, but I like Liverpool to make it interesting. And how are ManUre supporters still a believer in Jose? He's the EPL Jon Gruden, living off past success and does nothing but alienate star players.
I'm excited to see what Day can do, there's more than enough horsepower on this roster and coaching staff to not miss a beat. Everyone snickered at OU for naming Lincoln Riley their HC and looks like that's going to work out just fine. If this is the new era of OSU Football, i'm ready for it. Now lets get to work Coach Day and make this a championship season
He said he didn't know about the 2015 incident which is proven to be a lie, Shelley confirmed in those messages that Urban feels bad about the situation. That's a cover up to me
After reading the entire column from McMurphy, i'd be surprised if Urban makes it to camp Friday. He flat out lied and got caught, nothing else to say. To cover up DV is disgusting and he deserves to be let go. This is becoming a firestorm nationally and I can't envision a scenario in which The Ohio State University can overcome this without firing Urban. We shall see...
Hate to be that guy, but... He gone lol. I hope I eat my words, but this isn't good news for the Buckeyes. If he's not 100% sold on OSU by now, then I don't think he ever will be. I know they are our rivals but Michigan and Penn State are great programs and I can't knock a kid who wants to get out and try something different there's a large world out here outside of Buckeye Football. Best of luck to Zach
I really like the all scarlet unis, I'd be in favor of that or an all white road uni. Other than Rutgers, I liked them all.
I don't know what defense you've been watching but TCU isn't mediocre, Patterson is one of the best defensive minds in CFB and I expect him to throw a lot at Haskins.
Not the greatest decision? Idk about you but i'd take my chances making money as a professional over going to class
Google is your friend my man. But Urban Meyer, Bruce Feldman, Chad Reuter, Ian Wharton (NFL Film Study) should get you started. Enjoy the interwebs
Ryan Leaf issues weren't on the field, he allowed his off field issues to dominate his football life but I digress