jamesrbrown322
Franklin, TN (via Portsmouth, OH)
Member since 15 June 2013 | Blog
Favorites
SPORTS MOMENT: Hugging my dad after Ken Dorsey's pass hit the ground.
COLLEGE FOOTBALL PLAYER: Eddie George and Joshua Perry
COLLEGE BASKETBALL PLAYER: David Lighty
NFL TEAM: Titans
NHL TEAM: Predators
NBA TEAM: Teams with LeBron or Buckeyes
MLB TEAM: Reds and Indians
SOCCER TEAM: Arsenal
Recent Activity
Hoping that this was discussed with LeFleur. Odds that Schiano becomes DC...?
They could really used help at interior line and pass rusher...
Allegedly the practice week is far more important than the game in these "all-star" games.
I used to watch it every year when I was a kid. I think it went away for a few years and I lost track of it.
I actually liked what I saw from the backup LBs this year and am still holding out hope that it all begins to click for Hilliard in 2018.
Damn right. That Team ruined the '93, '95, and '96 seasons, at a minimum. Beating them never, EVER gets old.
Barkley and Fitzpatrick are the best players on their respective sides of the ball in the entire Draft (ducks). Therefore, we can safely assume that neither the Brown or Bengals are interested in them.

I know the B1G is down, but they've already exceeded my expectations for wins for the season. Really impressed, and hope they can keep the trajectory of the programs headed this direction.
I hope he doesn't get the job. The guy is an offensive genius, and I don't want Alabama to have any more good coaches.
There's talk that they have 6-7 1st round picks in the DL depth chart.
I knew he was training there, but I guess I missed that he was skipping the games.
I will be beyond overjoyed just for them to make the field of 68. If Holtmann can lead them to a top half of the B1G finish, he should unquestionably be B1G COY.
Thank you very much for clarifying. I hadn't heard of him being invited anywhere, so apologies if that has already been shared.
Also possible he gets a late invitation to the Senior Bowl, as those rosters will be finalized later this week.
I had expected him to be there anyway. That's why I have been shocked that he wasn't listed among participants.
Am I missing something? Why is Jamarco not getting a shot in any of these games? He's not a sure fire early pick, but most of the guys rated ahead of him are and potentially wouldn't participate in these games. I'm just surprised he couldn't get an invite.
Fact is, if Wilson can convince Meyer to open up the offense and show some creativity again, you can never have too many playmakers.
If he's not a true RB, does that make a difference? What he's such an electrifying playmaker that he can contribute as the return man as a freshman before seeing time as a backup H-B or WR as a sophomore? Plus, as many injuries as McCall has had, who knows his long term future? Not wishing that happens, just saying that you never know.
Agreed. Alabama's been doing it for years. Due to recruiting depth at the position, a guy like Kamara transferred and Alabama didn't miss a beat.
I know folks down here disagree, but to me Keith Jackson is the GOAT. I loved hearing him call games and was very disappointed when he stepped away from the booth. Rest In Peace Keith, you will always be synonymous with the greatest sport in the world.
Campbell's drop vs UO is one of the two big "what if" moments from this season.
Dick LeBeau is DC for the Titans. That counts if you ask me.
Is it at all possible to have any type of thread on 11W in which someone doesn't try and dump all over Barrett?
Hope the kid sorts it out and can maximize his potential before it's too late. Either way, gotta make Buckeye fans feel thankful for the way his recruitment shook out in the end.
Letting freshmen play, without losing eligibilty? Man, they're spoiling these kids. In the good ole days, the upperclassmen were allowed to break them in on their own.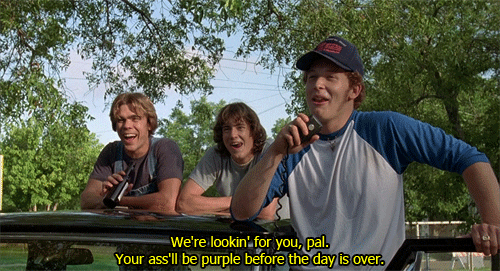 Serious question -
How is this beneficial for the player? Aren't we potentially adding 4 games to their career at very little payoff for them?
I just hope that they get the ball in the hands of their best playmakers in positions to succeed, rather than trying to placate everyone's desire to touch the ball.