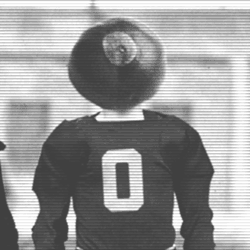 James F
---
Member since 14 December 2011 | Blog
Favorites
SPORTS MOMENT: National Championship over Miami
NFL TEAM: Oakland Raiders
NHL TEAM: CBJ
NBA TEAM: Lakers
MLB TEAM: Reds
SOCCER TEAM: Arsenal, but Crew in US
Recent Activity
Guessing Kevin Randleman wouldn't be a bad choice.
Ridiculous we are ranked behind Stanford. Stanford barely beat ND just a few weeks ago at Stanford.
No offense, but Forte at 3 is crazy. There is a clear top 5 RB's regardless of PPR or not. On top of that the Bears will be running a completely different offense than the one they ran under Trestman, who is now the offensive coordinator in Baltimore. Forte's ADP on Yahoo is currently 14.2, which suggests that is you had the 3rd pick in an 8 team league you may be able to get him in the 2nd round.
On Yahoo Cooper is currently being drafted inside the first 25 WR off the board, with an ADP of 56.6. So there is no way you are going to get him in rounds 8-10. Not saying I agree with his ADP. Agholor's ADP is 108, which isn't horrible, but round 6 or 7 is an overpayment for sure.
Last year is also the first time Murray had ever played 16 games. Before last year he would have been described as injury prone. I don't think 500 touches is going to help with that. The Murray bandwagon has only existed for one year. Last year is the only year of Murray's career that could be described as elite. Lynch, Lacy, Bell, AP, and Charles all offer a lot more downside protection.
The reason I wouldn't touch Murray in the first round is not a crowded backfield, but the amount of touches he had last year. There is a lot of info out there demonstrating that a back that has more than 370 touches is due to regress the following year from being over worked. Murray had 392 carries last year, and an additional 57 catches, that's 449 touches. Dallas knew they weren't going to be able to re-sign both Murray and Dez, so they went ahead and ran Murray into the ground.
Here is a little info on the curse of 370.
http://bleacherreport.com/articles/2364369-will-demarco-murray-overcome-the-curse-of-370
I also don't think Philly will need to give Murray nearly as many carries, they also signed Ryan Mathews who is going to get 10+ carries a game, and Sproles will still be the 3rd down back.
Those touch numbers don't even include Dallas' 2 playoff games, where Murray touched the ball an additional 48 times. Too many red flags for me, doubt I own Murray on any of my teams.
Can you believe she is married to this guy?
Coming to America.
Anthony Dixon now plays for the Buffalo Bills.
The cost of that luxury would have come with a $4.5 mil cap hit. That's top 4 money.
I don't see how this isn't a great move for the CBJ. Hartnell may be on the decline, but he is a legitimate NHL player. RJ was getting healthy scratches at the end of last season, and looks totally washed up. Their salaries are within 150k of each other but Hartnell's contract is 2 years longer. I don't mind the extra years because the NHL salary cap is going to go up a substantial amount between now and 2018, and even if Harnell has declined to the point of being a 3rd/4th liner, his salary won't be as much of an albatross if the cap goes up over $75 million in the next few years, which most expect it to. RJ's current pay is already an albatross. Hate to see a Buckeye leave Columbus, but this deal is a win for the CBJ.
He plays on the same AAU team as current class of 15 commit AJ Harris and they are good friends, see the first comment from when Harris committed.
http://www.elevenwarriors.com/2013/08/24575/ohio-state-basketball-recruiting-2015-point-guard-aj-harris-commits-to-buckeyes
Good news. As we all saw this year, you can never have enough quality DB's.
Read an article published on Ash when he was hired at Arkansas and it stated he is experienced at recruiting Texas and Florida. Gotta like that, lots of talent in those states.
http://bleacherreport.com/articles/1442495-arkansas-football-dc-chris-ash-brings-strong-resume-but-is-an-sec-outsider
Seems like our OOC schedule is very weak. Getting a team that is joining our conference next year for the BIG10 ACC challenge kind of stinks.
Here's the reaction to the news in Ann Arbor.
Exciting news!!!
Happy.
The TAB key is your friend, don't be afraid of it.
I would actually put my $$$ on the Bengals since Al Davis is gone.