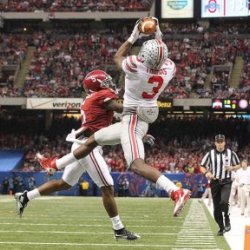 JakeStevensIsSwag
---
Member since 02 January 2014 | Blog
Favorites
SPORTS MOMENT: When Braxton Miller hit Devin Smith for the game winning TD against Wisconsin. The Shoe went CRAZY. Curtis Samuel's game winning TD against SCUM was pretty nutty as well.
COLLEGE BASKETBALL PLAYER: Plz come back Aaron Craft
NFL TEAM: Pittsburgh Stillers
NHL TEAM: NO
NBA TEAM: Cavs & DLO
MLB TEAM: Yankees
SOCCER TEAM: Liverpool
Recent Activity
If you watch the show for the action, last nights episode was great. However, the story is all over the place. Too many plot holes, incredible aim by the night king, Jon some how surviving that fall in the ice water. Gendry running all the way to the wall in the same space of time, looked like dusk. The whole Arya and Sansa thing is ridiculous. Where is bran? He can just tell them the truth. I still love the show but I feel like the shortened season is the reason why this season has been all over the place.
Pretty sure all four of Ohio State's QBs could start on 90% of the teams in college football.
"Completed" but has a TBA on Nov. 26
I have that monkey on my back, thanks for bringing it up.
This kind of thing is going to keep happening until Ohio State proves it can be good year in and year out. Give it a couple years, i believe in coach Holtmann
Mike Weber runs a 4.35? wat
Liverpool is my team but im thinking City win it this year. If Tottenham can make some moves before the deadline they are certainly a threat with Harry Kane and Ali. As long as Man U dont win it ill be happy.
Just finished episode 6. Watching one a day so ill get back to you in a couple. Really good show so far with great acting
Beware of spoilers, the rest of the episodes have been leaked. Unfortunately something for next weeks episode has been spoiled for me on youtube.
Just recently watched the first episode of American Gods. Trying to pick which show i should continue between Westworld and AG. Have you seen WW?
A good friend of mine once said, "Give me 10 good men and ill impregnate the bitch"
That Cersei scene with the sandsnakes dragged on a bit too much for my liking. Other than that, it was a great episode. Loved the beginning with Dany and Jon.
Theon did the right thing, imo.
You really think Gendry has been rowing his boat for 3/4 seasons? I wish they brought him back when the hound met up with the brotherhood.
Urban should have gave the ball to Hyde against MSU
DLO is a snake for saying he wont ever come back to Ohio State.
We'll see how he does this year, but Zach Smith can't coach.
Klay Thompson is better than Steph Curry
I imagine he's around 84-87. Had a great rookie season and will be wr1 with the Saints
Realistic outcomes. Too often you'll see Navy vs. Oregon State in the championship game. Also you'll see powerhouses like OSU, Bama, and whichever team is highly rated with your current roster set up, go like 8-4. wow do i miss the game though, still play '14 from time to time.
ugh, i guess he can come too
Micah Parsons and KJ Henry would be suitable replacements me thinks
Alabama's is pretty stacked too, to be fair.
From Bleacher Report
Is Zach Harrison an OSU lock?
Elaria was shown in the trailer in the hall in Kingslanding, so im guessing its her. Really wish they would have went the horn direction in the show.