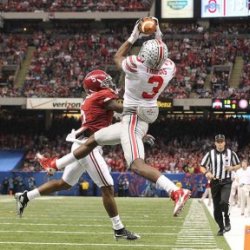 JakeStevensIsSwag
---
MEMBER SINCE January 02, 2014
Favorites
SPORTS MOMENT: When Braxton Miller hit Devin Smith for the game winning TD against Wisconsin. The Shoe went CRAZY. Curtis Samuel's game winning TD against SCUM was pretty nutty as well.
NFL TEAM: Pittsburgh Steelers and the New Orleans Buckeyes
NHL TEAM: NO
NBA TEAM: Cavs & DLO
MLB TEAM: Yankees
SOCCER TEAM: Liverpool
Recent Activity
Yeah this is true. Also didnt help playing behind that awful offensive line
My dad and brother are Pitt fans (bless their hearts), but they are happy Nard is staying
If Victor can cut down on the drops, he can be a WR1/2 on any team in the league
Burrow is gone
Brady is gone
7 underclassmen are gone

And now DC Dave Aranda is leaving for Baylor

Here's a live look at LSU Football pic.twitter.com/KqMERgtx81

— OMRebelNation (@OMRebelNation) January 16, 2020
Fair to expect that Fleming, Scott, and or Njigba get more playing time than Jaylen Harris, Williams, and Gill?
Its not exactly what you're looking for but i have been occasionally using the steam link. Streams my game on Steam(PC) to my television. Steam has some old games on its platform if you wanted to look around on there, might find what you're looking for.
I do think OSU is the better team. But as you said, OSU did some dumb shit and some dumb shit was also inflicted on them.
you spelled Mecole Hardman wrong
South Carolina is a good loss.
just ran an OSU vs Bama sim. OSU won 55-21
I do think Teague should get more carries. Keep the load of Dobbins so he make a Zeke-ish run for the playoffs.
shit boys, i think i was right
Is Justice Sueing eligible this year? Can't remember when he transferred in
Call me crazy but i think hes better than both Bosa boys
It really is an incredible sport. So much drama and passion, unbelievable.
Proud Liverpool fan. YNWA
Having Andrew Luck aint a bad thing either
Confident in Liverpool being able to beat Barca. Coutinho and Suarez make their returns to Anfield- im sure one of them will get a better reception than the other.
I think it would be hard for them to kill off both Captain America (Chris Evans) and Iron Man (RDJ). I think atleast one of them would need a sendoff that allows one of them to come back sometime down the line. That being said, my predictions are IronMan, Hawkeye, Loki (Idk if he counts or not because im not entirely sure if he actually died in IW), and Nebula.
Gonna have to stop living at the 3point line if they want to keep the game close.
ay i was right. Lets see this time next year
Has a great chance of being a first rounder as well.