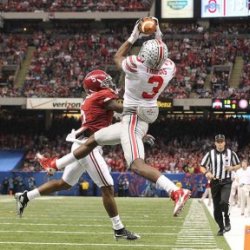 JakeStevensIsSwag
---
MEMBER SINCE January 02, 2014
Favorites
SPORTS MOMENT: When Braxton Miller hit Devin Smith for the game winning TD against Wisconsin. The Shoe went CRAZY. Curtis Samuel's game winning TD against SCUM was pretty nutty as well.
NFL TEAM: Pittsburgh Steelers and the New Orleans Buckeyes
NHL TEAM: NO
NBA TEAM: Cavs & DLO
MLB TEAM: Yankees
SOCCER TEAM: Liverpool
Recent Activity
Is Justice Sueing eligible this year? Can't remember when he transferred in
Call me crazy but i think hes better than both Bosa boys
It really is an incredible sport. So much drama and passion, unbelievable.
Proud Liverpool fan. YNWA
Having Andrew Luck aint a bad thing either
Confident in Liverpool being able to beat Barca. Coutinho and Suarez make their returns to Anfield- im sure one of them will get a better reception than the other.
I think it would be hard for them to kill off both Captain America (Chris Evans) and Iron Man (RDJ). I think atleast one of them would need a sendoff that allows one of them to come back sometime down the line. That being said, my predictions are IronMan, Hawkeye, Loki (Idk if he counts or not because im not entirely sure if he actually died in IW), and Nebula.
Gonna have to stop living at the 3point line if they want to keep the game close.
ay i was right. Lets see this time next year
Has a great chance of being a first rounder as well.
Did you get this title from Buzzfeed
Liverpool beat Bayern Munich 3-1. Four English teams advance to the round of 8.
All teams advancing are
Manchester City
Manchester United
Tottenham
Liverpool
Barcelona
FC Porto
Juventus
Ajax.
I hate Man United but i hate PSG even more. $1.2 billion squad and haven't gotten past the round of 16 in the last few years.
Congrats on the W
I just want them to make a sweet 16 again. March Madness is a blast, but its so much better if your team is in it.
Only to see a spongebob halftime show.
I've seen Haselwood's name pop up the past couple days. Is it a meme or does OSU have a shot?
Did he redshirt this year? Or will he have to sit out a year?
Yes and there are people that complain that games are taking forever. For some reason halftimes are incredibly long and it seems they go to time outs after every change in possession.
great cast on 'Chaos Walking'. Know nothing about it other than that.
r/CFB hates Ohio State too though
Graphics department at espn must have heard the news. https://twitter.com/espncfb/status/1071524887632719872?s=21