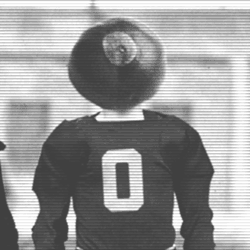 Jake321
---
MEMBER SINCE January 21, 2014
Recent Activity
This is the greatest cereal of all time!! Too bad I can't find it anywhere now.
I think C.J. Saunders is a junior not a senior.
Yeah I'm 26 and I don't mind celebrations but man it seems to be over the top today with the celebrations and taunting.
He was such a freak of nature! I'm surprised it took this long for him to be mentioned
Well if you are talking about the of the best college QBs of all time I think it would be important to get others perspectives and not just one fan bases opinion.
I agree! He was fantastic in the penn st game but was bad against Iowa, Oklahoma and Wisky. Whenever JT has a big game everyone wants to point and say what a great job JT is and how great he. Whenever the JT struggles everyone wants to point and say how much the team struggles and how it's not juston JT. Now I think that people can be to hard on JT at times, but I also that people give him a pass when he plays poorly.
Wow you are really stretching comparing JT's freshman year with braxton's. Talent and coaching aren't even close when you compare Braxton's freshman year with any of the years JT has been here
JT did not just throw 4 ints but the offense also couldn't move the ball at all. It took over a quarter for them to get a first down in the second half. There was an 11 min difference in time of possession. Not to mention that 2 if the interceptions were inside the 30 setting Iowa up with great field position and almost guaranteed points. Yes it was a bad day for the defense, but the offense was contributing to that.
I enjoyed the article but I thought the comparison with brax was pretty weak. Not only was he the qb during the 2011 season which pretty much could be thrown out. Then you have Urban who called the wrs during the 2012 season a clown show, not to mention they were installing a completely new offense than what they had been running under Tress. So he had one season that we can pretty much throw out and another that the wrs were according to Urban a clown show. I understand that JT had two years under beck but he at least had some decent players around him during that time Michael Thomas, Noah brown, Curtis Samuel, Jalin Marshall, and not to mention zeke. So I honestly think brax winning 3 big 10 player of the week Ian almost abs impressive as winning 8. I think if you put JT as the QB during the time that brax was he would have probably ended up with around 3-4 big ten player of the week awards.
I watched the video and saw the same thing! The highlight video consisted of runs, deep balls, and back shoulder fades.
Well he won a national championship and in his first season went undefeated so that's at least two good seasons...
The same one that lost to USC in back to back years?
Do they trade defensive lines because if that's the case JT has 3 secs to get the ball out almost every play!
Both of those quarterbacks were carried by their defense. If anything these quaterbacks were the reason the opponents were in the game. If there was ever a born winnner, someone that carried their team to a win, it was Troy Smith.
I don't see 2014 struggling with Jenkins. They did a great job shutting down amari Cooper (who was a heisman finalist) and I think that he is better than Jenkins.
I'm not one to say that JT should be benched for another qb but some of those other arguments are a bit overplayed. I feel most qb's in urban's system would have rewrote the record books if they had been a starter for almost 3 years. I think if you put TP in urbans system 3 years he would crush all of JT's records. As for when people say he's a winner nobody is saying he isn't a winner. Of course so was Cardale, TP, Troy smith, krenzel, etc. If you are at osu and you aren't a winner you must be some sort of awful. As for the award list I feel like many were very surprised he won the silver football last year. I think most people expected Barkley to win it considering most people that watch osu football did not think JT played well this past year.
Evet since Kam has entered the starting line up he has been awful. He has been awful shooting and defenses are constantly attacking him. He has been a completely different player starting conference play.
Thought I read somewhere that Nigel wasn't coming to osu because of something to do with his brother. I think his brother played football for osu and then transferred and it rubbed him the wrong way.
After watching that video JT seems so much less hesitant with his throws and not only that but so much less hesitant running the ball too.
Thompson is playing so much better than potter. The one thing people seems to be able to do well is shoot the ball, which he never does anyway.
You're right JT is a winner but he's on a team that has more talent on it than 95% of teams in the NCAA. If you are a quarterback for Ohio state and you aren't a winner you're probably a pretty terrible quarterback.
Should have been 3 pick sixes. Damn refs screwed him out of one!
I agree completely, for some reason when Herman left so did the intermediate passing game. We seemed to use the deep in and drag route so much more with Herman (especially with Cardale at quarterback too)
He was phenomenal in the msu game! But honestly through the air he really didn't do much in the other games. He averages 162 per game in the other games through the air. Now that's not his fault but he's not exactly lighting them up in those "great games".