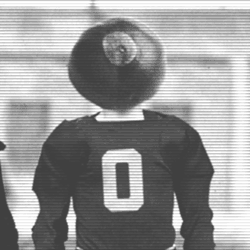 Jake321
---
Member since 21 January 2014 | Blog
Recent Activity
Both of those quarterbacks were carried by their defense. If anything these quaterbacks were the reason the opponents were in the game. If there was ever a born winnner, someone that carried their team to a win, it was Troy Smith.
I don't see 2014 struggling with Jenkins. They did a great job shutting down amari Cooper (who was a heisman finalist) and I think that he is better than Jenkins.
I'm not one to say that JT should be benched for another qb but some of those other arguments are a bit overplayed. I feel most qb's in urban's system would have rewrote the record books if they had been a starter for almost 3 years. I think if you put TP in urbans system 3 years he would crush all of JT's records. As for when people say he's a winner nobody is saying he isn't a winner. Of course so was Cardale, TP, Troy smith, krenzel, etc. If you are at osu and you aren't a winner you must be some sort of awful. As for the award list I feel like many were very surprised he won the silver football last year. I think most people expected Barkley to win it considering most people that watch osu football did not think JT played well this past year.
Evet since Kam has entered the starting line up he has been awful. He has been awful shooting and defenses are constantly attacking him. He has been a completely different player starting conference play.
Thought I read somewhere that Nigel wasn't coming to osu because of something to do with his brother. I think his brother played football for osu and then transferred and it rubbed him the wrong way.
After watching that video JT seems so much less hesitant with his throws and not only that but so much less hesitant running the ball too.
Thompson is playing so much better than potter. The one thing people seems to be able to do well is shoot the ball, which he never does anyway.
You're right JT is a winner but he's on a team that has more talent on it than 95% of teams in the NCAA. If you are a quarterback for Ohio state and you aren't a winner you're probably a pretty terrible quarterback.
Should have been 3 pick sixes. Damn refs screwed him out of one!
I agree completely, for some reason when Herman left so did the intermediate passing game. We seemed to use the deep in and drag route so much more with Herman (especially with Cardale at quarterback too)
He was phenomenal in the msu game! But honestly through the air he really didn't do much in the other games. He averages 162 per game in the other games through the air. Now that's not his fault but he's not exactly lighting them up in those "great games".
I'm not saying that players don't pad their stats. But in about 2 seasons of starts JT has 20% of his touchdowns against the two worst teams on the schedule. That is not his fault either it's just when people talk about how good he is and that he is breaking all sorts of records I think it is a legitamite argument to bring up the fact that 12 of his 60 came against two of the worst teams on the schedule in his 3 years here. And like I said before I like JT, I just think he tends to be a bit overhyped by osu fans.
Woah there big guy let's calm down. The OP asked why people say he pads his stats and I gave gave evidence why man. Like I said I appreciate everything he does and am glad he is our quarterback, but I think his abilities are a bit exaggerated by some and the heisman talk is a bit excessive (I've said this in a few posts the past few weeks). But this is what tends to happen whenever you critize JT on this board people tend to lose it lol I think you are ready to hit the panic button for me though calm down man!
The reason people say he pads his stats against bad teams is because he does throw a ton of touchdowns against bad teams. He has 20% of his touchdowns against Kent state and bowling green! Don't get me wrong I appreciate everything he does for osu but man 12 touchdowns against two awful teams really is padding your stats.
Tom Hermans don't grow on trees. I believe his impact was huge with the quterbacks and their level of play. I also believe people are a little too high I JT. I believe everyone thinks back to the 2014 msu game and think that is the JT we get every week which in fact it is not. JT puts up his big games against bottom big ten teams and mac schools. Let's be honest in back to back weeks he put up 150 against OU and tusla and throws for 300 against bowling green and Rutgers types. Besides that 2014 msu team I don't think JT has really torn a good team up through the air. But people think the msu 2014 JT is the same JT they will get every week. I also think the qb controversy last season added to it with people wanting JT to play so bad last season.
I think if we make the playoffs some of the better teams are going to crowd the box and force JT to beat them overtop where JT has struggled at times. At least that's the strategy I would take.
Yeah it baffles me about Samuel. Not to mention I don't even remember a ball thrown Noah browns way!
JT isn't going to win the heisman. He doesn't have the stats or the heisman type plays that you just say wow. Now people will say he threw for 4 touchdowns against OU, but he also only threw for 150 yards which is not much by any means for someone that wants to win the heisman. JT is a game manager and that doesn't make the flashy sportcenter plays like Lamar Jackson. If you are not putting up crazy numbers against the big boys like OU then you better be making the sportscenter highlight plays which is just not JT's game.
Yes! Not many people can run like he does, not to mention he's 240 lbs and does that. Didn't he beat all the receivers for the steelers in a race not to long ago? The only better athlete I can think is Braxton. He was you were just waiting for him to explode every play.
I think the 2014 defense is being overlooked big time. They had 3 first rds draft picks and I wouldn't be surprised at all if Mcmillen was a first rounder as well. So four would be first rounders. Not to mention Bennett was a man amongst boys during the final stretch. Everyone is saying bama could have ran all over osu in 2014 well everyone is forgetting how focued osu was on shutting their heisman candidate receiver which they absolutely did. Let's not forget to mention how they absolutely shut down oregon the top offense in the country. So maybe the 2002 defense was better but you don't win a national championship without a very good defense.
2-1 against him with Herman and would have been 3-0 with Herman if he had Chris ash on that 2013 team
Why do people keep saying cardale would have given the ball away. He threw 2 interceptions in those 3 postseason games and one was all on jalin for the ball going through his hands. So there was one interception that was truly on cardale over 3 games. Fumbles was a bit of a different story but I think there were two fumbles that were recovered by the other team one of which was on a freak play but never the less it was a turnover. So that's what 3 total turnovers that were truly his fault over three games against two of the top defenses in the country and and above average defense. I've seen several people imply cardale would have a bunch of turnovers in this game but I really don't see him turning the ball over too much.
Wouldn't you favor a team that had dominating wins vs a team that struggled to beat teams all season long? The 2014 team dominated the last 3 teams they played. Beat wisky who I think was ranked around 13 by 59, then beat number 1 bama in the sugar bowl, then dominated the number 1 ducks in the national championship.
This show was incredibly frustrating to watch. That coach had absolutely no control over his team whatsoever. The players did not care one bit about their team, coach, or school and that was obvious. They were only concerned about themselves. It's disgusting how selfish and lazy the players are.
To me it would be on par with kids liking the ducks jersey's. It my be cool but it's not going to have a significant impact on the recruits decision.