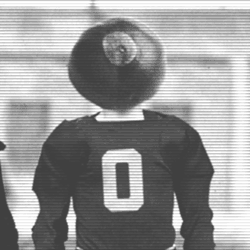 Jagon1119
---
MEMBER SINCE October 13, 2012
Favorites
SPORTS MOMENT: 2002 national title... I'm from cleveland it's the closest I get to titles
COLLEGE FOOTBALL PLAYER: Brian Robiskie
COLLEGE BASKETBALL PLAYER: Mark Titus
NFL TEAM: Browns
NHL TEAM: Red Wings
NBA TEAM: Cavs
MLB TEAM: Indians
SOCCER TEAM: Usmnt
Recent Activity
It's the equlivent to UK players not playing in the NIT
It wouldn't be when they all hope to be there in a year or two. This is the new normal as fans we should get used to it.
Sorry but the "buckeye nation" arguement doesn't hold water. The buckeye for life exists and will help him if he needs it later in life. But it won't make up for money left on the table if he's sitting out for business reasons.
Apparently you can't say but that's big news if you can provide some insight.
I can't hate on Ward. He had a front row view of Jaylen Smith. Play for free/make a business decision is an easy call. We as fans may not like it but it's smart for him.
Is it only me but when I see OG recruiting I think original gangster not offensive guard. I was hoping for a post about Ohio's OG of recruiting Senator Tressel... But still Remy I love your work.
83 Evan Spencer graduated
Oh I clicked on this and thought you were announcing an icon change. You sir are no bucksfan.
He was born a true buckeye his old man was a badass too!
Jason I do have a question/suggestion can you try to figure out a way for the links to the schedules and scholarship grids show up on mobile devices. I do almost all my browsing on my ipad and don't seem to have the issues some others do but that is one thing I miss. Other than that keep up the good work!
Poison I use an ipad as well and don't really have any issues if I use it in landscape orientation and scroll in the right hand margin. The only other issue I have is getting to my profile and I solve that by pressing and holding on my avatar at the top and then hitting open in new window.
Didn't I read somewhere that JT Moore was not coming back for this year? I mean no offense by this I never hope a player doesn't come back but I thought on a scholarship numbers topic I saw he was out.
And we should be talking about how those 100 plus people didn't out him until he was ready to talk about it himself.
If you use the ipad in landscape and scroll in the right hand margin it scrolls just fine the issue is when you scroll down the middle of the page.
The thing I have found with scrolling on the ipad is if you go landscape and scroll on the right hand side margin it scrolls perfectly but if you scroll in the middle of the page or in portrait mode where there is no margin then it does not scroll as smoothly
Does anyone know how to access the scholarship grid on a mobile device?
You win the Internet for today
Lets hope he can open up a Cass Tech to Columbus pipeline!