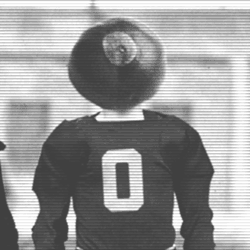 JacketsBuzz
Columbus
MEMBER SINCE June 20, 2018
Army vet, CBJ contributor, Buckeye junkie.
Favorites
NHL TEAM: Columbus Blue Jackets
Recent Activity
Did he have white dust under the 'strils? If so - bonus points.
This topic is exhausting, but I'll say one thing (maybe) most would agree with.
One of the biggest bummers of Zeke's behavior is the difference between being an Ohio State role model - someone who comes to campus and kids' parents can't wait for their 17-yr old son/recruit to meet him, versus, the guy who's often in the news for the next boneheaded display of judgement. Zeke is as big of a stage name as OSU has in sports and his ambassadorship could carry a bit more integrity.
Kurelic said that months back.
Thanks for posting this Weave. Should save approximately 3,000 posts about the schollie limit in the Recruiting News series (or at least one can hope).
Clarity is a good thing. With 6 left, if you take Robinson, Ransom, Knighton & Williams - that leaves 2. With around 4 months to go, may the staff be VERY VERY selective.
Any way this can shared on MGo for peak trolling?
8 for tOSU vs 5 for the rest of the conference = embarrassment of disparity.
42 comments in and our first piece of actual recruiting news. Cheers mate!
The best part about the Ricks saga is that he's icing on the cake. Phillips and Cavazos as a CB pairing would top any recruited duo in the nation minus two or three schools. Throw in Ricks, and the CB room starts to feel like the WR room. Best position group in the country. Time will tell though. If there's any hope to land Ricks - an IMG transfer and a knockout PSU visit could make it happen.
In summary, both seem like high character, polite kids but here is a brief review to save you from watching:
Mookie says he's down to two. Then alludes that his mind is actually made up. Doesn't really beam much about USC. When writer asks him if he has any other visits planned, Mookie smiles and says - then you'd know where I'm going.
Bijan goes over his three recent visits and top 3. Plays a cool head about all three but when asked about what stood out about OSU, he said player development and all of the things OSU does to evolve you as a person and player. In the end, the interviewer asks what the difference maker in his decision will be and Bijan immediately says player development. Also funny - Texas used Matthew McConaughey on Bijan's visit for cool points and Bijan didn't even know who he was. That's fantastic.
I've lived in both Austin and Columbus. Anymore - you better believe Texas heat is UNBEARABLE and oppressive. Give me the four seasons. Ohio winters aren't that bad and NFL dreamers know playing in cold weather is a matter of time.
Anyone care to elaborate?
I'm currently in Ukraine for the summer and their website is blocked here. Thank goodness 11W isn't.
All OSU QB recruits need to see this - often.
I'm sure Pantoni & co. are going to use this to its maximum potential.
This puts current CBJ offensive firepower on par with NHL's top 3-4 teams. Were 8th in scoring before addition of Duchene and Dzingel.
If Bob can pull his head together in the playoffs, this team is NASTY. Now please - re-sign the two Sens & move Wennberg for whatever you can get for his $5.5M overpay. THX
I hear you & that's a good point, BUT...there's plenty of shame in not holding ANY team in 18 games to under 3 goals once. 18 games is no small sample size. I don't care how powerful your offense is, no one's making a run in any series w/a goalie who can't win you one or two games on his own. On top of that, it's not like CBJ d-corps aren't near top of NHL in quality. He has an impressive D playing in front of him.
His play this year is abysmal (24th in NHL in either GAA or SVPCT, can't remember which), but being in the bottom third of the league in both major goalie stats doth not earn you a new contract. Pack'em up Bobby, you've been regular season good to us.
1000% on board with this. In my mind, he's a dead man walking - regardless of playoff performance. Future is too bright, and no way they sign him to a Lundvist/Price-type deal. Rarely are cups won on the backs of $10M goalies. Bob's worth less than half that and Elvis / Veini are in the wings.
Good question 67.
Here's the good news about the #CBJ. Jackets have arguably the richest prospect depth at goalie in the NHL. One of the top 2/3 goalies in all of Europe comes over next year and we have another kid in the pipes who projects to be a quality NHL-level net minder. Korpisalo is not the long-term answer for sure, but the kid coming from Latvia, his name is Elvis Merzlikins - could slot in immediately and SHOULD be a huge upgrade over Bobrovsky's abysmal season.
As for this year's playoff run, it feels like we've got what we've got. The law of large numbers says MAYBE Bob gets it together for one run. If not, have to overpower teams with our offense. Either way, I think they let him walk. He wants something like 8.5-10M per and Elvis could come at 1/5-1/8th the price for a much less risky contract. Bob wants a long deal as well, no thanks...rather use the cap space on re-signing young talent.
Huge CBJ fan and former writer for the team. Here's my 5 cents for anyone who cares, or for those who aren't super familiar w/CBJ or team's direction, etc.
First the FACTS:
*CBJ have been weak at C since inception of franchise. Whether he stays or goes, Duchene instantly makes it a team strength.
*The prospects CBJ gave were rated as team's 5th & 11th best, nothing super special. Likely a bottom 6 and a future 4th line winger.
*The 1st round pick CBJ gave up is in a weak class that shows a significant drop at the 18-20th pick range.
*If Duchene re-signs w/CBJ, the Jackets have to give up the 2021 1st rounder as well.
*Duchene is producing at more than a point per game, almost on par with Artemi Panarin. If he played all 82, he'd trend at 95, which is insane and would be good for the CBJ franchise record.
*Duchene is also a beast on the face-off dot at 55.1%, or 17th in the league. w/Jenner & Dubinsky, the Jackets instantly shoot up w/ league's best.
Now, my TAKES
*Arguably biggest trade during the season in entire NHL, even though CBJ didn't give *much
*Duchene makes the CBJ offense POTENT. They were 8th in the league in scoring prior to his addition. Having a player of his caliber at the 1C or the 2C gives the Jackets a serious punch and should bolster 2 PROPER scoring lines to depend on, not just 1 w/sporadic contribution from the back 3.
*He's lightning fast and could be lethal between Atkinson and Panarin, but I'm not sure if they'll move Dubois. They've had impressive chemistry all year.
*They'll keep Bread because the return will be less than minimal.
*Bob is a bust. I don't care about his Vezinas. In 4 playoff series, and 18 games now - he hasn't held an opponent below 3 goals ONCE. He crumbles in the postseason, but I can't see anyone sending much for him. He wants to be paid like a top 3 goalie and he's performing around 24th in the NHL this year. CBJ youth goalie depth is through the roof - arguably best in league. Send him packing.
*Whether Duchene re-signs or not, this is a huge deal for Columbus. In a market that's less than overwhelming, it puts the CBJ in the center of the conversation.
*Whoever says they're done...not in a million years. They've got a tough schedule ahead, but Duchene gives a boost and their special teams are on the ups. The Pens and Caps aren't exactly trending up either. If Bob can play DECENT down the stretch, I think the Duchene add - the Panarin keep give us a run.
HUGE ADDITION, big move & I like it.
I thought he played significantly better the last couple of games, to include the bowl game. Then again, it's been a couple of months and the mind is a little foggy.
Feels like shades of Ole Miss...paging Hugh?
As an Army vet, the sentiment in here is reaching some of the BEST one-upping takes I've heard, down range even.
I'm a little blown away by all the seniors who are shocked and disgusted by teens and early 20-somethings wanting a day away from classes. WHO CARES? If one of your co-workers said, hey - there's a chance we could have the day off work tomorrow if you sign this piece of paper, would you?
Even in the Army we pulled stuff like this in Texas, so please everyone spare the board your chest thumping bravado and narrow-minded stereotyping.
Or I'm just acknowledging that this could be an iceberg/tip situation.
I said from the top I'd do the exact same thing. As long as people don't take the question out of context, there's some great conversation to be had here.
I don't think anyone has yet. That being said, I'm sure it will. Why not? CFB has changed a ton and money will always be the driving force. This trend is in its nascence. I'm so old - I remember when people were shocked that players would declare early. Last year 37 early entrants went undrafted. Give it a year or three, once a top-15, top-10 kid decides, he might hang it up right then and there. Conference title or playoff aside. Again, it's their decision and I'm not judging them for it. All I've said is that it's an interesting dynamic and I think we're seeing the tip of the iceberg.
I don't think anyone (well I hope not) is arguing that players are cattle at our entertainment disposal.
On the other hand, to say that it's not a bummer that we've seen the last of Bosa in a Buckeye uni is kind of crazy. Unless there are waves of fans out there I don't know who are excited that he's done at OSU. Sure I want him to get drafted high, as we all do. I'm just saying - I think this is the tip of the iceberg of a bigger trend. It hasn't happened yet, but why not Haskins vs. Michigan? Why not a future Bosa-like prospect sitting out the conference or championship? Sure it's all part of a bigger cycle and these guys have life-long decisions to consider. They need to do what's best for them, but the question still remains...how far does this go? Did you think 37 early entrants would go undrafted last year? Times are changing...I'm just curious to how far this goes.
Props for the MoC reference. Can't forget how upside down that whole process/mess was.
I hear you, but I'd contest with a less than cautious, NOT YET. Wasn't there talk of Fournette not playing his 3rd year at LSU? It'll be interesting going forward and I hope it stays the way it is, but to say it won't happen in the future feels a bit short-sighted. All it takes is one to set a trend.
Like I said in my other post, 20 years ago no one on earth would've believed that in 2018, THIRTY SEVEN early entrees would go undrafted. Everything changes with time...I think we're at the beginning of a bigger shift than most think.